While for some the countdown to the Christmas holidays will mean thinking about spending time with loved ones and looking forward to a well-earned break, for others it brings altogether different priorities. Take those in charge of protecting the public from hostile vehicle attacks in busy towns and city centres, for example, who will already have the busy Christmas markets front of mind.
Given that creating insecurity is a key objective for terrorists, it's vital that those tasked with securing city centre squares that host Christmas markets should not just be working to protect them, but also fight the psychology of fear that can be created. Measures such as concrete blocks and metal barricades, the previous go-to choices, are flawed on two fronts. First, evidence suggests that they actually increase the threat the public feel and reduce the relaxed atmosphere they're designed to create.
Second, while they provide a perimeter of physical presence to an area, quite often they're not built or installed with any specific security standards within. In essence, what is actually being installed is a deadweight, and any security benefits are mostly coincidental. Naturally, these two factors can lead to reduced footfall to Christmas markets.
So, how can you make sure your visitors feel safe but not scared?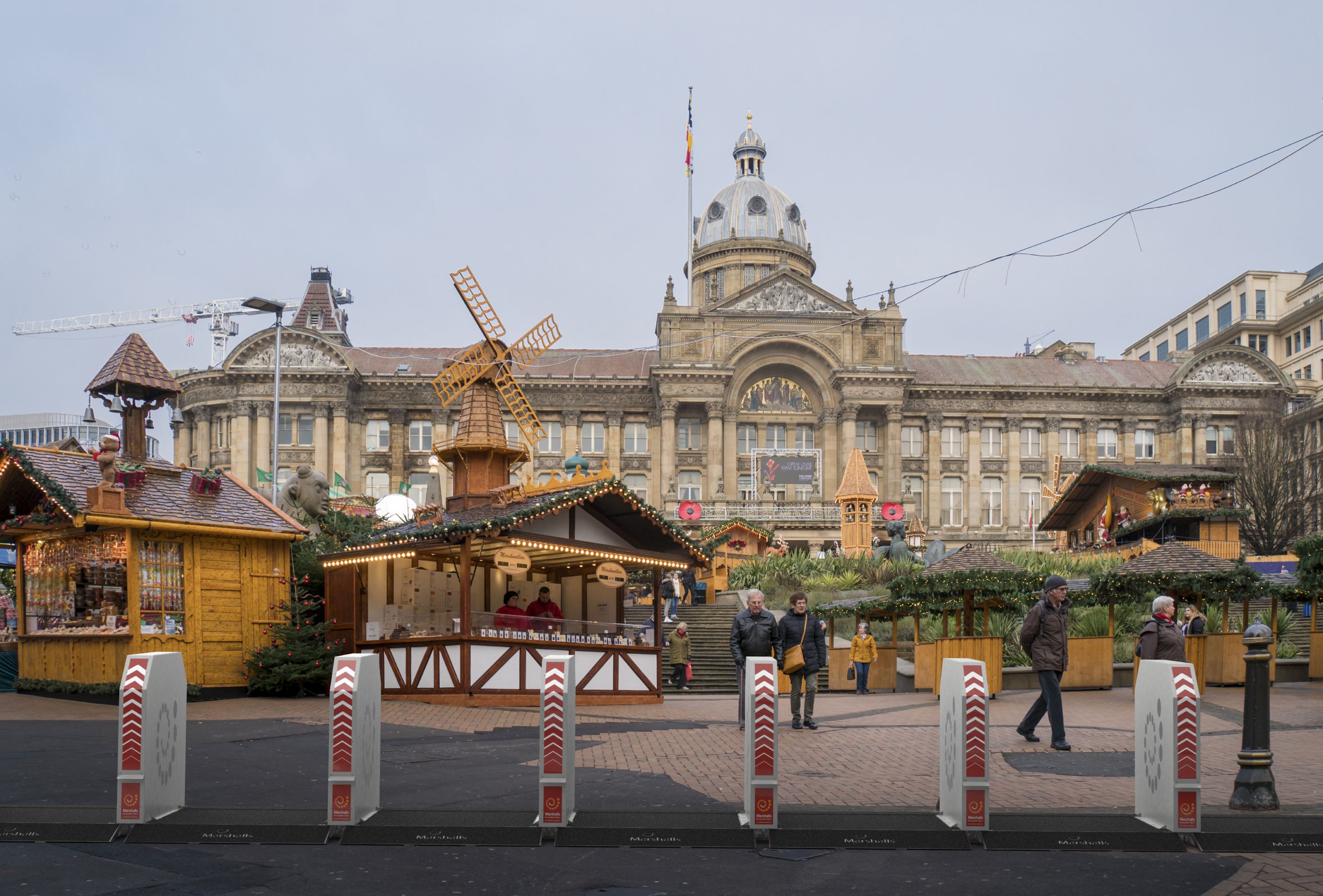 Thanks to recent innovations, it is now entirely possible to have landscape protection products that look and feel like decorative items. The market is now home to a number of seats, planters and well-designed bollards that have been engineered to withstand crash tests while also designed to appeal aesthetically – allowing architects, planners and designers to install security measures without instilling fear.
But when it comes to temporary events, like Christmas markets, there is a need for measures that can easily be deployed and removed. Until recently, however, the default position on these was to opt for a utilitarian approach that might be safe but looks very functional.
Earlier this year we launched a new product as an alternative option. The RhinoGuard® Steel GateKeeper™ range is different to those already on the market by being able to offer a pedestrian friendly option for specifiers with vehicle access points, requires no anchorage and is successfully crash-tested to IWA 14.1 standards. This means it can protect against vehicles weighing up to 2.5 tonnes travelling up to 30mph.
The system is also completely modular, making it suitable for use in any space, there are individual elements that can be removed to allow access for emergency services vehicles and can be completed by on site crews due to its lightweight design.
It was recently used outside the FlyDSA Arena in Sheffield for a major pop concert that attracted nearly 14,000 people. Installation proved quick and easy, there was no impact to queuing times and the product was removed with the minimal of fuss the following day, leaving the event organisers singing its praises.
Ultimately the launch of the RhinoGuard® GateKeeper™ range ties into our commitment to making people feel safe, not scared. We believe that busy public spaces and areas that attract high footfall, such as Christmas markets, can be protected without spoiling their vibrancy and accessibility. It's essential that security doesn't come simply down to cost and availability, and this system offers the perfect solution to protect our most popular spaces and keep security out of sight and out of mind.
You can read more about the RhinoGuard® Steel GateKeeper™ here and our wider range of landscape protection products here.