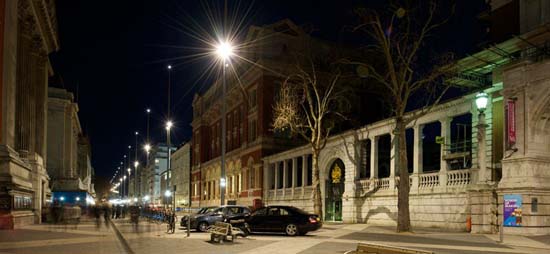 I've been invited, along with a representative from the Client (Royal Borough of Kensington & Chelsea) and Edward Jones CBE of Dixon Jones, to speak at Ecobuild next week on the subject of Exhibition Road.
Our presentation, 'Celebrating 2012 – How Landscape is Changing the Face of London' is part of a seminar day organised by the Landscape Institute to mark the launch of their new Client Guide. The day comprises four seminars and will no doubt present a thought-provoking opportunity to consider the planning of the built environment from a number of different perspectives.
Given that I'm speaking as one of a perfectly formed team of Client, Designer and Manufacturer, and we've had five years' post-Manual for Streets to digest the benefits of 'best practice', it might be safe to assume that we've finally found the Holy Grail - a truly multidisciplinary approach to projects.
Yet here at Marshalls we're confronted on a continual basis by the clear need for increased and deeper collaboration between groups of built environment professionals. As suppliers of one of the last items to be installed in a project, perhaps we're subjected to worst, rather than best, practice more often than those engaged at an earlier stage.
Maintaining Strength of Vision, Momentum & Direction
Occasionally the schemes we're involved in appear to lurch from one work stage to the next, with minimal liaison between a large and diverse group of stakeholders, and it's a wonder that some ever reach completion.
Over the last 25 years, and thousands of projects, we must have worked alongside every conceivable variant of stakeholder:
Clients - local authorities, developers etc
Landscape architects, architects, urban designers, planners, civil engineers, highways engineers, transport consultants, wayfinding consultants
Project managers, main contractors, specialist sub-contractors
Product designers, industrial designers, specialist prototypers
Lighting designers, lighting consultants, lighting engineers, M&E engineers
Artists, poets, public art consultants, graphic designers
Specialist suppliers of dozens of materials – stone, concrete, vitreous enamel, timber, aluminium (castings and extrusions), steel, stainless, steel, polyurethane, plastics, glass, recycled materials.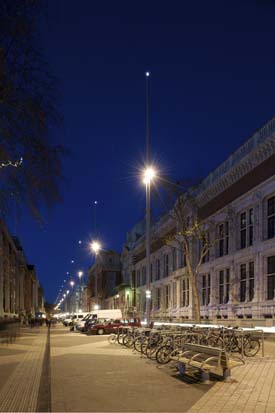 The most recent and most successful, examples of this approach is our supply of twenty-six 20+ metre light masts to Exhibition Road. A hugely complex scheme in its own right, running over many years and subject to exceptional constraints and challenges, the project was delivered on time and on budget.
A project team of six individuals worked closely with the designers and engineers at both Dixon Jones and Project Centre for approx four years to deliver this unique product to an exceptional project. That's not unusual for us: the longest gestation period for a project to date is 13 years (any delays caused, for clarity, by the customer and not Marshalls!) and we have continuously supplied to another major customer/project for a period of 25 years.
Work with us – we aim to please, not to sell!
We take it for granted that working closely (and willingly) alongside other experienced industry professionals is by far the most logical way to achieve the best possible outcome for our customers.
Deriving a functioning, attractive product from a sketchy concept draft, while keeping costs in check and assuring consistent quality of both design and materials, is a challenge. It is, however, considerably eased through effective and trusting collaboration, as opposed to the pressured, yet often aloof, approach that might be encountered through more forceful salespeople.
Early Engagement of the Right People
Aside from an exceptionally high level of professionalism from all parties, Exhibition Road demonstrated the value of early engagement and teamwork to everyone on the team: client, specifiers, project manager and contractor alike.
From an original desire to create a place like no other and establish a benchmark for future shared space, our small part in the project has helped achieve exactly that and, in our view, our stunning light masts are as iconic as their surroundings.
The value of a public space such as this can never be laid at the mercy of a buyer selecting from a product catalogue at the end of the design process. A single product is the very final choice; the scheme's overall objective, location of items, their role, aesthetic, design-life, material, and so much more, must be considered before the process of selection can begin.
The simplicity of the completed street belies the immense amount of thought and planning that has been conducted behind the scenes and the input of an extensive, collaborative team of professionals.
What is visible on the street today is very much just the tip of the iceberg.
What else can we learn? We know all about the gains to be made - potential reductions in project cost, minimising the scope for discovering anomalies late in the project, an improved aesthetic for the client, smoother and more rapid delivery of the build - and yet, exemplar projects appear to be relatively rare.
Perhaps it will take the rollout of BIM (Building Information Modelling) to finally complete the process and ensure the days of silo working are over?