Building Information Modeling has been a hot topic for a few years now but mainly focused on the building. However the 'B' in BIM does not mean THE building but actually refers to the PROCESS of building, so we shouldn't be under any illusion that BIM does not apply to whole project including Landscape and site works. To focus the mind, the government has stated that by 2016 it will be mandatory for all publicly procured projects to be delivered in BIM. For more information on what BIM is it would be best to refer to the www.BIMtalk.co.uk website. When I started to look into BIM the key question for me was - is BIM useful for landscape?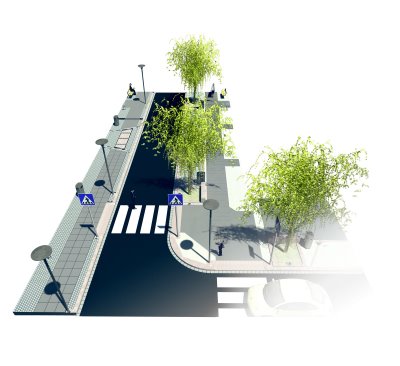 Image Credit : Revit Blog
As I discovered there are many benefits:
Provide 3D model visualisations: helps design team, client and construction understanding.
Better informed design decisions at early stage.
Coordination and clash detection: utilities and drainage (both existing & proposed), trees root zones, levels, attenuation tanks, retaining walls, building interface…
Cut fill analysis: greater & quicker understanding = less risk, less time, less cost.
Scheduling: area, materials, furniture = Quicker (& accurate!) cost understanding = less time lost in VE and less risk to projects.
Rich data: ease of understanding, long terms value for Facility Managers.
Potential to bring efficiencies into our delivery.
Potential to save contractors time and money.
The next question was then - how could we deliver BIM for landscape?
I developed the first BIM implementation plan for ColourUDL in late 2010 following a number of requests from our clients; one client simply stated "if you don't you will be left behind". I researched the topic in great detail and looked at endless options of how we could make BIM work for us Landscape Architects. It was quite apparent from an early stage that there was no simple solution and some development was needed by us to find a solution. Our process of learning-how-to-do-BIM took nearly two years, significant investment in technology, and huge investment in training and research time to make it work for us. Our development was recognized and rewarded in 2012 with an invitation to join the BIM Academy team for 'Build Qatar Live 2012', a 48hr open-BIM competition to design a museum for architecture in Doha. The competition was a fantastic learning experience for us and boosted the teams' confidence immensely, particularly when our team was awarded OVERALL WINNER! The excitement and buzz following the win was fantastic and opened doors to many new contacts.
In early 2013 we started work on a live full-site BIM project with BAM Design and Construction. Agreeing the deliverables at the outset (and being totally truthful about what we could actually deliver) was key. We also found that other disciplines wanted to use the project to test their capabilities further – the Architect, Structural, Civil and M&E engineers are all using our site model for full project coordination. Complex areas of level changes were resolved very early in the design process, when I know these could have been problem areas on site. Our planting plans were also delivered in a BIM compatible environment linking the planting plans into the 3D project model and providing visual understanding of massing. All hardscape materials in the model included construction build ups and specification details integrated to the model as does all site furniture, fencing and walls. Sections and schedules are generated directly from the model reducing the risk of errors and ensuring all project information is aligned.
In April 2013 we were invited to take part in the 'North East regional BiM HUB' open-BIM competition to design a new community centre. The main purpose of the event was to introduce SME's to the world of BIM. Whilst Marshalls may not be an SME one of our 'learning targets' was to partner someone from the landscape supply chain. Marshalls had recently started out on their own BIM journey and brought their furniture designers and paving technicians to join the team. The brief was to design a new community building in Byker – deep breath - in the 8hrs! Unbelievably the team managed this and created a landscape that connected to the surrounding streets and city stadium. Success was recognized with another award, and summing up the day George Mokhtar simply stated that "Colour have dispelled the myth that landscape architecture can't be done in revit, (they) have pulled out a great landscape scheme today". More importantly as a team we learnt a lot; Marshalls support was invaluable and I know they took taken a lot from the event allowing one key member of the supply chain to focus their BIM development plan with more certainty. For BIM to work we need all suppliers to be working in a BIM environment; providing compatible models of their products full of data for construction, maintenance and replacement.
I am in no doubt that BIM is the future, and those that don't react will be left behind.
Stephen Blacklock is Technical Director for Colour Urban Design Limited, sits on the Landscape Institute BIM Working Group, and is a member of the NE Regional BIM Hub. sblacklock@colour-udl.com