In an effort to make our cities more green, in terms of aesthetics as well as sustainability, designers and architects are looking to new technologies that allow us to breathe life into the very materials our buildings are constructed from. In this post we will look at examples of living walls and biological buildings from around the world that show how nature can co-exist with man-made structures, and how it can contribute to more than just appearance.
Living Walls and Vertical Gardens
Buildings That Photosynthesise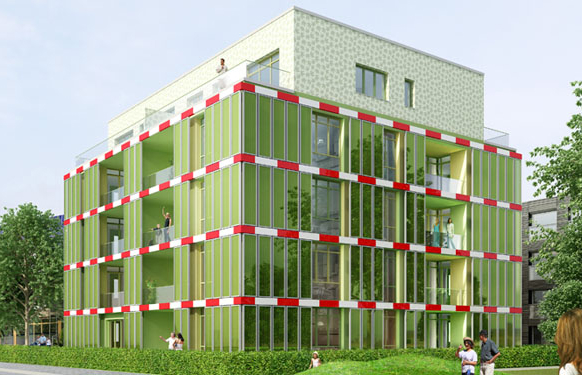 The world's first algae powered building, the BIQ, has been unveiled this year in Hamburg - a building that is intended to be completely self-sufficient through the incorporation of bio-chemical processes.
The walls of the building that face the sun have an extra shell of panels in which microalgae are cultivated to create a bio-skin. The algae are supplied with carbon dioxide and nutrients using a water circuit and are left to photosynthesise and grow. When the algae are ready to be harvested, they are separated from the still growing algae and transferred as a thick pulp to a room within the building. By fermenting the algae, biogas is generated; a renewable and eco-friendly energy source.
This bio-facade also uses energy transferred from the light to warm water for heating or it may be cached underground using borehole heat exchangers, realising a truly holistic energy concept.
Up until now, only theories of this type of building had been put forward - the BIQ is the first of its kind to have been built. The BIQ building will be viewed as a test-case to allow other architects to see whether this sort of design method is viable and will perhaps form the model for other examples around the world.
Europe's Largest Living Wall
Birmingham's living wall is looking a little sparse at the moment but should be flourishing by the summer
Europe's largest example of a living wall has been unveiled very recently at Two Snowhill in Birmingham. The wall is 220 metres long and features 600 square metres of plants, pre-planted in purpose built panels in a nursery in Holland. The office building the wall was built for, Two Snowhill, received just as much attention as it is the largest development to be built outside of London since the credit crunch.
With the panels having been transported from Holland specifically for this project, it doesn't sound quite as eco-friendly as other examples where the walls are encouraged to attract growth themselves, or where the plants are nurtured more locally. This certainly seems to be a case of aesthetics over sustainability, with landscape architect Carly Kingswell having this to say about the project:
"Living walls have been growing in popularity over a number of years, although one on the scale of Two Snowhill's is rarely seen.
The technology is relatively young, but this particular system is tried and tested, and once the plants achieve full coverage, the effect will be fantastic. Visitors to the building will see the wall grow and flourish over the summer."
Ecological Farmscrapers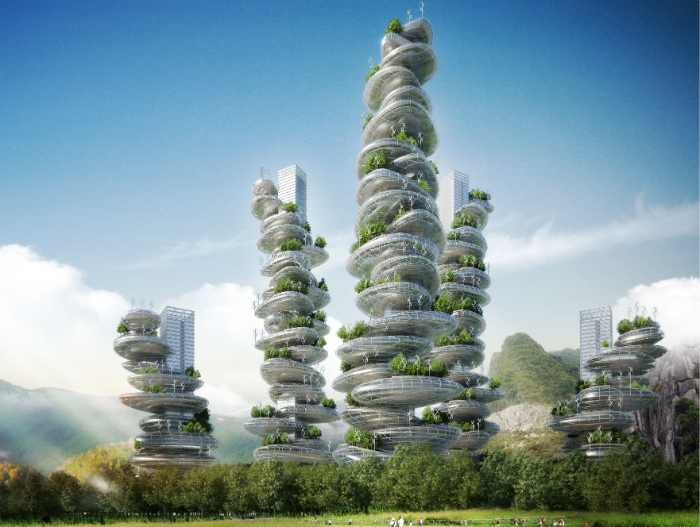 VINCENT CALLEBAUT ARCHITECTURES
The Belgian architect Vincent Callebaut has developed concepts for a series of six "farmscrapers"; futuristic residential and business skyscrapers that feature wind turbines, solar cells, vast public orchards, and urban agriculture fields. The project's details on the architectural firm's website can make rather unusual reading; for example, the "three interlaced eco-spirals" are described in the following way:
"The master plan is designed under the shape of three interlaced spirals that represent the 3 elements which are fire, earth and water, all organised around air in the middle. Each spiral curls up around two megalithic towers and forms urban ecosystems implanting the biodiversity in the heart of the City under the shape of vast public orchards and urban agriculture fields. Huge basins of viticulture and vast lagoons of phyto-puration recycle the grey waters rejected by the inhabited vertical farms."
The proposed project is intended to reverse the trend of urban exodus, and architecture that separates us from nature. The challenge is to make this "smart city" not just carbon neutral, but to be energy positive, meaning it will generate more energy than it uses.
The project is nothing if not ambitious and NY Daily News claim that critics remain doubtful over whether it can meet the steep objectives it has set to accomplish.
Encouraging Nature, Not Separating It
All of these projects, and those like it, are trying to incorporate nature into our architecture, not separate us from it. But it is about more than just appearances and using greenery to make our urban environments more pleasing places to be. It is about harnessing nature to create cities that are sustainable, and enabling the co-existence of two previously very different worlds.
Image Credits:
Living Wall, Two Snowhill by Billy Fallows