We all aspire to live in an environment where we can see trees, flowers, wonderful views and perfectly manicured hedges and lawns but, sadly, too many of our towns, cities and residential areas are heavy with building after building, road after road and unsafe areas which we all avoid like the plague. Places that make us feel dull, uninspired and are best avoided at all costs.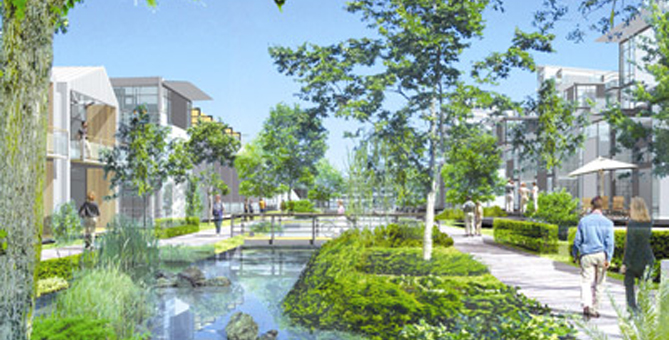 Fast forward 100 years (let's hope it doesn't take that long!) to a future where developers, planners, landscapers and builders have worked together, with 'Green Infrastructure' in the forefront of everyone's minds, to achieve utopia for the people of Britain. You see people walking happily in the park, meeting up with friends in flower-filled areas, sitting on comfortable benches with no graffiti and the prospect of flooding is very much 'last century'! Can it really be possible to 'get everyone together' to work towards creating a much better landscape for the generations to come?
The concept of Green Infrastructure (GI) has recently seen a resurgence of interest from Central Government, Local Authorities and the construction industry, with the Landscape Institute (LI) taking a lead on promoting the benefits of adopting an holistic approach to 'greening' our environment. The LI has produced six recommendations on how to deliver the next generation of GI today and they feel it is no longer acceptable to approach these challenges in an isolated way. "What we need is for all those responsible for the planning, development and management of our land to take stock and accept that a more dynamic and integrated approach to our limited land resource is crucial" says Sue Illman, President of the Landscape Institute.
Credit: Incredible Edible Todmorden
So what are the benefits to us of embracing this GI ideal? It relates to any open spaces such as parks, playing fields, woodland, river and canals and private gardens. It's about creating spaces where wildlife can flourish; where people can relax and take some exercise while enjoying the outdoors to enhance their wellbeing; and taking away the fear of flooding, which is currently a huge problem in the UK. GI can also provide an outdoor education for children and yield produce from allotments, gardens and public areas.
There are lots of positives to looking seriously at how we build our future landscapes, and the Government are now supporting this by integrating GI into policy documents such as the National Planning Policy Framework and Natural Environment White Paper. These policies encourage the incorporation of green spaces into future regeneration projects and the LI is now calling for the Government to fund the necessary changes and this new approach to GI so that it will make a tangible difference.
Sue Illman went on to say: "The Green Infrastructure approach to land use is often more cost-effective, more resilient and more capable of meeting the social, environmental and economic demands of the 21st century." Natural England also believes that investment in GI will act as a catalyst to economic growth by encouraging investment from businesses that are more likely to invest in attractive areas where people want to be, as well as creating employment and supporting increased spending through increased tourism and visitors, all further enhancing economic growth.
And let's not forget about flooding – no-one needs to be reminded of the utter devastation some communities have suffered over the past couple of years, and it just keeps happening. The water simply has nowhere to go now that hard landscaping has replaced many green spaces over the last few decades and, right now, managing flood risk has become high profile with media focusing on the hardship many of us are facing. Improved planning around reducing this risk is now essential if we are to ensure the environment is managed successfully and sustainable urban drainage systems (SUDs) must be integrated fully into GI plans.
We also need to 'get creative' about how to develop our green spaces and look for examples of excellence where thinking outside the box has truly been a success. One such project, which has received lots of attention, is the 'Pocket Park' in London where a dedicated team have created a 'blue-print' for making small scale GI interventions a reality.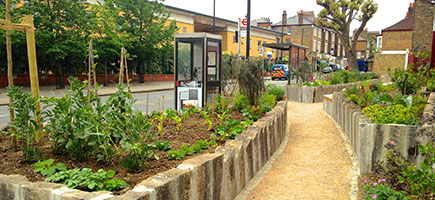 Credit : The Edible Bus Stop
Two intrepid garden entrepreneurs, Makaela Gilchrist and Will Sandy (a landscape architect), came up with the idea, dubbing it 'guerrilla gardening with permission', and have created The Edible Bus Stop. They have worked hard with the local community, who they got involved at every step of process, from consultation to donating their time to help. The Mayor of London is on track to reach his target of providing 100 innovative Pocket Parks all over the Capital – what an inspiration!
To date, the result has been the creation of a number of 'Pocket Parks' which have been created by their own community, for their own community. Gilchrist said of the end result in Lambeth: "The rewards will bring tears to your eyes. The evening before Landor Road opened I watched someone walk past the road and choose to go the long way round so as to walk through the garden. Another couple sat canoodling with a bag of crisps on one of our benches, while another man chose to sit, waiting for the bus, on our bench instead of at the bus shelter, looking at the herbs."
Says it all really – what are we waiting for?