Whether it's an airport, motorway, distribution centre or busy supermarket car park, large surfaced areas need drainage systems that can cope with the volumes of water the great British weather is likely to throw at them.

This is where Marshalls Drexus XL comes in. A medium density polyethylene linear drainage channel with a difference, its innovative diagonal slots mean it can cope with 38% more water than other systems on the
market.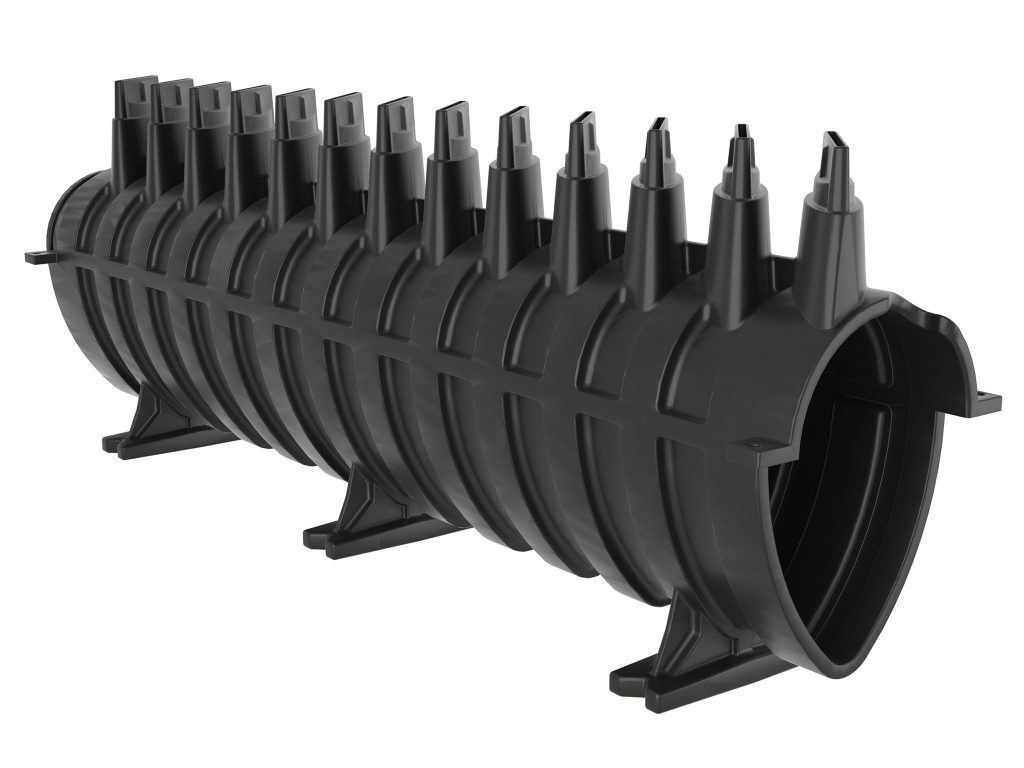 It can also cover any load class, making it ideally suited for high capacity, heavy duty projects such as busy service yards, commercial outlets, rail and docking ports, motorways and airports with severe dynamic transport loading.
High performance
The high capacity system is designed to offer attenuation and storage facilities but also to achieve sufficient flow velocities at a low gradient to ensure that the channels require minimal maintenance.

Drexus XL's In-Situ surface finish integrates seamlessly into concrete surfaces. The system is neatly installed in a trench, its diagonal inlet slots extending all the way to the surface, and then backfilled with concrete.

Surface water is caught by the inlet slots and passed to the main channel beneath the surface, transporting it to the sewage network. A one-piece unit, there's no need for cast iron grilles to be installed above the channel. It means there's no risk of their securing bolts coming loose and less maintenance to worry about. Concrete can simply be poured over the Drexus XL for minimal disruption to the make-up of the space. The fact the sealed unit is encased in concrete means it's essentially theft-proof.

Tested to F900 capacity – the highest possible load rating achievable – Drexus XL is more than suited to the rigorous demands of heavy traffic including aeroplanes and dock containers. It was recently the drainage of choice for a major supermarket's new distribution centre in the West Midlands, with a total of 440 metres of Drexus XL installed beneath the busy concrete service yard. The result is a highly efficient and robust water management system which is not only capable of withstanding the high volume of surface water, but also the heavy vehicle overrun on site for many years to come.


Excellent efficiency
What makes Drexus XL unique? Well, unlike other products of this type, it doesn't just have a single slot running through the concrete. Instead its inlet slots are set at a 45-degree angle to increase the area that water can drain into – allowing more water to be dealt with over a shorter time period compared to industry equivalents.
We've estimated that the patented technology of Drexus XL means it's capable of collecting 38% more water than other systems, assuming the same slot length.
This translates into significant cost savings – 400 metres of Drexus XL is as effective as 600 metres of similar drainage product, making it quicker to install too. Also, with a larger area for water to drain into, there's less chance of blockage hampering its overall performance, resulting in lower maintenance and upkeep costs.
Its design makes the task of installation even more straightforward thanks to feet at either end and in the centre of each 2m length. A clearly-marked concrete fill level also adds to ease of use.
So when you're looking for an innovative drainage system that's going to deliver seamless integration, high load capacity and unrivalled efficiency – along with straightforward installation, low maintenance and impressive cost savings – look no further than Marshalls' Drexus XL.