Far from simply being the functional and necessary commodity many believe it to be, clever choices made in public paving can create great outdoor spaces and networks that serve to connect multiple areas and city destinations with attractive pedestrian-friendly routes. Paving projects should never adopt a one-size-fits-all approach, and here at Marshalls we've always believed that whatever the artistic vision of a development, the right type of paving can contribute to an awe-inspiring masterpiece.
This is why we launched Get a new perspective on paving, a campaign to challenge architects and designers to take a different viewpoint on paving. We're so confident our paving is creative and beautiful we've sent out virtual reality goggles to architects around the country in order for them to access our artwork. And for a limited amount of time, you can order a pair of virtual reality goggles, unleash your artistic vision and further explore our range. #
Your next project calls for contemporary, exciting and inspirational components and we can help you express your creative vision through unique paving designs.
Think you know Marshalls' paving?
We are the UK's leading hard landscaping manufacturer, supplying natural stone and innovative concrete products since the 1890s. We have built a pivotal position in the industry when it comes to concrete paving – 71% of architects we spoke to say that Marshalls is their first choice for concrete paving – and now our mission is to highlight how, given the chance, paving can utterly transform a space.
One notion we are looking to quash is that concrete is cold and grey and only used for functional purposes in heavily trafficked areas. While its durable properties make it a practical and hardwearing product, its potential to create colourful and unique spaces mustn't be overlooked when designing a new landscape either. But don't just take our word for it – see for yourself.
Creating the look
To demonstrate exactly what can be done with the right creative vision and the right paving products, we've created four stunning designs:
Mosaic Face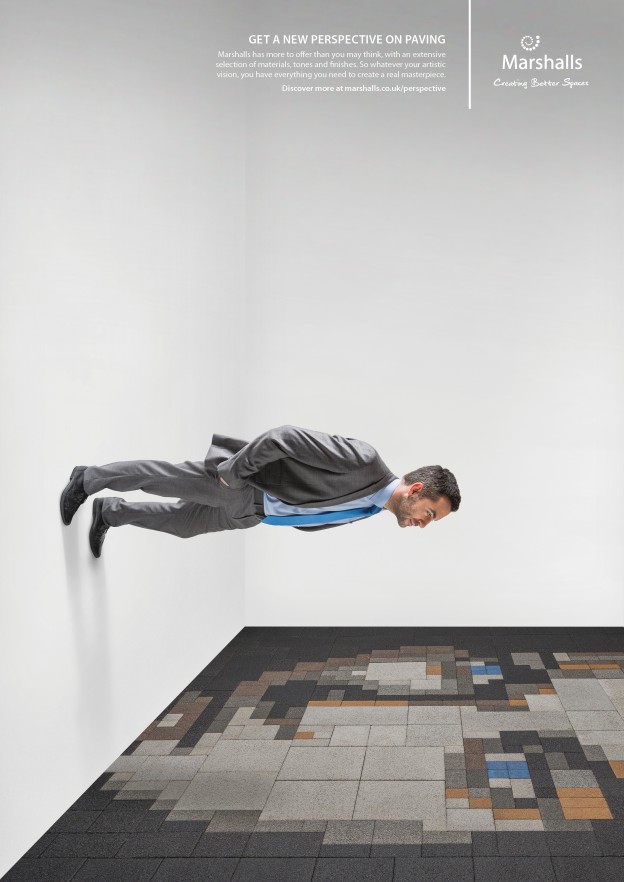 Mosaic Face
Made using all seven colours of our La Linia range, you can see how subtly textured paving, when used well, can provide a unique look and a striking aesthetic. Go behind the scenes and watch how we put the look together.
Warped Space
Proteus granite is available in a range of finishes but opt for polished and it's ideal for feature elements should your design require a focal point. Plus, all Marshalls' granite products are tested to UK standards and are CE marked according to the most recent legislation.
Optical Illusion
Optical Illusion
For contemporary urban designs, Rivero's mix of sophisticated tones brings pedestrian and trafficked areas to life beautifully. A premium paving option with subtle glistening highlights, it works well in our 'Optical Illusion'.
Space Invaders
Space Invaders
The Myriad Priora paving seen here allows for no-holds-barred creativity and can follow a designer's imagination anywhere in creating stand-out urban landscapes. This paving has the ability to put lacklustre spaces on the map through clever use of pattern and attractive colourways.
A little creativity in great paving design can go a very long way towards ensuring the public feel an affinity with outdoor space. This can mean the difference between practical yet characterless walkways used to simply connect people from A to B, to spaces they actually want to be part of and enjoy spending time in.
Marshalls has a lot more to offer by way of paving to meet the most creative of minds, so about our extensive selection of stunning finishes and allow us to inspire your vision.