In the words of Mary Portas "How we shop as a nation has quite simply changed beyond recognition – forever." So what is the answer if our high streets are to remain relevant when competing with a click and collect society?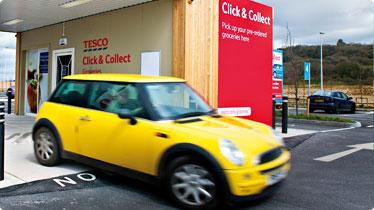 The rise of online retailing is quite simply taking the world by storm with its accessibility, convenience and competitive pricing strategies as can be seen by John Lewis and Debenhams reporting that their Christmas online sales were up 23% and 32% respectively. Whilst the large retailers have the capacity and cash to invest in emerging technologies, click and collect and the ominous sounding 'dark stores' many retailers in our towns and villages are still experiencing hard times with high rents, rates and low footfall. And it is no secret that many smaller retailers aren't yet using online retailing as a tactic to bring people to their retailing establishments.
So if the future is online retailing, what role should the high street adopt when trying to attract visitors and community to spend their hard-earned cash or even bother to 'have a day out' as they do in purpose built retail areas? What will make them park their cars, take public transport, cycle or walk in our towns and high streets?
The shopping experience in many of our towns is now quite simply rather dull, with empty premises, poorly designed pedestrian areas and too many charity shops and estate agents. Parking restrictions and high charges often deter shoppers from even bothering with the high street – why would they when they can go to the larger out of town shopping malls which offer free parking and an experience far removed from the wet, windy and dreary high street?
As the face of the UK high street, Mary Portas is now championing a return to a time when a town's main thoroughfare was bustling with activity, a lively thronging place to shop, meet and have fun. In some areas of the UK there does appear to be something of a renaissance going on that will hopefully convert our once loved towns and high streets into places of community and interaction once again.
Even relatively simple measures such as providing suitable bins and keeping the streets clean and tidy can have a huge impact. Add to that well designed pedestrian routes, landscape improvements and adequate lighting, and you can start to see some merits in taking a stroll to your local shops. But we need to go further and provide people with an 'experience' which they can't get anywhere else – after all, isn't that why shopping malls have become so popular – it's a 'day out' for the whole family: cinema, dining out, retail therapy, all under one very dry roof!
CGI of Stockton Central Area Plans
Competing with the big retail experience and cosy online shopping have taken the heart out of some of our towns and high streets but green shoots of hope and resilience are starting to be seen. Take Stockton Borough Council, for example, who have taken an 'all-round' approach to the redevelopment of the town with a £38 million investment.
The Leader of Stockton Council, Councillor Bob Cook, said: "Like Mary Portas, we believe town centres should be lively, dynamic places which bring together a whole range of different elements. We're not just tackling the practical issues, such as design, cleanliness, empty buildings and parking, but we're changing how the place feels - making it a place where people want to spend time.
Stockton's makeover has included bespoke street lighting with LEDs inserted into the column, water features, new bus stops and the renewal and upgrading of all paved areas, creating what they say is "a new sparkling high street which is an appealing place to be."
Stockton - Phase 1 Complete
It seems Stockton Borough Council have quite literally gone to town with their ambitious plans for their high street. They are redeveloping old properties to create more parking and ensuring walkways are connected to main areas to provide safe and accessible access for all. They are even attracting more businesses to the area with low cost retail spaces and a full package of business support – a truly 360 degree view to cater for everyone.
The wave of public and media interest in the redevelopment of our high street is now receiving government attention and backing with Planning Minister, Nick Boles announcing recently that: "New 'town centre first' planning rules will help to breathe life back into rural communities and town centres by cutting red tape and making it easier to bring empty and underused buildings back to life. The proposals reflect the advice of the Portas Review which recommended more flexibility for change of use, and would help the high street, rural communities and local retailers by increasing footfall and spending."
So, creating this 'sparkly' new high street is not impossible and with the right amount of grit and determination, so prevalent amongst the British, the renaissance of our towns and high streets can surely win through. Embracing new technology and working with communities and businesses will put the sparkle back into the places we love the most.
Our towns and high street retailers have one distinct advantage when it comes to competing with the big out of town retailers - they can attract customers with a 'connected retail' offer. Retailers can offer bespoke, personalised products and interactions which you can't get anywhere else, and understanding and getting to know your customers is easy when they live up the street and you see them regularly. This, together with a well-lit, safe and clean environment which is easy to get around are the makings of a fight back in our towns to secure their economic success and future growth.