The ever-changing character of the public realm means that many cities' urban public spaces have lost their identity. Drawing upon the thinking behind landscape architect Sarah Gaventa's Never Mind the Bollards exhibition, Abigail Kellett, Street Furniture Product Manager takes a look at the key issues those spaces are facing and how we can make them more interactive and inclusive for all users.
Urban public spaces are everywhere. They're the park down the road teeming with children, the bustling square in the centre of the city, and the streets we drive through regularly – the library in the middle of town is even classed as public space.
Throughout the centuries, public spaces have always had a very clear and defined role, with markets used for shopping, business and socialising, for example, and squares providing an area for meetings. In more recent years, thinking behind public spaces seems to be more focused on how they function socially, economically and politically, and somewhere down the line, those once-defined roles have fallen by the wayside.
Much of a space's identity is dependent on its uses and whether or not it meets the needs of its users. But with the boundaries now so blurred and existing spaces having lost their identity, and rather than being 'everyone's space' they're now nobody's space, people no longer feel any kind of connection to them.
With the ever-evolving debate on exactly what constitutes a 'public space', many architects have been left scratching their heads trying to find new uses for these spaces. They also face the challenge of ensuring new urban buildings and spaces are functional, mindful of the environment and are suitable for a changing and ageing population, which means many designs must cater for people with visual impairment, hearing difficulties and decreased mobility. Simply put, if a place is to be truly 'public', it must cater for everyone; everybody should feel equal.
Public realm was the key focus of Never Mind the Bollards
The design history and potential future of the public realm was the key focus of Never Mind the Bollards – an installation, exhibition and design exploration which took place at The Building Centre in London, and complemented New London Architecture's Public London exhibition. The three-month event aims to raise questions about our public realm, its uses and how we make public spaces not just attractive but interactive and relevant. People are encouraged to discuss the issues that London's spaces and users face – as well as opportunities to improve streets and non-destination public spaces in the most innovative ways.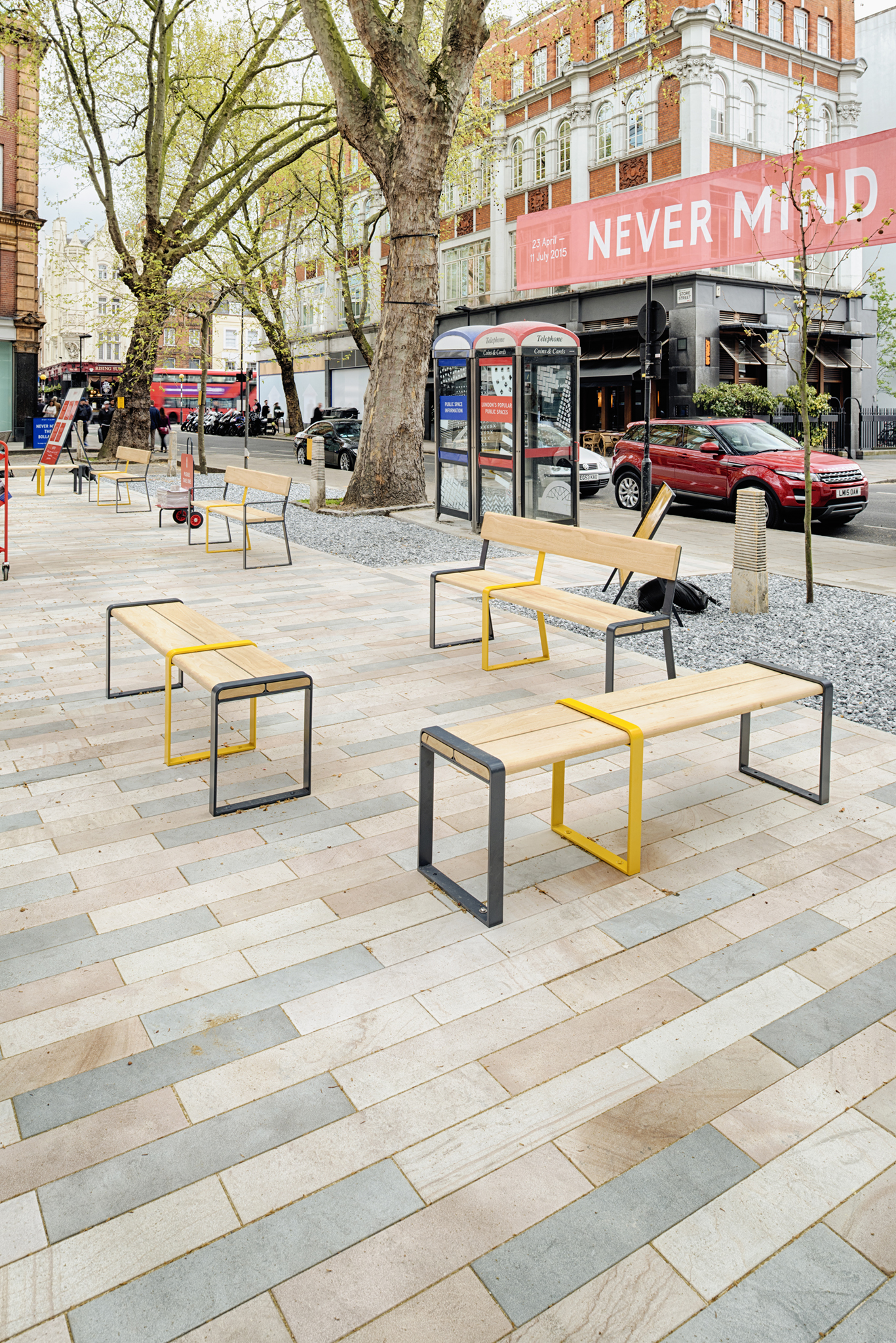 Never Mind the Bollards by Sarah Gaventa
For the event, we provided the Stonespar natural stone which was used to create The Crescent, an area outside the building in Store Street, along with seats and benches from the Loci range.
Sarah explains: "The Loci range was the obvious choice for my installation, Never Mind the Bollards – a temporary public space outside the NLA in Store Street. For starters, it is friendly and elegant – the seating really is designed to encourage people to sit on it, or even lie on it if they wish. With its simple wooden slats and coloured steel straps it resembles the type of furniture you might find in Habitat for your patio or dining room. I hope we get to sit on more Loci in our public realm soon."
While designed to be a place for people to relax, this area also played host to open-mic events where people from any sector could raise issues and share their thoughts about the capital's public spaces.
What is the future of the public realm?
Interactive street furniture
Our collaboration with digital designer and engineer Ross Atkin has resulted in the development of Responsive Street Furniture. This innovative technology ensures a public space is capable of responding to the different needs of an individual – that might be the elderly, those with a disability, or simply people who require a little more help getting around. While out and about, they are able to use digital devices such as smartphones and tablets to request brighter street lighting, audio information, extra places to sit, and more time to cross the road. Public spaces become unique to each user, rather than having that 'one size fits all' approach.
Protecting public spaces
It is important that we protect our public spaces, and protective street furniture plays a vital role in doing this – but it needn't compromise the aesthetics of a landscape to function in this key role. Bollards are a key method used to protect public space and they offer security against terrorism or road accidents, by preventing access by vehicles at high speed – with or without intent – from causing catastrophic damage. They are also an essential installation for accident blackspots, and can be used to prevent ram-raiding and small cash-point robberies.
All bollards used for this purpose must meet PAS 68 impact test specifications, a Publicly Available Specification (PAS) that addresses the needs of organisations who seek assurance that vehicle barriers will provide the required level of impact resistance. However, thinking has come a long way in terms of protecting our public spaces, and furniture is not restricted to bollards. This protective technology can be integrated into seating, litter bins, planters, lighting columns and railings, so has the potential to not only be discreet, but actually provide beautiful focal points in our streetscapes.
Shared spaces
We're behind the government's attempts to get more people onto their bikes to reduce vehicle congestion, tackle health issues and save money per person in transport and fuel expenses. However, the public realm requires heavy investment in well-designed cycling street furniture and fully integrated cycle schemes if road users are to be encouraged to leave their cars at home. Our towns and cities need a more cycle-friendly attitude, and architects are placing increasing emphasis on products and ideas such as cycle segregation units, cycle parking, water bottle refill stations and specially-designed rubbish bins – perhaps taking inspiration from Copenhagen where the cycle lanes have angled litter bins.
Finding the way
Smarter wayfinding in cities will be central in public realm development, with digital signage systems providing interaction, personalisation and low energy usage in large public spaces. Meanwhile, clever lighting design will enhance the look of any public space and provide security for its users, as well as create a particular ambience, and well-lit focal points can even provide help with getting around.
The often-overlooked everyday items of street furniture play a vital role within our streetscapes and shape our public spaces. Creative thinking is a must if we're to ensure our streets and public spaces are fully inclusive, regain their once-distinctive identity and aren't simply being treated as thoroughfares.
A few things to consider then:
Is the challenge/expenditure of managing and maintaining public spaces putting councils off updating existing dormant public spaces?
What's next in the quest to make street furniture more interactive?
How can we use locally characteristic materials to breathe life into tired spaces?