Earlier this year, London was ranked the second most sustainable city in the world ahead of Copenhagen and behind Frankfurt[1]. But with more pressure than ever to create sustainable urban landscapes for the growing population, that don't impact on quality of life or prosperity, we look at the thinking behind sustainable building projects and consider the future of sustainable cities.
The world's cities make up just 4% of the Earth's surface area, yet are home to more than half of the world's people[2], and that number is only going to rise. It's a rather sobering thought when you consider the ecological, societal and economic challenges we're up against. But just how realistic and attainable are our objectives when it comes to making Britain's cities more sustainable?
Growing urbanisation is resulting in the need to redefine public spaces (and their role within the landscape), tackle problems with unmanageable traffic and transportation – as well as their environmental effects – and come up with developments to aid the conservation of natural resources and the reduction of CO2 emissions.
In short, to support a sustainable urban future, there is the need for change not only in regards to cities' buildings and infrastructure, but also the behaviours and thinking of its residents – but we are getting there.
Smart cities and smarter people
If we are living beyond our means, could we risk damaging the well-being of future generations if we don't take a more informed and considered approach to sustainability? It's vital we keep looking to the future to anticipate any challenges and develop the solutions.
'Green building' is becoming a more and more accessible concept thanks to developments in technology, tightened regulations and measuring programs. It ensures all processes adhered to throughout construction are environmentally responsible and resource-efficient during the building's lifetime, from design right through to maintenance and renovation, and its eventual demolition.
The Building Research Establishment devised its environmental assessment methodology 25 years ago, and meeting BREEAM ratings is now seen as almost compulsory in the eyes of many local authorities. Assessment and ratings to demonstrate just how sustainable buildings are should be realised as part of the planning application process.
However, while green construction and BREEAM ratings are important in helping to steer designers and the construction industry towards more sustainable buildings, that's only part of the solution.
Continuing innovative efforts are being made to ensure that , from street lighting and signage systems to waste management and smart alert systems for the elderly. Key features of our cities' streetscapes can now come to life with interactivity and personalisation functionality, using high-tech solutions and increased transfer of information. Implementing intelligent street furniture and strategically placed lighting, among the many other offerings of smarter street designs, results in a more efficient use of space and less energy usage.
Sustainable construction and attractive landscapes
It's an outdated and incorrect belief that in attempting to make Britain's cities more sustainable, we cannot avoid aesthetics being compromised. That simply shouldn't be the case.
The Crystal, by Siemens, is one of London's most attractive buildings. But that's not its main draw. The glass-faceted structure is home to the world's largest exhibition on the future of cities, and is a hub for an ongoing debate on sustainable living and development. And most importantly, The Crystal holds the accolade for being the only building in the world to have achieved the highest accreditation in both BREEAM and LEED (Leadership in Energy & Environmental Design) green building rating schemes. Key features include ground source heat pumps which supply almost all of the building's heat, and solar photovoltaic panels on two-thirds of its roof to produce around 20% of the electricity it uses. Plus, visitors will find 15 electric car-charging points dotted around the site[3]. This unique sustainability venue offers up plenty of inspiration for the type of constructions other cities should look to follow.
The Crystal, London
In south Devon, work is under way to bring to life Prince's Charles' vision of an ecotown for 12,000 people. Sherford's eco-homes will come with free bicycles, wind turbines will power their low-energy light bulbs and cars will be banned from some areas. It's believed Sherford will be the greenest new settlement in Britain.
Sustainability: it's the future
There isn't one simple shortcut to a clean, low-carbon, wholly environmentally-friendly city. The success lies in all elements of planning, innovation, investment and implementation working together to reduce carbon emissions and take responsibility for energy consumption. And there are sustainable options for every step of the design and build process, from recycled paving to finishing accessories that promote sustainable water management and add a beautiful aesthetic to the landscape.
So what we can we learn from Frankfurt, the world's most sustainable city? While London benefits from enforcements of the Mayor when it comes to the public transport network and the congestion charge, for example, it's argued that the housing shortage crisis needs to be addressed and attitudes towards consumption need to be turned on their head. As a nation, we need to look at how we perform when it comes to waste management and air and water pollution, and continue down the path of making cities smarter and more inclusive (educating citizens about the data and smart technology along the way).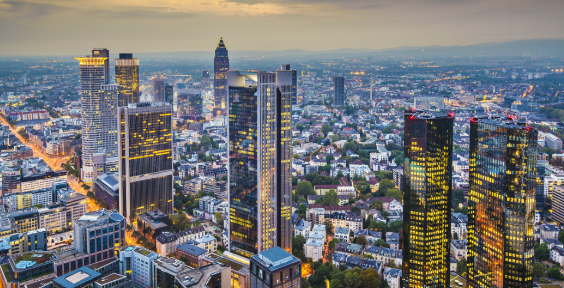 While no utopian city currently exists, reports have shown that sustainable cities are achievable – we only have to look to London, Frankfurt or Copenhagen to see that. But politicians, local authorities, designers and construction workers need to work closely to balance demands of financial returns, and aesthetics for the people living there, whilst also minimising their carbon footprint. Perhaps the answer lies in incentivising energy saving – one of Frankfurt's many green schemes involves rewarding electricity saving with a cash bonus[4].
Or perhaps the answer is even simpler than that – after all, surely the best place to start is to invest in behaviour change and education?