Maintenance affects us all. Whether we're weather-proofing our house and garden, servicing the car or even buying new clothes, the projected life of the item is of importance to us. Proper maintenance is vital to ensure the best performance, value for money and the most use.
The same is of course true of public realm design and specification. But here, there is an even greater, ongoing threat from vandalism. This can range from damaging 'tagging' using permanent pen through to skating, knife attacks and outright theft. Design and specification of street furniture, signage systems, lighting and even art projects must consider the likelihood that any of these acts might occur and account for it.
There is a wide variation in the quality of street furniture products available in the UK and it's not always easy to make direct comparisons when similar products can seem to have a similar expected life length. Vandalism is the most consistent ongoing drain on maintenance resource and it is therefore increasingly important that comparisons are made carefully and the chosen material is protected in order to control maintenance costs.
Focussing on timber, steel, natural and cast stone, the following article outlines the most common types of vandalism and how a combination of informed specification, site placement and treatment can help to counter them.
'Tagging' and general graffiti can be a significant problem in urban areas. Although there are many chemical cleaners that will remove the vandals' mark, the lasting effect upon the material from which it is being removed is the real problem.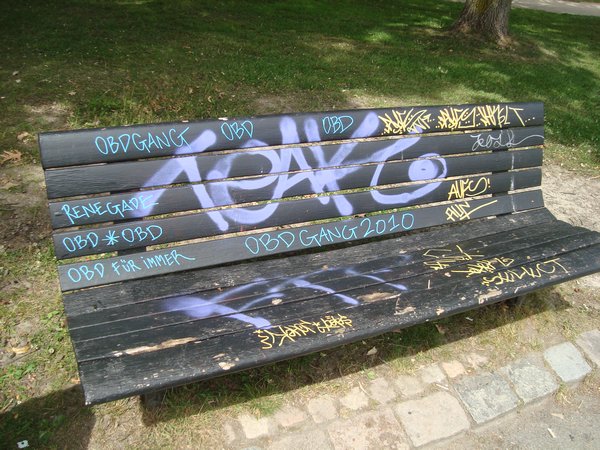 Timber
Iroko, and most hardwoods, can be cleaned relatively easily with little lasting damage to the surface, but this depends greatly on the finish of the wood at installation. Any robust clear varnish will cover and protect the wood but isn't generally attractive or popular. Consequently, more attractive stains and natural finishes are being developed, as sustainable Glu-Lam products become increasingly prevalent in the public realm. Pressure washers remove much of the graffiti very effectively but there may be the need for fine abrasive to completely remove the tag, followed by clean and re-treat. The incidence of fire damage is low so isn't worth the expense of protecting against.
Steel – Stainless, painted and un-painted
Graffiti removal from stainless steel and galvanised or anodised steel surfaces is generally not a difficult issue, as chemical cleaners will dissolve the paint or pen easily, without damaging the steel surface, although multi-applications may be required. Painted mild steel is less easy to clean as chemical cleaners can fade the colour tone of powder coated and wet painted finishes and scouring is inadvisable, so careful selection of suitable colours and an appropriate method of application is crucial. For general applications however, powder coating is perfectly good and easily maintainable. Vitreous enamel coatings provide stable colour and excellent durability but are more expensive to install.
Cast and Natural Stone
Graffiti on stone can be removed with pressure washers but often chemicals or scouring is also needed, depending on the finish and size of aggregate. The application of a proprietary transparent polymer coating as part of the manufacture is recommended, which enables cleaning chemicals to be used to remove the graffiti, whilst the actual surface of the stone is protected. Applied as a triple layer to the surface of the stone, this treatment can be reapplied on site after chemical cleaning has removed the top two layers.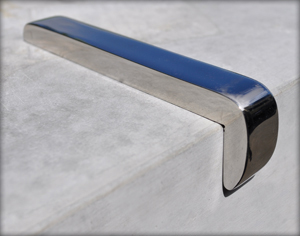 Physical vandalism is perhaps the most pertinent and costly issue in public realm design and maintenance, there are no simple solutions to this epidemic. Although studies show that higher quality materials and finishes receive the least amount of vandalism, the best strategy is to research the most appropriate material for the project, select the correct finish and employ as many preventative measures as possible, based on knowledge of the likely site users. Many linear forms in the public realm are convenient as an edge to 'grind' along with skates, skateboards and BMX bikes (with add-on pegs). Deterrents can eradicate the problem completely, as long as the top flat surface of the item is fully protected with an upstand of some kind e.g. an armrest. Such additions do affect the aesthetic of the product however and are often shunned by specifiers for this very reason. A good alternative is the placement of the furniture within a non-smooth or cobbled surface, thus preventing skaters and skateboarders being able to approach the item in comfort.
Timber
Timber will eventually wear and is vulnerable to gouging and scarring. Treatment of damage, once it has occurred, really depends on the nature and severity but cavities can be filled, rubbed down and painted on site quite easily and replacement elements are relatively inexpensive.
Cast and Natural Stone
Stone will eventually chip and mark through persistent grinding. On site repair is sometimes possible but is costly and does not always have the desired effect as matching both colour and finish can be difficult; it also takes the item out of use during the repair. Ideally prevention is better than cure here so selecting suitable add-on protection or opting for less linear forms is preferable.
Steel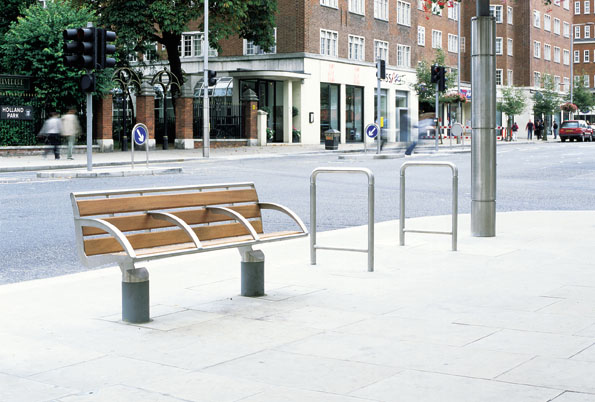 Stainless steel is incredibly hardy and therefore damage is generally light. Finishes such as a brushed or shot-peened effect can only be applied in manufacture so this should be a consideration when specifying for your site. Most small dents can be resolved with refurbishment however site placement is important to avoid vehicular damage. A polished finish is generally the most resistant and easy to live with. Powder coated mild steel will mark and chip more readily and, because powder coating is quite thick, site repair needs the area to be rubbed down to relieve the edge of the chip and repaired with an approved paint system. Alternatively the item could be removed to the factory to be re-painted in the original manner if damaged. Wet paint can sometimes be a good inexpensive alternative and is easily re-applied on site.
In summary although vandalism will always be a problem, its effects can be limited through understanding the nature and likely location of an attack. The urban landscape is an ever evolving space that supports and envelopes the user and it needs to be intrinsically robust. Linear forms and painted or vulnerable materials will always be a target and therefore should be specified carefully.
Budgets are restricted in these economically straitened days, but it is still certainly true that in order to be able to 'fit and forget', as ever, quality will out.