At Marshalls Landscape Protection, we offer an extensive range of Hostile Vehicle Mitigation (HVM) products, from bollards and posts, to seating and planters. However, sometimes permanent protective systems aren't always required and instead, a temporary solution would be more suitable.
In these instances, our recently launched RhinoGuard® GateKeeper® is the perfect system to provide versatile protection for public spaces. To discuss the product further is Matt Sier, National Sales Manager at Marshalls.
Matt, could you please explain what RhinoGuard® GateKeeper® is?
RhinoGuard® GateKeeper® is a temporary HVM system. So, when protection is required in the public realm for a period of hours, days or weeks, RhinoGuard® GateKeeper® is the ideal solution. It is manufactured using mild steel and has been successfully registered twice in accordance with the IWA 14.1 standard, capable of stopping a 2.5 tonne vehicle travelling at 30mph.
What application is RhinoGuard® GateKeeper® best suited for?
As a temporary solution, RhinoGuard® GateKeeper® is most commonly used in situations where a large volume of people inhabit a space for a short period of time, such as music concerts, sporting events or markets. Football matches are a great example – for a few hours once or possibly twice a week, thousands of fans will require protection as they enter and leave a stadium. In these instances, temporary solutions are much better suited for purpose and are far more cost efficient than permanent systems.
It is worth noting that, whilst there is currently no legislation forcing event organisers to uphold a duty of care for their visitors, that is set to change next year with the introduction of the Protect Duty. Also known as Martyn's Law, after a young man who tragically lost his life at the Manchester Arena attack in 2017, the law will put the onus on event organisers and venue owners to put systems in place to protect their visitors.
You mentioned markets, with the festive season upon us, why should organisers look towards RhinoGuard® GateKeeper® to protect their Christmas markets?
Ultimately, it comes down to the duty of care aspect that I just discussed. As an organiser, it would be irresponsible to put up an untested block or barrier and say it is capable of stopping a 2.5 tonne vehicle travelling at 30mph. RhinoGuard® GateKeeper® provides crash tested assurances, independently proven and verified to do what it says it can. Therefore, specifying RhinoGuard® GateKeeper® will provide organisers with peace of mind, knowing that the product will do its job in the event that something did happen.
Creating a festive feeling through visual aesthetic is important to Christmas markets. How does RhinoGuard® GateKeeper® keep its visual impact to a minimum?
We of course appreciate this, and have endeavoured to make RhinoGuard® GateKeeper® as unobtrusive as possible. Standing at just over one meter tall, RhinoGuard® GateKeeper® is far less visually impactful than a traditional barrier or gate whilst still offering excellent protective qualities. Additionally, the shroud that covers the protective spike is fully customisable, allowing organisers to promote their event or brand, whether that be with festive artwork for a Christmas market or team colours for a football club. We offer this because our aim at Marshalls Landscape Protection is keeping people safe, not scared.
What separates RhinoGuard® GateKeeper® from the competition?
The key difference between RhinoGuard® GateKeeper® and other temporary systems is that it is truly surface mounted, by that I mean there is no anchorage required. This in turn results in several other benefits, primarily the speed in which the system can be assembled and dissembled. We timed the assembly of an 11-unit run, finding that it could be deployed in approximately 30 minutes, something that our competitors would struggle to match.
Another feature of RhinoGuard® GateKeeper® that sets it apart from the competition is that it uses curved transition joints, allowing it to be installed on roads and footpaths where there are differing heights to contend with. It can therefore be connected in a continuous single run.
Finally, RhinoGuard® GateKeeper® is equipped with a quick release pin which, when removed, allows the protective spike to be lowered. This is a crucial safety feature, that allows emergency service vehicles to gain quick access through the barrier if required.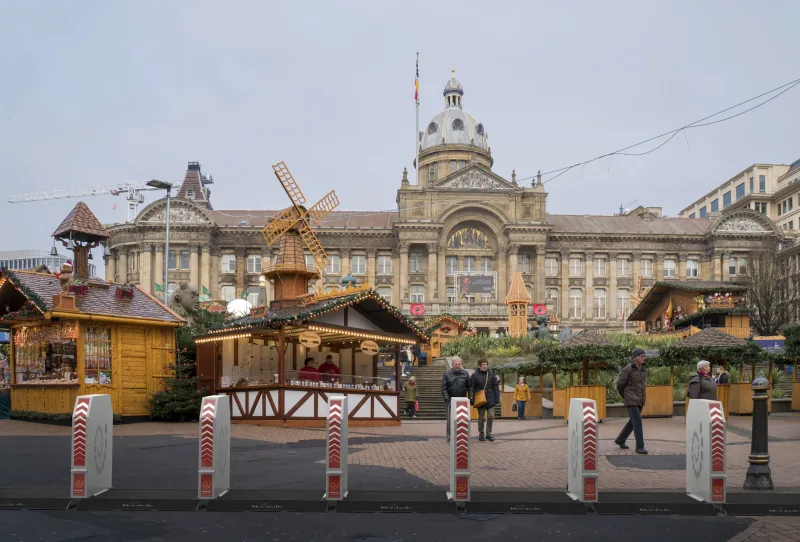 To find out more about RhinoGuard® GateKeeper®, please visit: https://www.marshalls.co.uk/commercial/product/rhinoguard-gatekeeper-steel