Is the city designed for cars, for cyclists, or for people? The shared space movement advocates freeing the streets from traffic lights, stop signs, zebra crossings, and kerbs, turning them into democratic spaces where all road-users can coexist. In this second part of our Shareable Cities series, we explore further ways in which cities are changing gear and becoming more pedestrianised.
Saying goodbye to light time wasters
Whether by foot or by car, most of us have to travel for twice the time due to unnecessarily long waits at traffic lights. Queuing takes up time in our already-busy lives, but the long wait for the green light also takes away the most important human interaction - eye contact. When travelling, we spend more time looking at street lights than we do interacting with each other. Drivers concentrate on the lights rather than what is going on in their surroundings, and pedestrians likewise look at lights rather than each other. While the interior of the motor car gives drivers a feeling of safety, those on the outside feel quite the opposite. As people feel unsafe, they walk less, and the opportunities, and impulse, to be around other people are diminished. An increase in carbon emissions, growing numbers of accidents, congestion and misallocated road space are only some of the factors that are affecting the usability of our streets.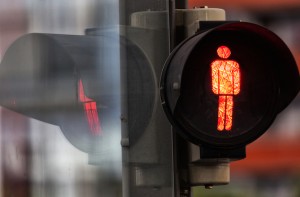 Image copyright © Ralf Gosch
To reduce this ongoing problem, London recently unveiled new technology for pedestrian crossings which, by 2020, could reduce the numbers killed or injured by 40%. The plan is a trial of smart Split Cycle Offset Optimisation Technique (SCOOT) pedestrian crossings, which use cameras to monitor how many people are waiting for the green light. The system uses technology that adjusts the traffic signal's timings and keeps the green crossing light lit for longer when it detects a large number of people waiting. London will be the first city in the world to trial this kind of intelligent traffic signal. They have particular benefits for those with disabilities, and others who require more time to cross the street, as well as keeping the car traffic flowing.
Many cities around the world are are studying the concept of shared space and encouraging pedestrians to cross the street whenever they want. In Britain, Kensington, Chelsea, Coventry,Portishead and Ipswich have already made the move toward becoming more shareable. Outside of the UK, the Belgian town of Ostende, Ejby in Denmark, and Drachten in Holland are introducing trial projects that challenge the importance of traffic lights.
The 'naked streets' concept is based on the theory that drivers pay more attention to surroundings when they can't rely on strict traffic rules. The idea is to encourage motorists to recognise pedestrians as road fellows rather than obstacles.
'Naked streets' encourage the idea of shareable cities, where cars and pedestrians coexist in a clutter-free space, relying on a common sense of shared ownership and responsibility. Traffic lights, road signals, barriers and other traffic controls are being replaced by hand signs, nods and waves, in order to create walkable streets that are friendly to multiple users, not just cars.
The above video shows how Poynton in Cheshire has been getting closer to a civilised sustainable road culture since 2011 by creating the first 'double roundel' for a high traffic intersection which reduced the four-lane approaches to two lanes. Before, the town was divided by anti-social traffic. Thanks to the new streetscape it has been reunited and revitalised while allowing pedestrians to emerge on top of road usage hierarchy.
In 2008 German town Bohmte not only scrapped traffic lights but also tore down road signs and kerbs. This concept of reducing the hegemony of cars was keenly adapted by citizens who suddenly were given more space. The citizens feel like this chance made drivers more aware of other road users, especially children, and that the flow of cars is more slow and steady.
Other cities, after applying a 'naked streets' strategy, have also noticed its positive impact.
Portishead reduced the running costs of traffic lights, saw an increase in foot traffic and a reduction in congestion.
Shared space in Brighton increased pedestrian traffic by 62%, motorised traffic was reduced by 93% while cycling activity increased by 22%
In the Netherlands, the town of Drachten noticed a yearly reduction in the number of accidents from 36 to 2.
After Shared Space was established in Hare in the Netherlands, the number of accidents dropped from 200 a year to about 10.
5 Swedish locations noticed a speed reduction of 20-40%.
Using technology to increase mobility for the visually impaired
At the heart of the shareable cities ethos lies the need to improve accessibility for all pedestrians, especially those who may find the noise and traffic of the city overwhelming. We can't forget that the blind or visually impaired are at higher risk of accidents, but their experience of the city should be just as enjoyable as it is for the rest of us. Especially considering that about 2 million people in the UK have some form of visual impairment.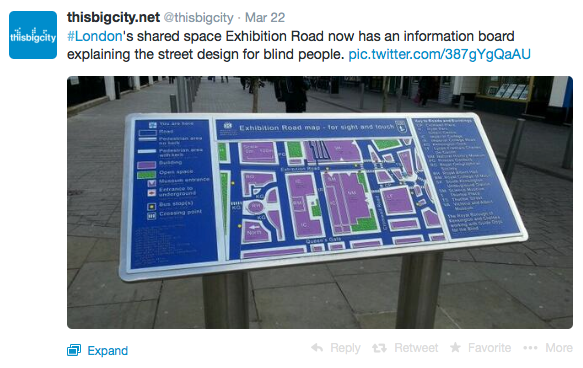 Up until now, places like Exhibition Road were trying to meet the requirements of the shared space philosophy with bespoke tactile paving or the provision of information boards.
Advancements in technology now allow designers to go far further and introduce solutions that can completely transform how the visually impaired experience the urban landscape. One of the best examples is the joint Guide Dogs for the Blind and Microsoft concept which demonstrates the impact devices and technology services could have on everyone's lives: the visually impaired as well as their families. The 'Family Day Out' video case study is a reflection of this, and illustrates society-wide solutions that could be achieved through collaboration between technology companies, transport providers, retailers, policy makers and venues. These advancements could have an enormous influence on personal mobility for the visually impaired, but they also improve every user's experience of the environment, which can be poor in so many ways in large and noisy areas.
Shared spaces deserve a wider audience
The above examples show that making the environment appear more dangerous, and less regulated, encourages people to act more safely. This 'risk compensation effect' influences how people adjust their behaviour based on perceptions of risk. The thinking of urban space as a shared environment is simply a return to the streets of old, which we already know. Streets which are designed to be use by all, road users in cars and those on foot.
We can't forget that every city can create new opportunities for its citizens. In the next post from the shareable cities series, we are going to explore how decluttering the streets allows cities to invest in additional roundabouts and extended cycle paths, to improve the street experience of cyclists.
TOP IMAGE COPYRIGHT © Coventry City Council