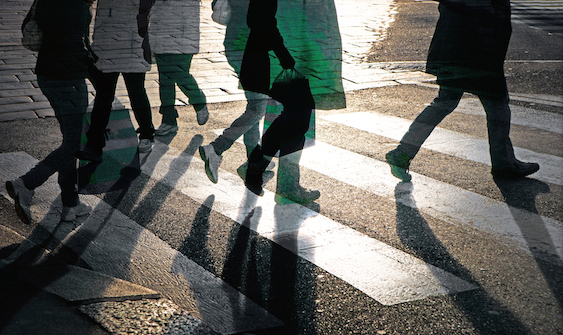 Sometime in urban history the status quo ante for streets and public spaces was replaced by the idea of segregating pedestrians and vehicles, with cars squeezing pedestrians off the streets, making it impossible to walk and causing a loss of vitality in public spaces. Now, as pedestrian needs are being better acknowledged, more consideration is being given to the ways in which road policies, planning and land-use can impact the idea of shareable space. Since the only way to really get to know a city is to walk, we must strive to create 'streets for people', where wandering is encouraged and made as easy, and straightforward, as possible. Foot traffic not only energises the city, it can also reduce the time we spend in our cars and revitalise struggling areas. In this first series of 'Shareable cities' we are going to have a look at how cities around the world have implemented designs and approaches based on the shared space principle.
What is a shareable city?
A shareable city is one that encourages shared enjoyment of spaces and integration, where users' behaviour is influenced and dictated by human interaction rather than by artificial regulations. Its model challenges principles of street segregation between pedestrians and vehicles, in order to develop a more inclusive environment. Moving away from established practices, shareable cities favour the removal of features like kerbs, guardrail, road surface markings, traffic signs, and most of all, regulations.
Its model is based on safety and creating stronger, healthier and better connected communities. This is achieved through reducing the dominance and speed of vehicles, and hence road casualty rates. The concept of reclaiming the streets aims to make them more friendly and practical, while embracing powerful and efficient solutions that might improve transport, tourism, education, or even the economy. More importantly, cities that embrace shareable ideas enable their residents to socialise more and satisfy human nature, hence meeting local community needs through the creation of urban environments that are more connected. While the idea of shared space is nothing new, its philosophy still demands practical and sophisticated solutions that can be adapted to our overcrowded cities in order to create shared spaces that are more inclusive to the less able.
Reclaiming the city for pedestrians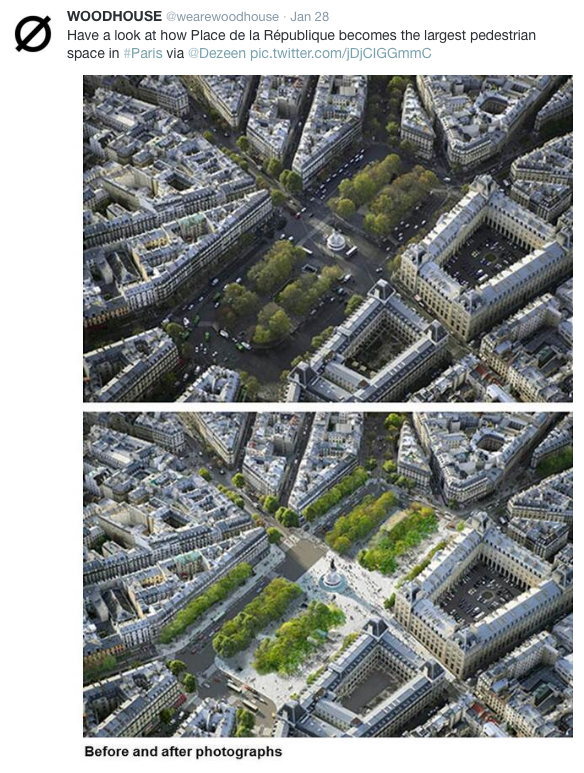 To fully share a city's assets, new solutions are required that will not only help cut CO2 emissions but also allow pedestrians to enjoy cleaner, quieter and safer environments. Streets play a vital social role, and cities around the world are experimenting with ways to make personal mobility a priority.
In Paris, Place de la République was transformed into Paris' largest pedestrianised area, which includes cafe pavilions, water features, and over 150 trees and the Metro runs to the République station at the centre of the square. Firstly, the size of the square was increased to 280 metres wide by 120 metres long, giving pedestrians an opportunity to enjoy this extended urban areas by eliminating traffic and freeing the space from motor vehicles. This creation prioritises pedestrian needs through the provision of a calm, uncluttered and airy space.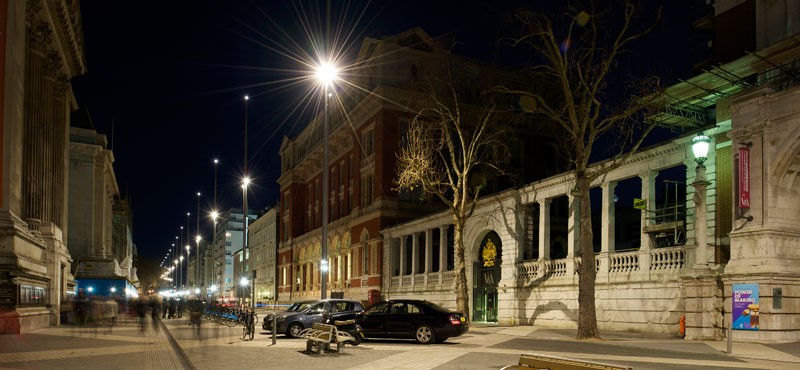 Shared space has a direct impact on both the experience and function of our communities. Efforts to facilitate walking help cities to connect their citizens and neighbourhoods together and a great example of this is London's investment in the redesign of Exhibition Road in South Kensington. This new design, in which Woodhouse manufactured and installed the iconic lighting columns, is a step closer to clutter-free design that helps pedestrians, cyclists and vehicles to enjoy spaces better. Exhibition Road is the largest example of such a space in Britain, where the 11 million pedestrians who visit each year can now enjoy the experience, exploring the city more safely; the road has seen a 60% decrease in accidents since it was reshaped.
Image copyright © QQ7
Pedestrian bridges are another solution that makes walking a more exciting experience. Although the concept of pedestrian bridges isn't new, recently their importance is being rediscovered by designers who are getting bolder in their construction, making bridges safer and leading to ever more exciting destinations. For us they become settings that are crying out for the application of low voltage lighting solutions, turning these structures into a more visible landmark at night. Elements like colour-changing lightbars, spotlights, and lighting integrated into the handrail become a discreet way of creating a stunning backdrop while ensuring the areas are safe and available to everyone no matter of time of the day.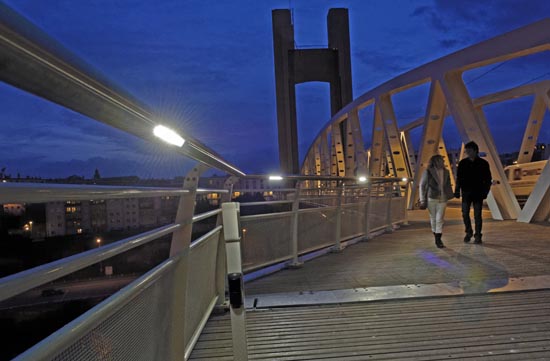 A great city is a walking city
While cities and designers experiment and test alternative approaches, technology may have the most powerful impact on the provision of safe and sustainable shareable cities. We are going to explore this subject further in the second part of this series on shareable cities.
Top image copyright © Amy Johansson