In many cities, bicycles still battle with taxis, cars, lorries and other traffic however the growing culture of cycling is spreading around our metropolises and bike-sharing programmes are successfully seducing people out of their cars. Bicycle-sharing networks are becoming a way of solving the "last mile" problem, and enabling local authorities to achieve their air quality targets by reducing vehicle induced air pollution.
Bike-sharing programmes have come a long way since they were first introduced back in the sixties. The precise point of origin is uncertain, but the first significant European bike-sharing initiatives occurred in Amsterdam in 1965, and in France in 1974. Following recent rapid expansion, there are now more than 500 cities worldwide using bike-sharing programmes. Buenos Aires, Warsaw, Brussels, and Tel Aviv are a diverse sample of cities in a few of the 49 countries that promote the sharing of wheels. As we continue to discuss the idea of sharable cities, we look at how over 500,000 bicycles are helping to make our towns greener, faster and a more pleasant place to be.
What is a bike-sharing programme?
The idea behind sharing bikes is to provide free or affordable access to a huge number of bicycles. They help to fill the gaps between locations that are too far to walk, but too close to take a car or a bus and it also reduces the hassle related to vehicle ownership and storage in increasing built-up urban communities. Cyclists can conveniently pick up a bike whenever they need one, and drop them off at numerous locations around the city. They do, however, require the constant monitoring of hubs to ensure that there are enough bikes to take away and enough space to park when you return it; it's simply no good merrily cycling to your destination to find that you can't park. So with every bike-sharing scheme comes a small fleet of vehicles touring the city and moving bikes around.
The "Take one, Use it, Bring it back" concept of bicycle sharing systems can be divided into two categories: Community Bike programmes which are implemented by non-profit organisations and local groups; and Smart Bike programmes administered by the government or local agencies.
As technology has advanced, bike-sharing programmes have been able to offer new, smarter forms of mobility, where users are provided with real-time information and flexible payment services. Smart bike-sharing is also complemented by its flexibility as the 'pick up' and 'return' stations operate 24 hours per day, 7 days a week.
Bike-sharing systems are springing up everywhere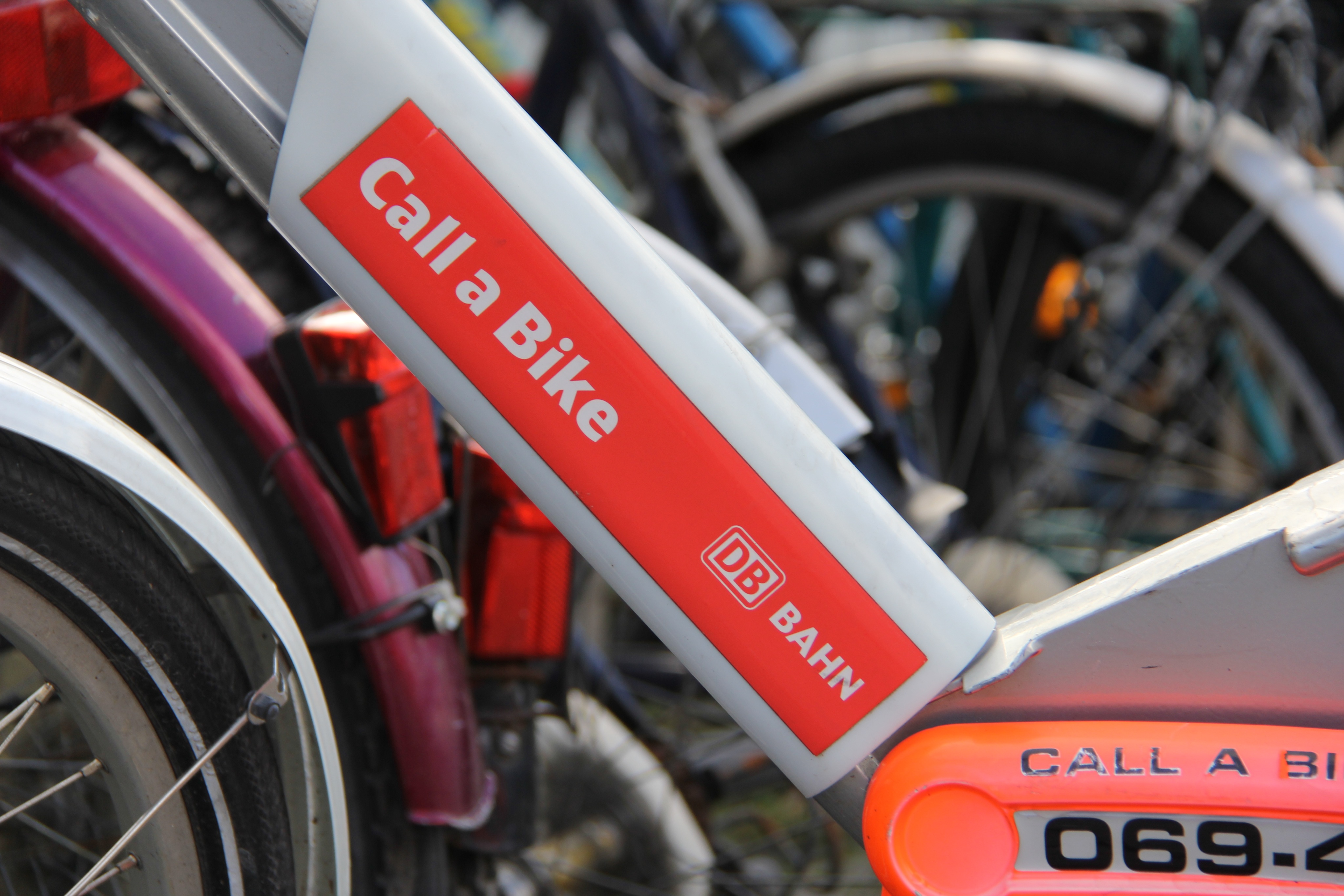 In Germany bike hire schemes have been shaping the country with "Call-A-Bike" - bikes that can be found and paid for using mobile phones. Members receive an SMS providing a code to unlock the bike. When users have finished with the bike, they can just call the number to close the transaction and leave it in any area of the city.
Paris is pushing to increase the culture of cycling and reduce car journeys by 40% by 2020 with another bike-sharing programme. Schemes in the French cities are creating different solutions to attract more users such as offering the first half hour of usage for free. "Vélib" in Paris has 20,000 bikes with swipe-cards ready for citizens to be used at any time. Its bike stations are located every 300m, making it the world's largest scheme outside of China.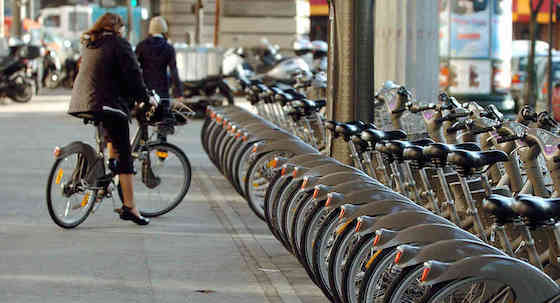 Image copyright © Peter Macdiarmid
Narrow, cobbled streets which seem unsuited to pedalling haven't prevented Spain from pursuing the bike-sharing trend. It is currently leading the way, with 132 separate bike-sharing programmes. In Barcelona the "Bicing" scheme is funded with revenues from on-street parking charges.
Another stellar example of bike-sharing is China, which has the largest shared bicycle programme in the world. The Chinese city Wuhan owns twice the number of all the shared bikes in France, according to data by the Earth Policy Institute.
In some cities, national railways integrate bike-sharing into their systems to encourage travellers to bike instead of using taxis or cars. DSB in Denmark, SNCB in Belgium, Dutch Railways and Deutsche Bahn in Germany all aim to revolutionise inner city mobility with bike-sharing programmes that integrate with their network.
Building the success for shared electric bike schemes
Electric bike-share programmes have also become part of the cityscape by providing citizens with even more opportunities compared to traditional bikes. Each e-bike is equipped with a small battery and motor which reduces the effort required by the rider to travel longer distances and up hills, enabling speeds of up to 15.5mph. These self-powered vehicles are already available in locations such as Copenhagen, Barcelona, London, Paris and Madrid.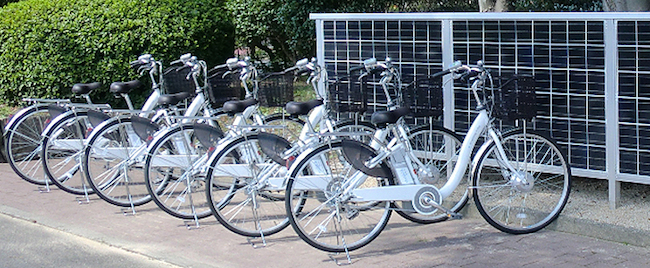 To promote both bicycle-sharing schemes and consideration of the environment, a Japanese company introduced an eco-friendly electric bike station that is powered by solar energy. With the growing popularity of e-bikes, the "Solar Cycle Station" might be an answer to the growing need for more recharging stations.
Are bike-sharing programmes a way to get the masses cycling?
It would seem so, as networks of public bikes are being embraced by growing numbers of users, helping to create ambassadors of cycling.
Cycling reduces the dominance of cars in the increasingly crowded public space, and makes for greener cities, which are less congested and less polluted. In the UK, air pollution costs £8.25bn per year in healthcare. Encouraging people to cycle could help to considerably reduce this figure. Cities like Barcelona have already seen a return on investment in bike-shares: a study revealed that around 9,000 tonnes of carbon dioxide pollution are averted, and 12 lives are saved each year, thanks to its "Bicing" scheme.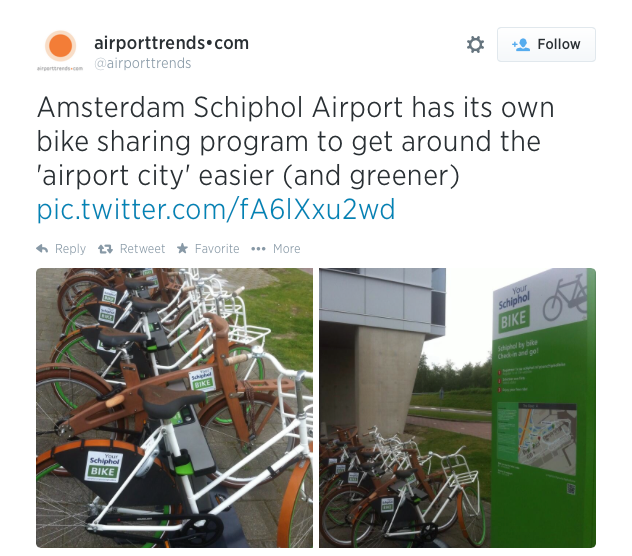 Having bikes ready to go can encourage more people to try out cycling no matter where they are. Amsterdam's Schiphol airport is currently testing its own bike-sharing programme called "Your SchipholBIKE" which will help people get around the huge 'airport city'. In the next post from the series of shareable cities, we are going to explore how bike-sharing programmes are opening access to different areas, becoming a game changer for cities.
TOP IMAGE COPYRIGHT © Richard Masoner