'Every stone tells a story' proclaims a poster campaign in the capital's Tube stations to promote the ever popular Crown Jewels exhibition at the Tower of London. While those particular gems may have dazzled from the finery of assorted monarchs down the centuries, natural stone can be just as eye-catching.
Through texture, colour and placement, natural stone has the ability to tell its own compelling story, adding impact and interest that enriches a space and allows it to be enjoyed by generations of users.
How can colour tell a story?
The first and most striking aspect of a new scheme tends to be its colour – but a visually appealing choice of stone can lend much more than aesthetic appeal. In the case of Cornwall's Heartlands, well thought-out touches actually pay homage to local history.
Heartlands is part of the Cornwall and West Devon Mining Landscape World Heritage Site, a former tin mine which shut down in the late 1990s after four centuries at the heart of local life. A community trust used a Lottery grant to transform the area into a 'cultural playground' featuring botanical gardens, a World Heritage exhibition and an adventure playground.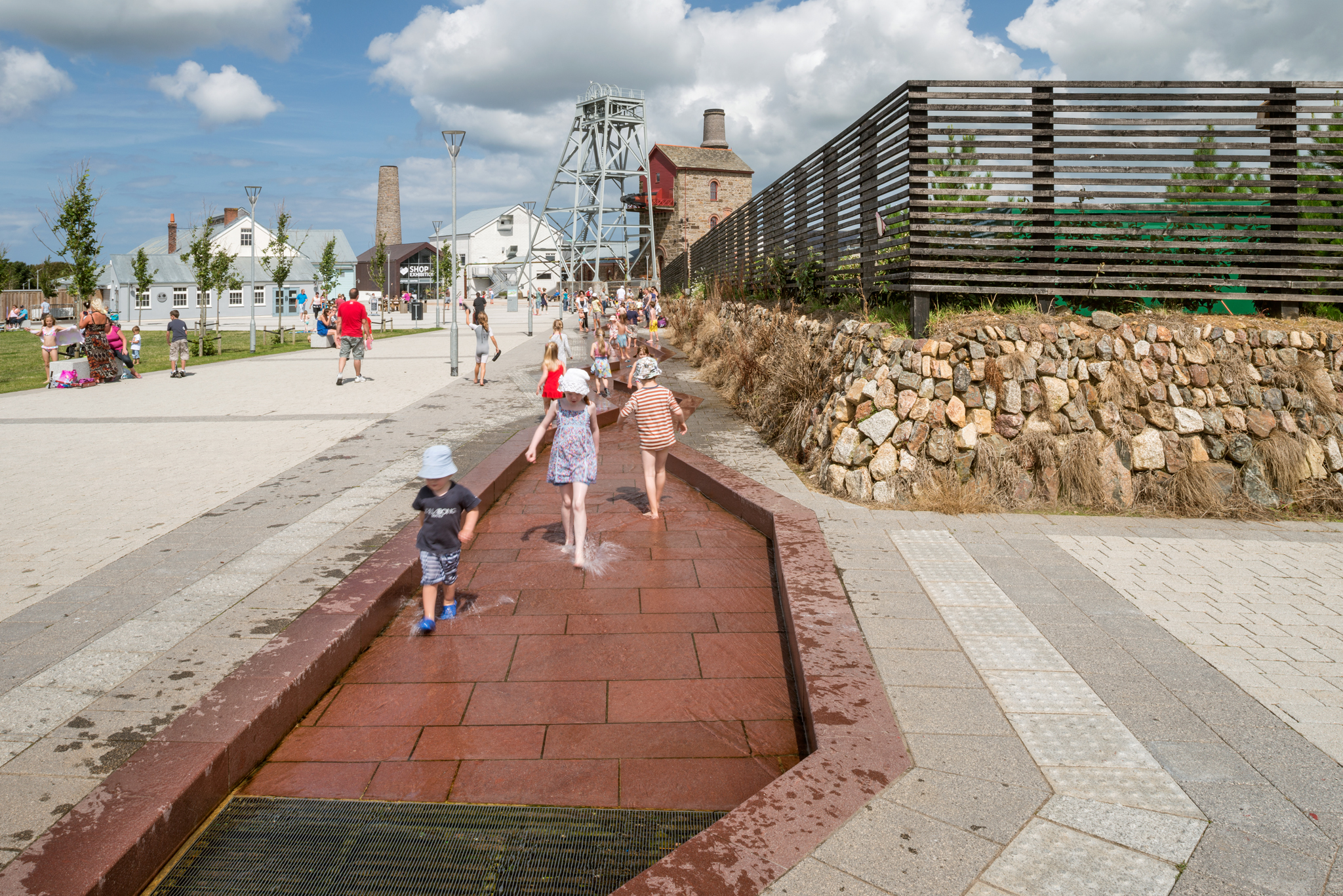 A water feature designed by LUC takes the form of a small stream running through a sunken channel across the park. We supplied all-red Porphyry for this flume, which was chosen for the colour's historical importance – the waters of the nearby Red River having been turned red by their extensive use in the processing of local tin. The zig-zag course of the feature also reflects the industry's gradual realignment of the river to better serve the mine's needs.
Not only does this small but important design decision add a vibrant splash of colour to the park, it also serves as a lasting reminder of the once thriving industry on which the region flourished.
How can natural stone's blend boost aesthetic appeal?
We've seen what happens when one overriding colour is used to highlight history, but another trick that designers have used throughout time is to combine different colours in one scheme to create a striking design that cannot fail to draw the eye.
In days gone by different colours of stone may have been used to save money or to make the best use of limited resources, but this design quirk has now been revived to add a touch of timeless glamour to projects. While granite setts were once the stone of choice for use in these blends, designs have since become a little more adventurous and experimental.
That was exactly the effect achieved with the installation of 13 different precision-cut granites at the new Victoria Gate retail development in Leeds. After fact-finding missions to China, where the stone was sourced, we were able to come up with the desired cut, look and feel of the stones to be used.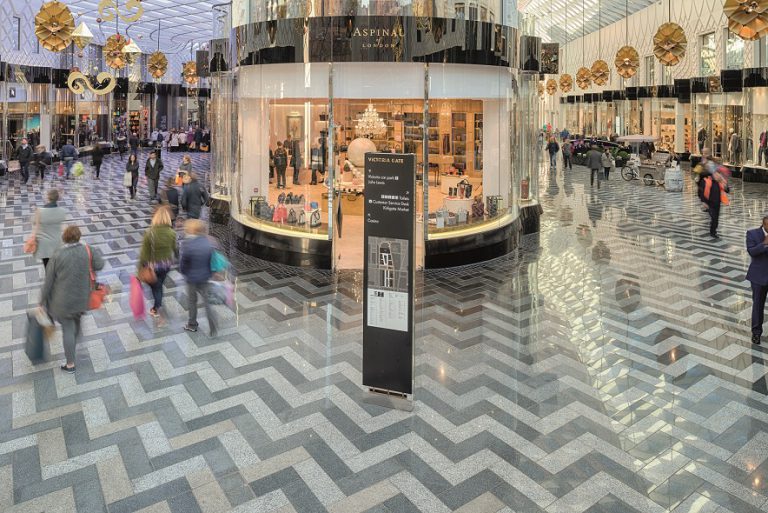 All 3,000 square metres of polished granites and specialist bespoke granite staircase features were checked for quality of cut, colour blend and durability before being shipped to Yorkshire. The final result is an undeniably spectacular herringbone design that corresponds and contrasts with Victoria Gate's diamond-panelled roof and its traditionally styled storefronts. It's a design that pays tribute to the past while embracing a new and modern take on design.
How natural stone's texture can take centre stage
The versatility of natural stone can shine through in other ways – its texture having the potential to tell a powerful story. This was put to the test by the London Borough of Hounslow, which in 2014 made plans to celebrate the importance of Brentford Market Place as a popular public space.
For more than a century local people have been visiting the market's stalls. To commemorate one of West London's most historic and diverse shopping areas it was decided that the space should be redefined with the aid of new lighting and paving.
Rather than refreshing the scheme entirely with new stone, the decision was taken to use as much of the existing Yorkstone as possible to reflect the market place's enduring history. Although initial signs weren't promising, closer inspection of the site found that almost three-quarters of the original stone was still of a good enough standard to be used in the new configuration – a true test of the durability of Yorkstone. In addition, we supplied Scoutmoor and Moselden Yorkstones in different colours and finishes to add a fresh new touch.
The combination of stones old and new gave a variety of texture to the surface. Two different cuts and finishes of stone provided additional contrast of texture to both age and modernise the look and feel of the market place.
The tumbled-finished stone provides a distressed look that only time can provide, perfectly complementing the look of the existing stone. Conversely, the diamond sawn finish brings the scheme up-to-date with sleek contemporary lines. The Brentford project was the first of its kind to mix Yorkstones, lending a unique quality to the timelessness of this scheme.
Marshalls can assist in the creation of amazing spaces by offering the materials and design expertise needed to make them happen.
When it comes to natural stone selection, our experience in choosing the right fit for any scheme comes down to a knowledge of the practical requirements and aesthetic touches needed to accentuate every feature, telling the story of stone in any time or place.
Marshalls' natural stone range combines breadth of choice with a reliable, low risk supply chain to ensure consistency. As well as indigenous UK stone we can offer stone that has been carefully selected from our international network of stone suppliers.
All overseas stone is responsibly sourced using an independently accredited supply chain. Each stone type is lab tested, while our own quality inspectors are involved in the chain to ensure products meet out exacting standards.
Along with in-house experts who can offer advice on selection and value engineering, we offer bespoke design and production including advanced techniques such as embossing, water jet cutting and inlaying.
As owners of the largest fleet of crane offload vehicles in the UK we can also offer complete site flexibility in even the most demanding of environments.