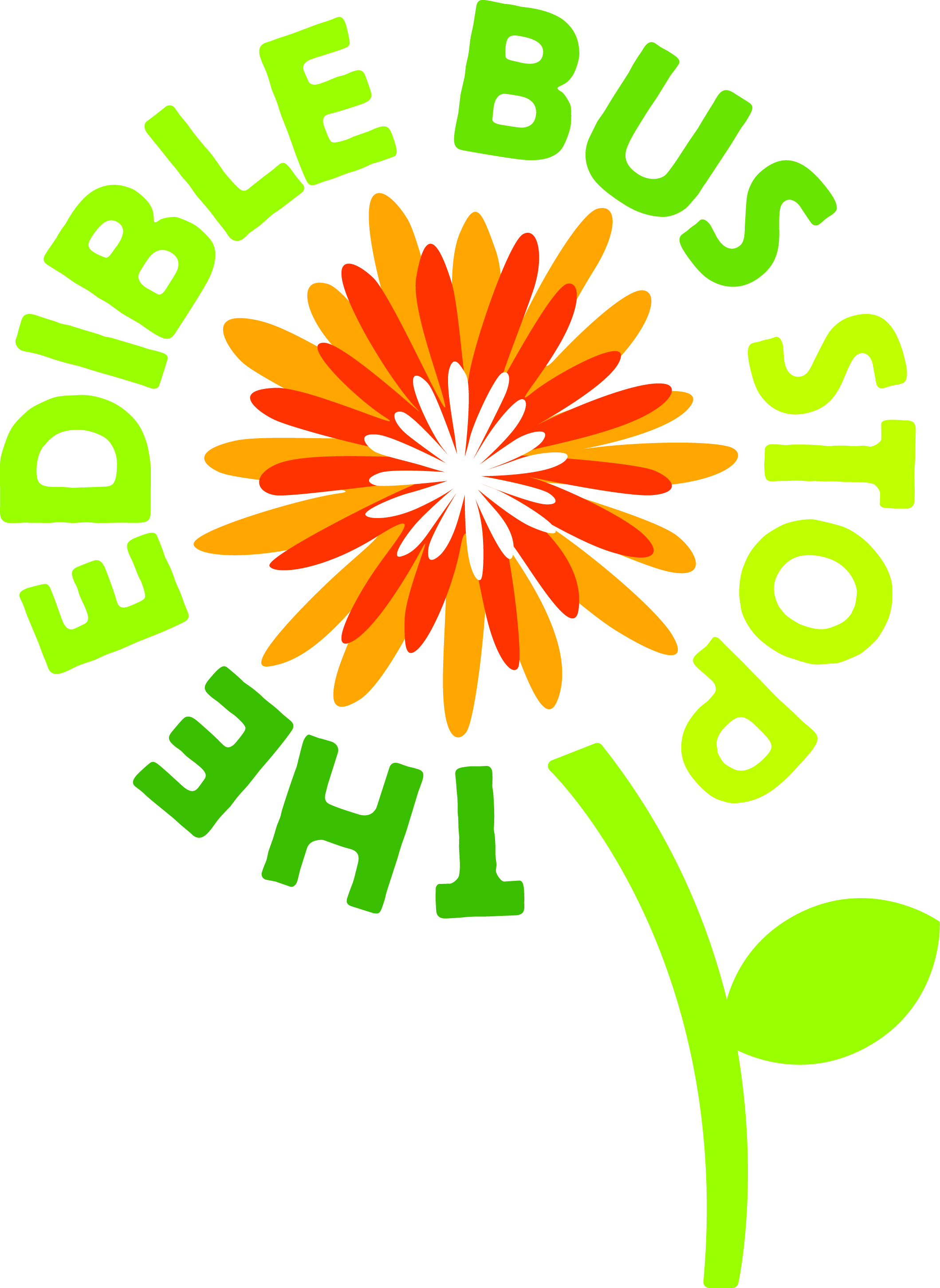 The original Edible Bus Stop® germinated on an unloved piece of public space adjacent to the 322 bus stop in Stockwell, South London. Threatened with development the local community rallied round to safeguard it, 3 years on the garden is now the pride of the neighbourhood, providing a verdant growing space. In May 2013 the original Edible Bus Stop became the first of the Mayor of London's Pocket Parks to be realised, this funding enabled the new landscape designs to be realized and create a local landmark for the community.
"This fantastic new 'pocket park' has turned this small corner of Stockwell into a plentiful oasis of calm and produce for the whole community to enjoy. It is the first of many similar mini transformations to come across the capital. By making the most of our small, and often forgotten, outdoor spaces and providing greenery and meeting places we can make London an even better place to live, work and invest in."
The Mayor of London, Boris Johnson
Quite organically, this once scrappy piece of Council land was to become the first of a network of design led public growing spaces. Celebrating what had happened at the original Edible Bus Stop, it was the idea of local resident Mak Gilchrist and Landscape Architect Will Sandy to create London's first Edible Bus Route. Utilising the existing transport route to connect people with where their food comes from and in doing so with one another. In their shared vision, it was vital that design was at the core of the project, raising the profile of community gardening through clever landscape design. Unlike your average community gardens, these were in the public realm and needed an aesthetic to reflect this, balancing function with form. Most recently the expression 'Aesthetic Foodscape Design' has been used to describe this idea, although Will & Mak feel that this is too wordy and a bit alienating as a term. The Edible Bus Stop works with each community to animate the forgotten spaces in their neighbourhood (ideally along an existing transport route, but not essential), this creates a vested interest and then over time, co-designing the space to address the needs of the community and give it a local identity. No Edible Bus Stop garden is the same. We all eat, but we don't all eat the same thing and this is reflected in each garden.
Will Sandy - Creative Director @ The Edible Bus Stop[/caption] The Edible Bus Stop has created a community driven version of the more top heavy government ambitions for Green Infrastructure, Edible Infrastructure if you like. The core of our ethos is the belief that a brutal landscape makes for a brutal outlook and that by taking responsibility for our forgotten public spaces we can collectively improve upon the experience of inner city living. By gardening together and enjoying these community led growing spaces, conversation is encouraged, barriers are broken down, skills are shared and sense of local empowerment and belonging in a neighbourhood is nurtured alongside the gardens. The gardens provide a place for people to come together for the good of the neighbourhood and get to know each other. They will become urban village greens for people to find space to sit and relax in amongst the hustle and bustle. They will be a resource for education, providing opportunities for people to learn about where their food comes from and how to grow and maintain a garden - giving ideas that they can take home and recreate in their garden, balcony or window box.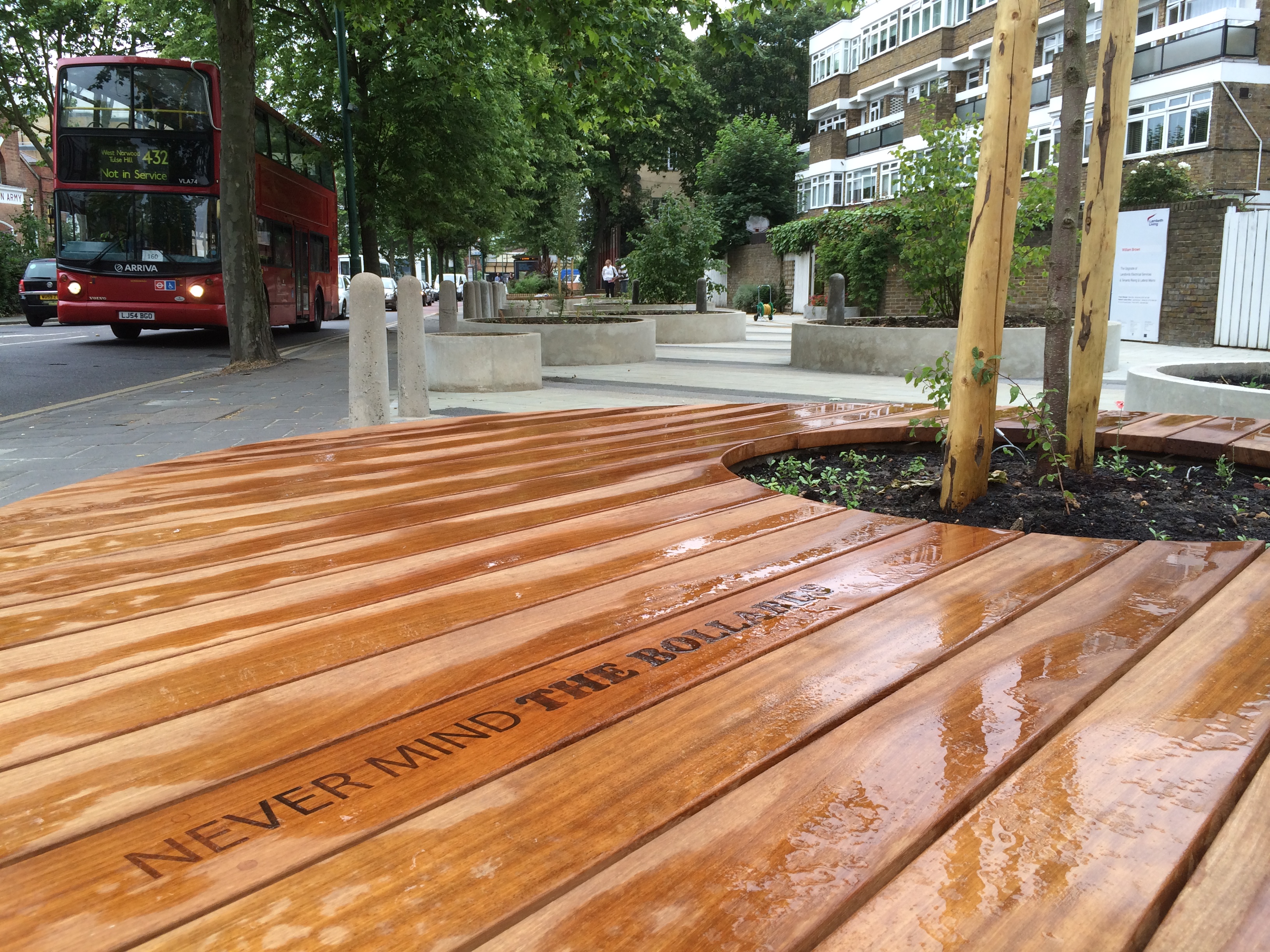 Our latest garden in West Norwood opened in early June 2014. It addresses the need for a local community garden and works towards having a proactive impact on the wider environment. What was a large expanse of paving, unremarkable and unloved, with rather incongruous bollards, has seen huge transformation. Our design replaces sections with permeable paving supplied by Marshalls and features various sizes of circular concrete planters cast in situ. Some of the bollards were kept and woven into the design, with the circular planters placed over them, as inspired by the game of Hoopla. This playful effect breaks up the hard flat grey surfaces and in turn alleviates water run off - an important consideration in the light of last winters flooding in the South of England. The garden was made real by the collaborative support of Lambeth Council, the GLA and the sites contractors CVU. Their collective belief in us was essential in making it happen and we are very thankful for their support. The garden is being planted with Native Edibles and Wild Flowers as funded by Grow Wild. An exciting four year campaign, Grow Wild champions people to sow UK native plants and wild flowers to encourage biodiversity and insect friendly environments. It is our aim to set the precedent with London's first Edible Bus Route. Rolling out the concept across London's 700 bus routes, there are 19,500 bus stops across this network – A vast majority of Londoner's are never more than 400 metres away from a bus stop. Imagine if just 50% of them were transformed into a community green space? Green spaces at bus stops, not only benefit the local community, but improve travel time - whether waiting at the bus stop or simply passing by. Why stop there? For us buses are just the start, we are looking into creating a network of community growing spaces across other transport networks and have our eyes set on the UK's rail network – what do you think Network Rail, shall we make it happen? The Edible Bus Stop - changing the world, one bus stop at a time. Contact: info@theediblebustop.com @EdibleBusStop http://www.facebook.com/TheEdibleBusStop