Edith Katz is a landscape architect who works for Martha Schwartz Partners. Here, she tells us about her favourite modern-day public space: Village of Yorkville Park in Toronto, Canada.
Village of Yorkville Park is the result of a design competition that was held by the City of Toronto in 1991. During the 1950s, the Bloor subway line was built, which meant a row of Victorian houses had to be demolished. A car park was constructed in place of where the houses once were. However, it was met with criticism, as local people commented they'd like a public park that would unite two distinct areas – Bloor Street, which is quite commercial, and the old Yorkville area. Eventually, in 1991, the City responded to popular opinion, inviting landscape designers to submit their ideas for the area. The brief was to design a space that would both respond to the diversity of Canada's landscape and celebrate the rich heritage of the Village of Yorkville itself.
The winning design was created by Oleson Worland Architects, along with various landscape architect associates, including myself, and it really delivers on the brief's criteria. Executed as a series of gardens, each distinct but every one working as a vital part of the comprehensive whole, it's an excellent piece of design.
The gardens are different sizes and echo the footprints of the Victorian homes that once stood on the plot, by matching the garden frames to the lot lines pattern of the 19th century houses. Each garden shines a spotlight on a key aspect of the Canadian landscape. One features a gigantic 650-tonne piece of granite that is one billion years old, cut into the shape of the Canadian Shield. Another makes a waterfall its focal point, while a third celebrates Canada's marshy wetland, home to so much wonderful wildlife.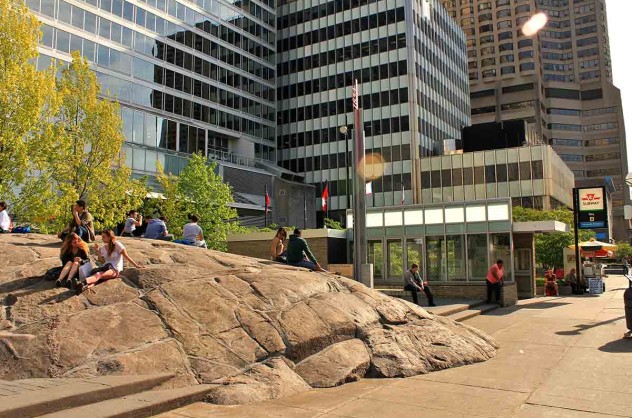 I admire this design for its eclectic use of plants – from the upland confers and deciduous plants in the east, to the lowland plants that thrive in sodden environments in the west.
Yorkville Park Village is an excellent example of modern design working respectfully with the past and providing residents with a varied, interesting and innovative public space to be appreciated for generations to come. In 1994, the design won the ASLA President's Award, then in 2012, it won the ASLA Landmark Award, which shows that I'm not the only one to appreciate it.