BIM is enjoying a significant rise in implementation within the construction industry across the UK. As more and more people start to adopt the process as their first port of call in building design and development, and it becomes compulsory for public sector builds next year, Mihailo Simeunovich considers what it means for the industry.
What is BIM?
Building information modelling is not a technology per se, as some assume. It is a process applied to all aspects of a building's construction – from the first pencil strokes of its design, right through to construction and into operations – utilising the tools of advanced technology.
BIM is a key contributor as the industry goes through something of a digital revolution, and those involved in the decision-making and construction process can better see a building's development through the use of a digital model. With the creation of a 3D model, all members of the team are fully informed on all aspects of construction and can more coherently communicate project decisions.
'Over the past year we have seen our Commercial customer base become more serious about BIM, especially with the fast approaching 2016 deadline. Although the path is not fully clear, minds seem more focused than ever and there seems to be a genuine will to make things happen. As a Manufacturer and Supplier of Construction products understanding our role in the collaborative world of BIM has helped us to create the foundations of a BIM culture within Marshalls.
Without manufactured products, no construction project can be made real and for projects within a BIM process manufacturers data connected to products is key to help designers make informed decisions such as Cost, Time and Carbon.'
Mihailo Simeunovich – Marshalls Group Innovation and NPD Manager
A multi-layered system
Many think of building information modelling as a pioneering ICT and cultural process for the construction industry[1]. While early adopters of BIM and its relevant software were seen as forerunners at the time, the government has made it an objective to see that all their major public sector projects are to be informed by a 3D collaborative environment and delivered in BIM by 2016, with a view to making this the industry's normal way of doing business. The government wants the UK to continue to 'take advantage of its leading position in exploiting BIM in design, construction and operation of assets'[2] as well as the potential to slash construction costs by 20%[3]. Studies have shown a rapid return on investment in BIM's data-enabled way of working, and the benefits of BIM are vast – accelerated construction times, visibility of embodied Carbon, elimination of risk, certainty of costs, higher quality and thorough communication throughout.
Generally speaking, the industry is embracing building information modelling, with many contractors using it to varying degrees and noticing increased efficiency. But much talk of BIM relates to buildings, so what about landscapes?
Designing the landscapes
The 'building' in BIM doesn't refer to the structures – it refers to the process of 'building' that goes into any landscape, so there's no reason why landscape architects shouldn't be getting as much out of BIM as contractors and construction teams. The belief that BIM software and methodology doesn't apply to landscape architecture is a misinformed one.
Delivering BIM for landscapes provides all the same benefits as it does the construction industry, but means better co-ordination across all teams – architectural design, client and on site – from the outset. This makes for better informed planning, defining and designing, and highlights any risks at an earlier stage. Much of the BIM software is getting better at understanding the needs of the landscape architect and projects revolving around urban design, roads and rails or large-scale site modelling. Applications are used to deliver productivity for exterior design tasks[4]. Tree root zones, utilities and drainage, plants, parking spaces and other landscape features can be laid out using BIM tools, and applied to factors including specifications and manufacturer's data. If BIM is to work across all platforms and all aspects of the planning and building spectrum, everybody needs to be on board and working in a 3D-visualised environment.
BIM in practice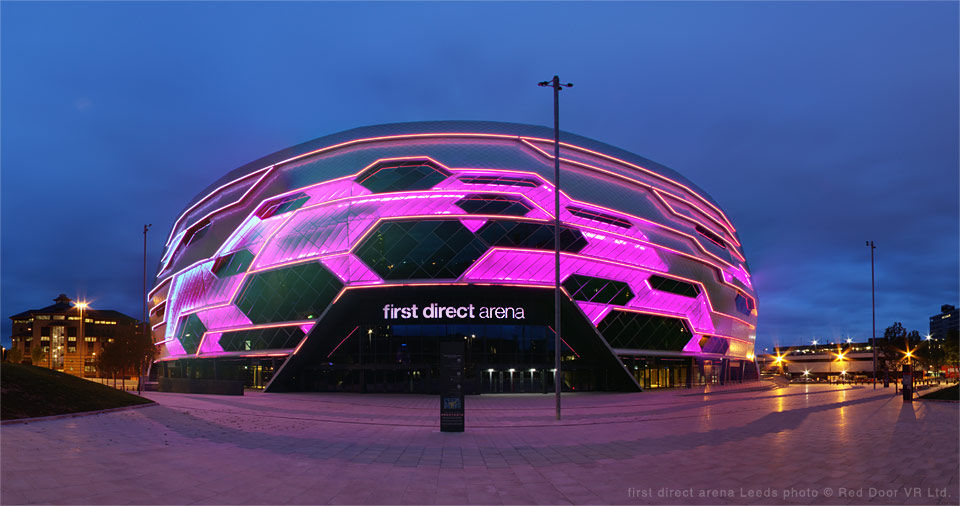 Leeds First Direct Arena – Image Courtesy of red-door.co.uk
Leeds Arena, the UK's first purpose-built arena with a fan-shaped design[5], continues to reap the rewards of utilising building information modelling throughout the design and construction of its complex honeycomb shape. This £60m project[6] has a distinctive steel-framed structure, built around 62 tiers of amphitheatre stadia seating and is home to 4,000m6 of publicly-used space, as well as a 100-seat restaurant.
BIM co-ordinated all aspects of the project, including its steel work and mechanical and electrical services, allowing visibility for all who worked on it as and when plans progressed. Meanwhile, problems were identified and rectified at the design stage, rather than when materials, workmen and logistics had been put in place and work was under way. Implementing BIM throughout Leeds Arena's construction meant that site logistics were improved massively, design development was knowledgeably facilitated, and each of the individual construction processes benefitted from enhanced co-ordination and management6.
Scunthorpe's Sports Academy, 'The Pods', also began its life with 3D building information modelling. This allowed for accuracy in the finer details of planning and co-ordination of the different materials that make up its series of linked structures[7].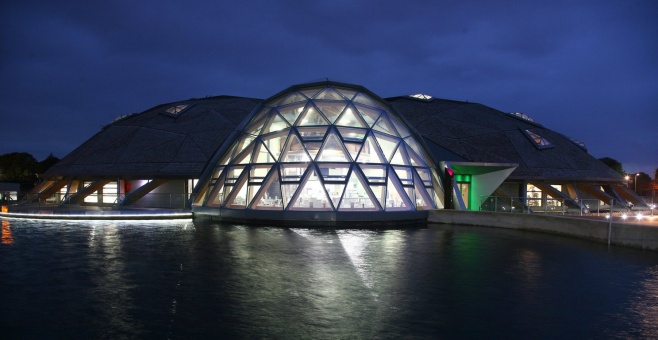 Scunthorpe Sports Academy – Image courtesy of openbuildings.com
Model behaviour of the future
The industry is certainly embracing this digital move and that bodes well for future builds. Designs can be rehearsed, and virtual buildings knocked down when they hit snags before being rebuilt – this efficient platform for forward planning provides huge potential to save money in the long run. BIM will unify all teams involved in a structure's build, and that in itself is a great move for the industry. We can also clearly anticipate further benefits in terms of customer engagement, efficient facilities management and project co-ordination.
Without a doubt, building information modelling is gaining traction within the industry and is the future. Organisations, whether contractors or landscape architects that are incorporating 3D visualisation into their planning and processes, are wisely positioning themselves for the future. How quickly will it become the norm?
[1] https://www.gov.uk/government/uploads/system/uploads/attachment_data/file/34710/12-1327-building-information-modelling.pdf
[2] https://www.gov.uk/government/uploads/system/uploads/attachment_data/file/34710/12-1327-building-information-modelling.pdf
[3] http://www.theconstructionindex.co.uk/news/view/will-bim-go-bang
[4] http://www.di.net/articles/landscape_information_modeling/
[5] http://www.cnplus.co.uk/innovation/special-reports/bim-ensures-complex-leeds-arena-faade-is-built-without-delays/8648113.article#X-201305171116231
[6] http://www.wrap.org.uk/sites/files/wrap/Leeds_Arena_FINAL.pdf
[7] http://www.tekla.com/uk/references/pods-bim-used-iconic-sports-facility