For three days each April the vast space of Birmingham's NEC is transformed into a bustling showground of thousands of the most ground-breaking products for the traffic industry. It was about time Marshalls joined the throng and exhibited at Traffex 2015, and here we bring you some of the highlights of our time there.
Many of you may know millions of pounds have been pumped into Britain's highways over the last five years in a bid to expand the country's infrastructure, and with drainage a key consideration of any successful scheme we took to Traffex with the latest in linear drainage solutions.
Our inaugural attendance at the UK's largest traffic management, road safety, parking and highway maintenance exhibition was a big success. We showcased the latest addition to our best-selling Beany family of Combined Kerb and Drainage products – the Mono Beany – to more than 11,000 attendees, which included key decision makers.
We placed this innovative single piece system in front of contractors, local authorities and engineers, who made up 95 per cent of the visitors to our stand, helping us to generate strong leads and reinforce Marshalls' position in the water management market.

Alice Couldwell, Linear Drainage Product Manager, who attended the show, explained: "Beany has been on the market for more than 30 years now, but Mono Beany is our first single-piece concrete kerb and drainage system. It's easy to install, cost-effective and robust and is proving to be a very popular product. Marshalls might be the market leader in stone walls and floors but we are also making waves in the water management arena."
The full package
Another focus of our time at Traffex was to get the word out about our complete water management solution a unique offering not found anywhere else on the market that combines drainage, paving and a free in-house design service.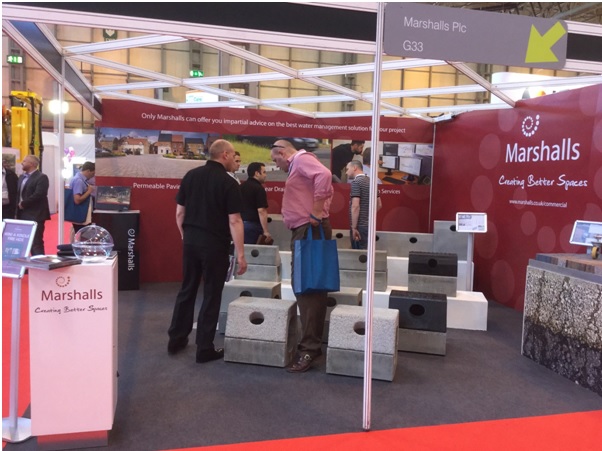 While our competitors may only offer one specific type of drainage or specialise in one area of paving we offer a wide range of products that complement each other to create the best water management solution for every project that can then be brought to life in the concept stage by our specialist design team. It means our customers are confident the various parts of their scheme work seamlessly together, and it was something the show's delegates were very interested to learn about.
Traffex 2015's great turnout meant that we fulfilled our objectives of generating brand awareness around water management and communicating our linear drainage solutions, and we were successful in forging key relationships within the industry.
We generated many leads from the show - in particular the local authorities – and gained details of current or up-and-coming schemes with the chance to follow up with quotes for the drainage package within these schemes.
It's safe to say that the Marshalls stand will be putting in an appearance at Traffex 2017.