At Marshalls, we continually look for ways to improve our product offering, whether that be through the range of stones we offer, or the way we source them.
In 2020 we have improved and clarified our stone proposition, launching Caithness, Shepley Hill Yorkstone and new textures into the Indian Sandstone range. To add to this, we have sourced new stones from Europe, including five new granites and a porphyry. In this article, I'll take a look at why we've sourced from Europe and also explain a little bit more about what makes these stones unique.
Portuguese granites
Granites are amongst the most popular stones used commercially on landscapes, renowned for their durability and colour range. They are most commonly sourced from China and other Asian countries, we have championed our supply chains in these areas for over 15 years ensuring quality and high ethical standpoints. But, granites can be, and should be, sourced more locally from within Europe, and this is what we've focused on with our new range.
In our quest to grow our European stone offer, we have worked extremely hard to forge partnerships with a small number of granite suppliers in Portugal who own their own minerals and who employ the highest standards in extraction, manufacture and environmental impact. This is often a complex process, particularly as we will only work with suppliers who share the same morale ethic and code of conduct that we do within our business, this goes hand in hand with working in the Marshalls way.
With the support of our own in-house Geologist & Mining Engineer, Rory Kendrick, we have worked with independent auditors and stone testing laboratories to ensure the quality of the stones to meet or, ideally exceed, the demands of the landscape and the properties dictated within the British Standards for CE marking.
This rigorous work means that we understand the complete supply chain. It means we will get continuity in supply without the risk of government closures that have become so common in China of late. It also means we can easily monitor the ethics involved in the quarrying and processing of the stones, ensuring they are in line with the ETI base code as a minimum.
Coupled with the quality of mineral, is the quality of the processing plant and machinery adopted by our supply chain partners. Understanding their processing capabilities helps us to ensure the best levels of dimensional accuracy and to deliver bespoke masonry in compliment to the thousands of metres of paving and setts we deliver.
In addition to the quality and transparency of our supply chain, there is also the benefit of supporting a more efficient supply chain to improve lead times. This helps our customers to deliver against more demanding time frames than those that Asia could sensibly support.

| | | |
| --- | --- | --- |
| | Portugal | China |
| Lead Time | <10 weeks | 12-14 weeks |
| Processing | State of the art machinery | Hand masonry |
| Sourcing | Majority supplier owned quarry | Tiered sourcing |
| Pricing | £££ | ££ |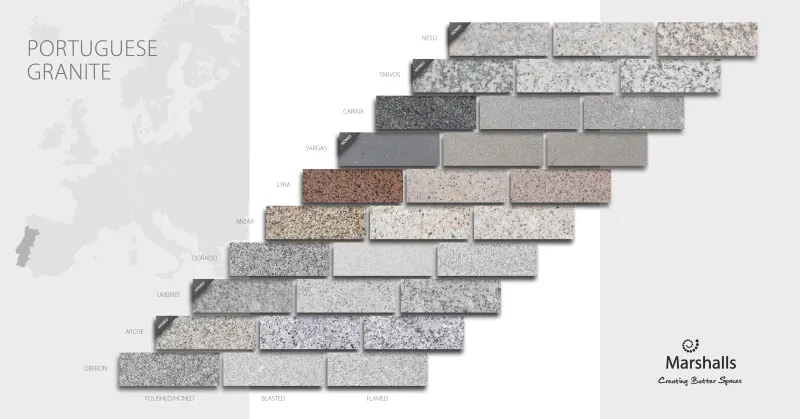 We are also pleased to be able to offer a revamped 'Italian Porphyry' into our European stone range.
Italian Porphyry
This beautiful igneous rock outcrops in the Trento region of Northern Italy. The name 'Porphyry' comes from the Latin term meaning 'like purple', with this colour being the common theme in all three of the mixes we supply. Dating back over 270 million years, porphyry was used for the creation of relics and monuments in the Babylonian, Egyptian and Roman times. The Romans saw the use of porphyry as a symbol of great prestige. Technically speaking, porphyry is superior to many granites on the market making this stone very durable and perfect for commercial schemes.
Trentino Porphyry has a natural split surface texture and does not require any secondary processing. Many people, when they hear a stone has a split surface finish think that it will be similar to the traditional Riven Yorkstone in texture. Porphyry is not like this. As you can see from the image below, the texture resembles more of a flamed/brushed finish.
Our supplier operates within eight quarries in the Trento region. This allows us to take stone from a range of quarries ensuring that we get the spread of colours expected from Italian stone.
Our porphyry range is made up of three mixes, Multi Mix, Grey/Brown Mix and a Purple Mix. These mixes are available in paving, cobbles and setts, and a range of thicknesses dependent on application.
We find that Cobbles are the most commonly used application of Porphyry, often seen in a traditional fantail format but our range also includes Setts and Flags. These are available with a fixed width but random lengths.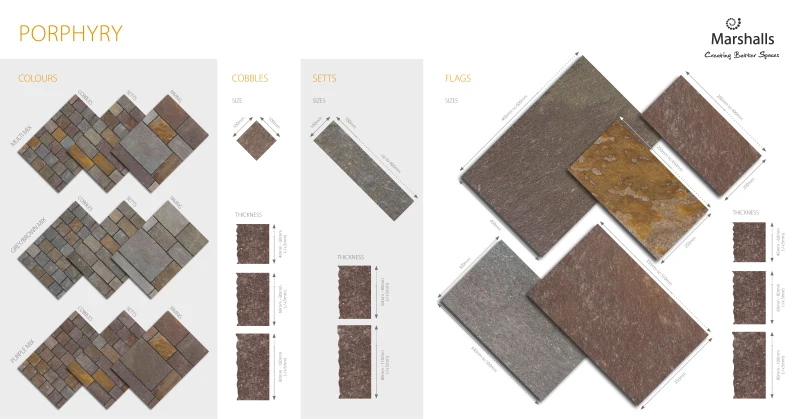 These new additions to the Marshalls natural stone ranges bring more choice and flexibility to projects, as well as peace of mind that they have been ethically sourced and have a reduced carbon footprint compared to alternatives.

Find out more about our European range of stones here or contact us Natural Stone Sales.