Open and here to support you.
All businesses in the Marshalls group are open.
We are working safely to manufacture products, take new orders and fulfill existing ones.
Find out more
Box Bench
The Box design is a modular concrete bench solution that gives the illusion of levitation above ground. It has a width of 500mm and is available in variable lengths of 0.5 metre, 1 metre, 1.5 metre, 2 metre, 2.5 metre. Box is compatible with the Universe Accessory System, a simple timber seat structure with steel frame and armrests, and can be attached to the concrete benches for added comfort. The Box bench is available in a selection of concrete colours in an etched finish.
Basic bench with clean edges
Design gives the illusion of levitation above ground.
Available in 5 lengths
Choice of colour finishes
Compatible with Universe Timber Accessory System
Coordinates with Box Planter
NBSPlus Codes
Q50 Site/street furniture/equipment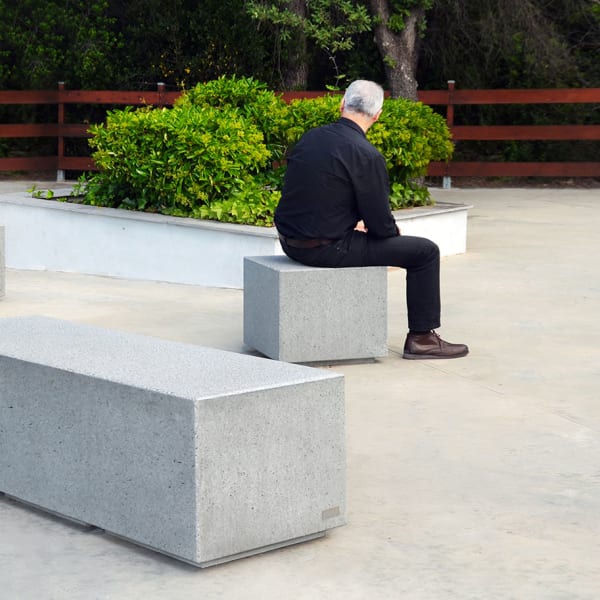 escofet box backless benches
| Product Name | Arm Rest Option | Length (mm) | Width (mm) | Height (mm) | Overall Height (mm) | Weight (kg) |
| --- | --- | --- | --- | --- | --- | --- |
| Box 500 Bench | No | 500 | 500 | 450 | 450 | 65 |
| Box 1000 Bench | No | 1000 | 500 | 450 | 450 | 530 |
| Box 1500 Bench | No | 1500 | 500 | 450 | 450 | 795 |
| Box 2000 Bench | No | 2000 | 500 | 450 | 450 | 1060 |
| Box 2500 Bench | No | 2500 | 500 | 450 | 450 | 1326 |