Open and here to support you.
All businesses in the Marshalls group are open.
We are working safely to manufacture products, take new orders and fulfill existing ones.
Find out more
Chamfered Top Timber Bollard
Marshalls' Chamfered Timber Top Bollard is designed to provide effective demarcation of pedestrian and vehicular routes to improve safety across a wide array of schemes. Manufactured in natural hardwood for durability and strength, the bollard is finished with a natural coloured protective treatment. This helps provide UV resistance to stop the product from fading, as well as protecting against water, fungus and damage from insects to increase the life of the bollard. It is also fitted with a cast iron cap, which is treated against rust and finished with a powder coated paint. The bollard has a diameter of 110 x 100mm and an above ground height of 850mm. Choose from root fixed, surface mounted or removable options.
Choice of fixings
Natural hardwood
Protective treatment
Low maintenance timber
Dimensions of 110x110x850mm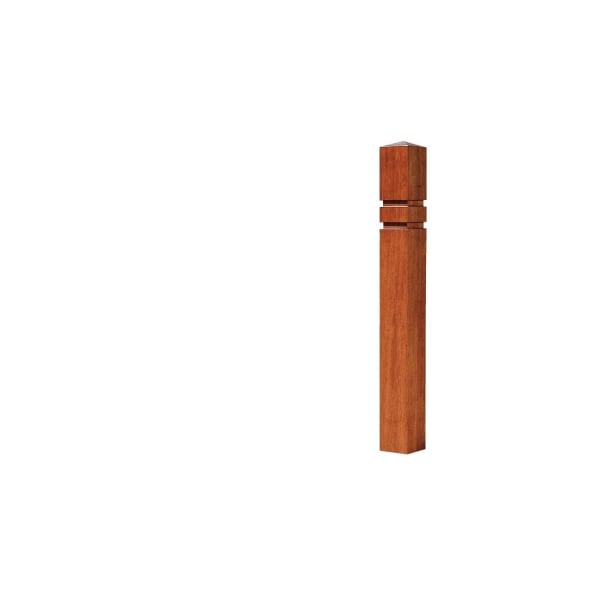 sineu graff timber bollard with chamfered top
Certification Logos and Accreditations
| Product Name | Material | Finish | Height (mm) | Width (mm) | Reflective Tape Available | Reflective Tape Colours | Weight (kg) | Fixing Method |
| --- | --- | --- | --- | --- | --- | --- | --- | --- |
| Chamfered Timber Top Bollard Removable | Hardwood Timber | Natural Coloured protective treatment | 1000 | 125 | Yes | Red, White or Yellow | 12 | Removable |
| Chamfered Timber Top Bollard Root Fixed | Hardwood Timber | Natural Coloured protective treatment | 1000 | 125 | Yes | Red, White or Yellow | 13 | Root Fixed |
| Chamfered Timber Top Bollard Surface Mount | Hardwood Timber | Natural Coloured protective treatment | 1000 | 125 | Yes | Red, White or Yellow | 13 | Surface Mounted |
sineu graff timber bollard with chamfered top