Distrikt® Curved Bench
Distrikt® curved bench is a continuous free flowing timber bench that fits in seamlessly with a project. Adding shape dimensions or curved corners to longer lengths of the Distrikt® straight bench variant, the curved bench adds curvature and new angles to a seating layout.
Its mild steel components are available in a wide range of RAL colours, with unlimited customisation options, which means there is an option for every project.
The Distrikt® range is made in Britain and created using FSC®- certified Iroko Timber with a mild steel structure and loop legs.
For more information download a copy of the Distrikt® Brochure.
Customisable linear timber seating range
Unlimited customisation options such as seating direction, arm rests and backs
A free fl owing seating range, that can be as long as the project requirements
interchangeable slats mean that seating styles can change throughout one seating unit
Made from FSC®-certified Iroko timber with mild steel framework and loop legs
Mild steel elements are available in all RAL powder coat colours
Manufactured in the UK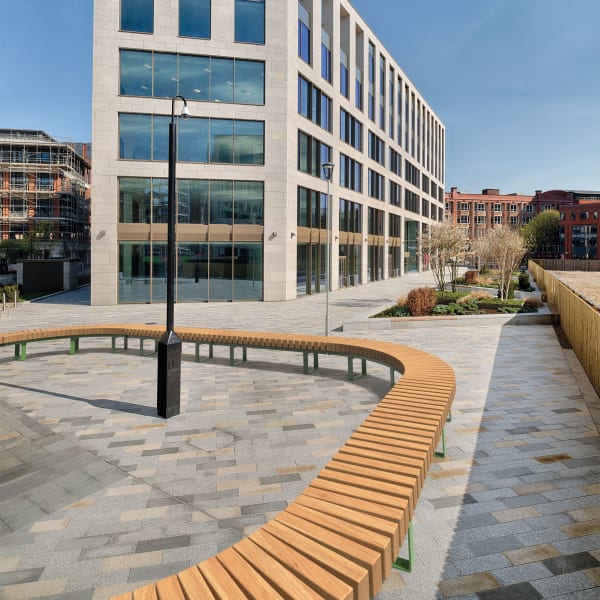 distrikt insitu renders
Certification Logos and Accreditations
| Product Name | Body/Frame Colour | Length (mm) | Width (mm) | Overall Height (mm) | Seat Height (mm) | Weight (kg) |
| --- | --- | --- | --- | --- | --- | --- |
| Distrikt® Curved Bench | A variety of RAL powder coated colour options | 2549 | 873 | 480 | 480 | 151 |