Open and here to support you.
All businesses in the Marshalls group are open.
We are working safely to manufacture products, take new orders and fulfill existing ones.
Find out more
Garonne Bench
Garonne Bench was first designed for the train station of Toulouse, now known as Ligne Garonne. It has since been adpated to include two bench styles with two different sitting heights, both with rounded edges. The design symbolises the effect of a river flowing, The "Aran" bench refers to the name of the valley where the river Garonne rises and the "Bordeaux" bench is the name of the city where its flows seamlessly into the Altantic. Aran has a depressed sitting height of 360mm and an upper sitting height of 460mm. Bordeaux has a uniform height of 460mm. The Benches can be adjoined to create a continuous flow. The Garonne bench is available in a selection of concrete colours in an etched finish. Compatible with Universe Timber Accessory System.
Bench design has two different sitting heights with rounded edges
Design symbolises the effect of a river flowing
Smaller bench is adapted for children
Choice of colour finishes
Compatible with Universe Timber Accessory System
NBSPlus Codes
Q50 Site/street furniture/equipment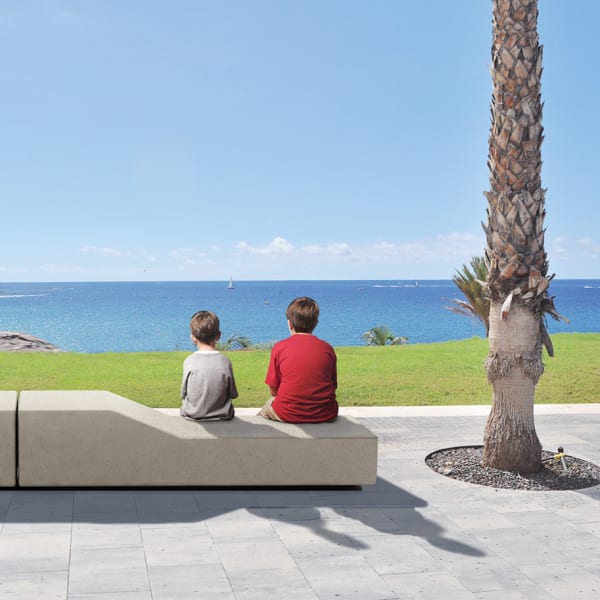 escofet garonne backless bench
| Product Name | Arm Rest Option | Length (mm) | Width (mm) | Height (mm) | Overall Height (mm) | Weight (kg) |
| --- | --- | --- | --- | --- | --- | --- |
| Aran Bench | No | 2000 | 600 | 320 | 460 | 970 |
| Bordeaux Bench | No | 2000 | 600 | 460 | 460 | 1230 |