Keychannel
For simple surface water management and low volume conveyance, Marshalls offers Keychannel – a discreet surface concrete drainage solution for retail and commercial areas.
Keychannel is a channelled Keyblok unit, designed to direct runoff rainwater across the surface and into a receiving watercourse or drain. Made from the same material as standard Keyblok, Keychannel can be used for the delineation or detailing of efficient paving schemes.
Combining well with the Keyblok and Keykerb products from the Marshalls range, it integrates seamlessly into a Keyblok surface to provide a simple, easy to install and unblockable drainage solution.
Keychannel Gully Grate is also available and is suitable for pedestrian and light traffic applications including civil, retail and commercial schemes.
Efficient water management system
Integrates with Keyblok and Keykerb products
200 x 200mm plan size
Available in 3 colour options
Maximum Loading Classification
Category 5 - 1 large goods vehicle per week (0.015 msa)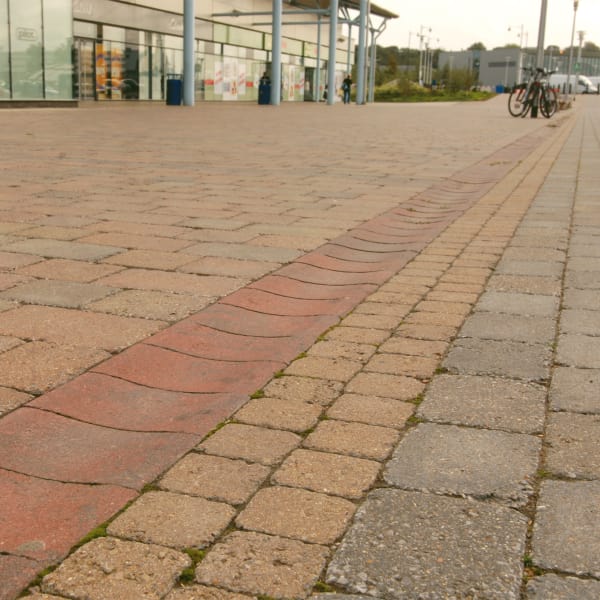 marshalls keychannel brindle
Certification Logos and Accreditations
| Product Name | ID | Plan Size (mm) | Length (mm) | Width (mm) | Depth (mm) | Approx. Unit Weight (kg) | Approx. Pack Weight (kg) | Finish | Made to Stock / Made to Order | Carbon Footprint |
| --- | --- | --- | --- | --- | --- | --- | --- | --- | --- | --- |
| Keychannel 200 x 200 x 65 Charcoal | PV8300500 | 200 x 200 | 200 | 200 | 65 | 5.4 | 1290 | Standard | Made To Stock | 3.2 kg CO2 lin m |
| Keychannel 200 x 200 x 65 Red | PV8301500 | 200 x 200 | 200 | 200 | 65 | 5.4 | 1290 | Standard | Made To Stock | 3.2 kg CO2 lin m |
| Keychannel 200 x 200 x 65 Brindle | PV8301750 | 200 x 200 | 200 | 200 | 65 | 5.4 | 1290 | Standard | Made To Stock | 3.2 kg CO2 lin m |
| Hinged Gully Grate | PV8305000 | | | | | | | Standard | Made To Stock | |
marshalls keychannel brindle