La Linia Priora Permeable Paving
Part of the UK's most popular permeable paving range, La Linia Priora Permeable Paving features a finely textured surface that adds an opulent finish to the most sophisticated spaces.
High-quality exposed aggregates add visual appeal while the 4 tonal greys can be mixed or matched to create sleek, contemporary landscapes. La Linia's 2 gauges with 3 sizes in each can be laid in any combination.
The addition of patented nibs along the edge of each paving stone allows each block to be laid in any direction or orientation while still achieving 40% more interlock than standard blocks.
Suitable for retail, commercial and residential projects
Patented nibs provide 40% more interlock
2 gauges and 3 sizes
4 colour options
Maximum Loading Classification
Category 7 - 100 large goods vehicles per week
Carbon Footprint
From 32 kg CO2 per m²
Certification Logos and Accreditations
| Product Name | ID | Plan Size (mm) | Length (mm) | Width (mm) | Depth (mm) | Approx. Unit Weight (kg) | Approx. Pack Weight (kg) 1 | Pack Size (m²) | Finish | Permeability L/S/H | Made to Stock / Made to Order | Carbon Footprint |
| --- | --- | --- | --- | --- | --- | --- | --- | --- | --- | --- | --- | --- |
| La Linia Priora 200 x 100 x 80 Light Granite | SD1400200 | 200 x 100 | 200 | 100 | 80 | 3.5 | 1360 | 7.6 | Textured | 18,750 | Made To Order | 32 kg CO2 m² |
| La Linia Priora 200 x 200 x 80 Light Granite | SD1400300 | 200 x 200 | 200 | 200 | 80 | 7.2 | 1296 | 7.2 | Textured | 13,235 | Made To Order | 32 kg CO2 m² |
| La Linia Priora 300 x 200 x 80 Light Granite | SD1400400 | 300 x 200 | 300 | 200 | 80 | 8.28 | 1355 | 9.6 | Textured | 11,029 | Made To Order | 32 kg CO2 m² |
| La Linia Priora 300 x 300 x 80 Light Granite | SD1400500 | 300 x 300 | 300 | 300 | 80 | 12.42 | 1222 | 7.56 | Textured | 8,824 | Made To Order | 32 kg CO2 m² |
| La Linia Priora 600 x 300 x 80 Light Granite | SD1400600 | 600 x 300 | 600 | 300 | 80 | 32 | 1361 | 7.56 | Textured | 7,170 | Made To Order | 32 kg CO2 m² |
| La Linia Priora 200 x 100 x 80 Anthracite Basalt | SD1402200 | 200 x 100 | 200 | 100 | 80 | 3.5 | 1360 | 7.6 | Textured | 18,750 | Made To Order | 32 kg CO2 m² |
| La Linia Priora 200 x 200 x 80 Anthracite Basalt | SD1402300 | 200 x 200 | 200 | 200 | 80 | 7.2 | 1296 | 7.2 | Textured | 13,235 | Made To Order | 32 kg CO2 m² |
| La Linia Priora 300 x 200 x 80 Anthracite Basalt | SD1402400 | 300 x 200 | 300 | 200 | 80 | 8.28 | 1355 | 9.6 | Textured | 11,029 | Made To Order | 32 kg CO2 m² |
| La Linia Priora 300 x 300 x 80 Anthracite Basalt | SD1402500 | 300 x 300 | 300 | 300 | 80 | 12.42 | 1222 | 7.56 | Textured | 8,824 | Made To Order | 32 kg CO2 m² |
| La Linia Priora 600 x 300 x 80 Anthracite Basalt | SD1402600 | 600 x 300 | 600 | 300 | 80 | 32 | 1361 | 7.56 | Textured | 7,170 | Made To Order | 32 kg CO2 m² |
| La Linia Priora 200 x 100 x 80 Grey Granite | SD1406200 | 200 x 100 | 200 | 100 | 80 | 3.5 | 1360 | 7.6 | Textured | 18,750 | Made To Order | 32 kg CO2 m² |
| La Linia Priora 200 x 200 x 80 Grey Granite | SD1406300 | 200 x 200 | 200 | 200 | 80 | 7.2 | 1296 | 7.2 | Textured | 13,235 | Made To Order | 32 kg CO2 m² |
| La Linia Priora 300 x 200 x 80 Grey Granite | SD1406400 | 300 x 200 | 300 | 200 | 80 | 8.28 | 1355 | 9.6 | Textured | 11,029 | Made To Order | 32 kg CO2 m² |
| La Linia Priora 300 x 300 x 80 Grey Granite | SD1406500 | 300 x 300 | 300 | 300 | 80 | 12.42 | 1222 | 7.56 | Textured | 8,824 | Made To Order | 32 kg CO2 m² |
| La Linia Priora 600 x 300 x 80 Grey Granite | SD1406600 | 600 x 300 | 600 | 300 | 80 | 32 | 1361 | 7.56 | Textured | 7,170 | Made To Order | 32 kg CO2 m² |
| La Linia Priora 200 x 100 x 80 Mid Grey Granite | SD1409200 | 200 x 100 | 200 | 100 | 80 | 3.5 | 1360 | 7.6 | Textured | 18,750 | Made To Order | 32 kg CO2 m² |
| La Linia Priora 200 x 200 x 80 Mid Grey Granite | SD1409300 | 200 x 200 | 200 | 200 | 80 | 7.2 | 1296 | 7.2 | Textured | 13,235 | Made To Order | 32 kg CO2 m² |
| La Linia Priora 300 x 200 x 80 Mid Grey Granite | SD1409400 | 300 x 200 | 300 | 200 | 80 | 8.28 | 1355 | 9.6 | Textured | 11,029 | Made To Order | 32 kg CO2 m² |
| La Linia Priora 300 x 300 x 80 Mid Grey Granite | SD1409500 | 300 x 300 | 300 | 300 | 80 | 12.42 | 1222 | 7.56 | Textured | 8,824 | Made To Order | 32 kg CO2 m² |
| La Linia Priora 600 x 300 x 80 Mid Grey Granite | SD1409600 | 600 x 300 | 600 | 300 | 80 | 32 | 1361 | 7.56 | Textured | 7,170 | Made To Order | 32 kg CO2 m² |
la linia priora - all colours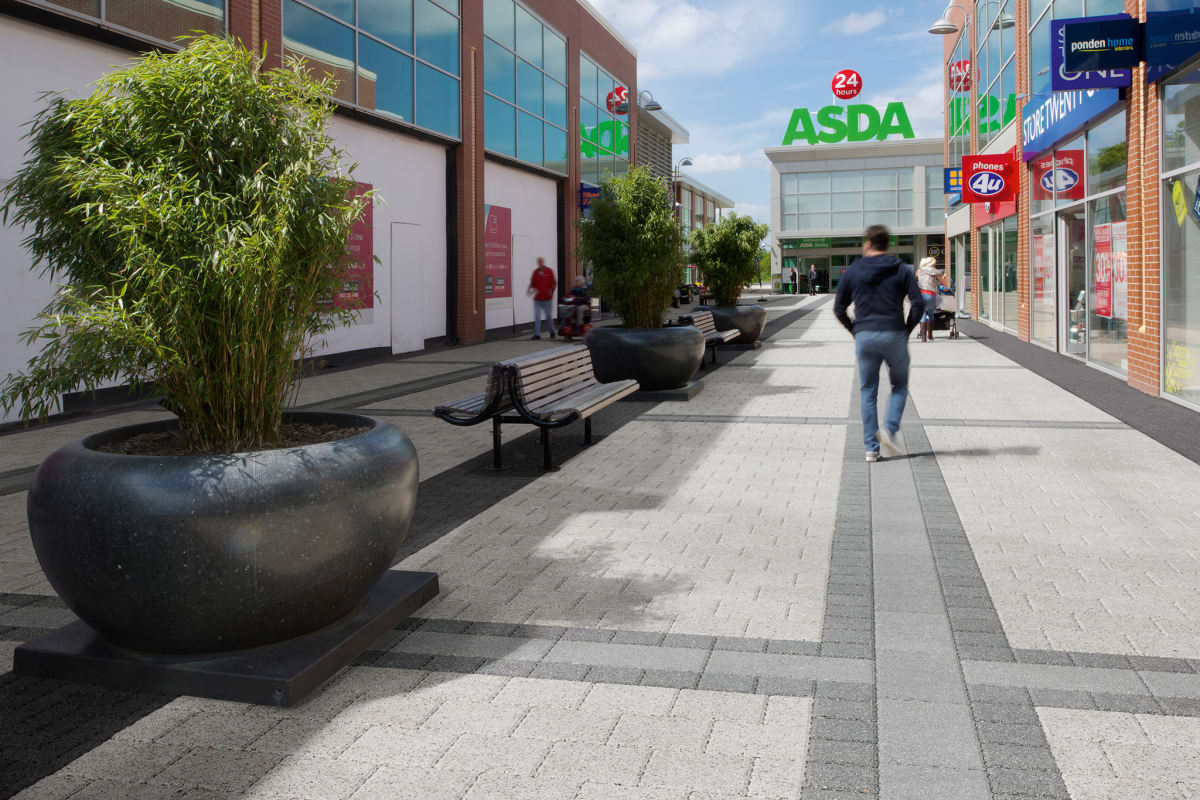 la linia - keyblok and saxon paving - chesterford research park