Open and here to support you.
All businesses in the Marshalls group are open.
We are working safely to manufacture products, take new orders and fulfill existing ones.
Find out more
RB105 Bollard
The RB105 Bollard provides effective perimeter protection in any pedestrianised or trafficked area. It is available both as a standard model and as a specially reinforced anti-ram version, which features an internal steel joist. Featuring a semi-dome top and double rings, the RB105 is manufactured from galvanised steel and powder coated in RAL Black 9005 as standard. The bollard has 3 fixing options for temporary access or permanent positioning. As well as the standard root fixing, there is surface mount for where ground evacuation is not possible, or removable, which allows temporary vehicle access when necessary.
Standard or anti-ram models
Features optional chain connectors, hazard banding and flat cap
3 height options
4 diameter options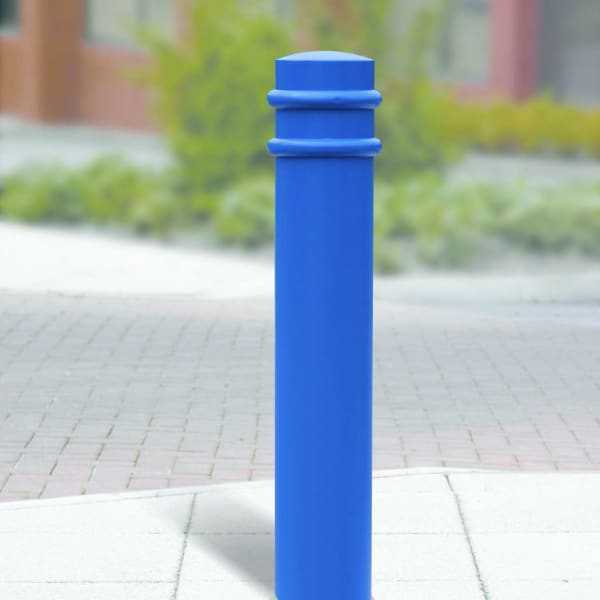 rhino 105 steel bollard
Certification Logos and Accreditations
| Product Name | Material | Finish | Diameter (mm) | Height (mm) | Reflective Tape Available | Reflective Tape Colours | Weight (kg) | Fixing Method |
| --- | --- | --- | --- | --- | --- | --- | --- | --- |
| RB105 Bollard Anti Ram Ø114mm | Steel | Galvanised and Powder Coated | 114 | 1000 | Yes | Red, White or Yellow | 30 | Anti Ram |
| RB105 Bollard Anti Ram Ø139mm | Steel | Galvanised and Powder Coated | 139 | 1000 | Yes | Red, White or Yellow | 35 | Anti Ram |
| RB105 Bollard Anti Ram Ø168mm | Steel | Galvanised and Powder Coated | 168 | 1000 | Yes | Red, White or Yellow | 49 | Anti Ram |
| RB105 Bollard Anti Ram Ø194mm | Steel | Galvanised and Powder Coated | 194 | 1000 | Yes | Red, White or Yellow | 54 | Anti Ram |
| RB105 Bollard Removable Ø114mm | Steel | Galvanised and Powder Coated | 114 | 1000 | Yes | Red, White or Yellow | 22 | Removable |
| RB105 Bollard Removable Ø139mm | Steel | Galvanised and Powder Coated | 139 | 1000 | Yes | Red, White or Yellow | 29 | Removable |
| RB105 Bollard Removable Ø168mm | Steel | Galvanised and Powder Coated | 168 | 1000 | Yes | Red, White or Yellow | 32 | Removable |
| RB105 Bollard Root Fixed Ø168mm | Steel | Galvanised and Powder Coated | 168 | 1000 | Yes | Red, White or Yellow | 35 | Root Fixed |
| RB105 Bollard Root Fixed Ø114mm | Steel | Galvanised and Powder Coated | 114 | 1000 | Yes | Red, White or Yellow | 23 | Root Fixed |
| RB105 Bollard Root Fixed Ø139mm | Steel | Galvanised and Powder Coated | 139 | 1000 | Yes | Red, White or Yellow | 29 | Root Fixed |
| RB105 Bollard Root Fixed Ø194mm | Steel | Galvanised and Powder Coated | 194 | 1000 | Yes | Red, White or Yellow | 40 | Root Fixed |
| RB105 Bollard Surface Mount Ø114mm | Steel | Galvanised and Powder Coated | 114 | 1000 | Yes | Red, White or Yellow | 20 | Surface Mounted |
| RB105 Bollard Surface Mount Ø139mm | Steel | Galvanised and Powder Coated | 139 | 1000 | Yes | Red, White or Yellow | 22 | Surface Mounted |
| RB105 Bollard Surface Mount Ø168mm | Steel | Galvanised and Powder Coated | 168 | 1000 | Yes | Red, White or Yellow | 26 | Surface Mounted |
| RB105 Bollard Surface Mount Ø194mm | Steel | Galvanised and Powder Coated | 194 | 1000 | Yes | Red, White or Yellow | 32 | Surface Mounted |
rhino 105 steel bollard