Saxon Kerb
Marshalls Saxon Concrete Kerb incorporates Yorkstone aggregates to achieve a natural-looking appearance, which is then further enhanced by a secondary shot blasting process.

Available in Buff and Natural colour options, the Yorkstone aggregate in these kerb units is exposed via a gentle texturing process, creating a warm, rustic feel, ideal for use in traditional landscapes.

Based on traditional, pre-metric dimensions, this 145 x 255mm kerb unit offers a wider and squarer profile than the usual British Standard Kerb and is ideal for use in areas where a more attractive kerb unit is required.
Incorporates Yorkstone aggregates to achieve a natural look
Wider and squarer profile
Ideal for traditional landscapes
Available in 2 colour options
NBSPlus Codes
Q10 112
Q10 10
Q10 510
Carbon Footprint
From 4 kg CO2 per lin m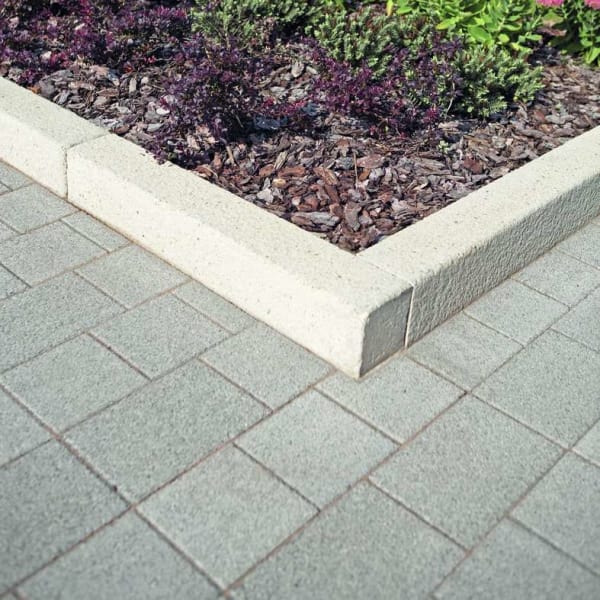 marshalls saxon textured
Certification Logos and Accreditations
| Product Name | ID | Approx. Unit Weight (kg) | No. per ¼ Circle | Finish | Made to Stock / Made to Order | Carbon Footprint |
| --- | --- | --- | --- | --- | --- | --- |
| Saxon Edging 63 x 150 x 915 Natural | ED6010500 | 18 | | Textured | Made To Order | 4 kg CO2 lin m |
| Saxon Edging 63 x 150 x 915 Buff | ED6011000 | 18 | | Textured | Made To Order | 4 kg CO2 lin m |
| Saxon Kerb 145 x 255 External Angle Natural | RK6461000 | 44 | | Textured | Made To Order | 7.5 kg CO2 each |
| Saxon Kerb 145 x 255 Internal Angle Natural | RK6461100 | 44 | | Textured | Made To Order | 7.5 kg CO2 each |
| Saxon Kerb 145 x 255 External Angle Buff | RK6461400 | 44 | | Textured | Made To Order | 7.5 kg CO2 each |
| Saxon Kerb 145 x 255 Internal Angle Buff | RK6461500 | 44 | | Textured | Made To Order | 7.5 kg CO2 each |
| Saxon Kerb 305 x 255 Quadrant Natural | RK6465000 | 42 | | Textured | Made To Order | 7 kg CO2 each |
| Saxon Kerb 305 x 255 Quadrant Buff | RK6465100 | 42 | | Textured | Made To Order | 7 kg CO2 each |
| Saxon Kerb 145 x 255 Natural | RK6470000 | 83 | | Textured | Made To Stock | 14 kg CO2 lin m |
| Saxon Kerb 145 x 145 Centre Stone Natural | RK6471000 | 83 | | Textured | Made To Order | 9 kg CO2 lin m |
| Saxon Kerb 145 x 255/145 Drop Kerb LH Natural | RK6472010 | 68 | | Textured | Made To Order | 12 kg CO2 lin m |
| Saxon Kerb 145 x 255/145 Drop Kerb RH Natural | RK6472020 | 68 | | Textured | Made To Order | 12 kg CO2 lin m |
| Saxon Kerb 145 x 255 External Radius 2m Natural | RK6475200 | 83 | 4 | Textured | Made To Order | 17 kg CO2 lin m |
| Saxon Kerb 145 x 255 External Radius 4m Natural | RK6475400 | 83 | 8 | Textured | Made To Order | 17 kg CO2 lin m |
| Saxon Kerb 145 x 255 External Radius 6m Natural | RK6475600 | 83 | 12 | Textured | Made To Order | 17 kg CO2 lin m |
| Saxon Kerb 145 x 255 External Radius 10m Natural | RK6476000 | 83 | 20 | Textured | Made To Order | 17 kg CO2 lin m |
| Saxon Kerb 145 x 255 Internal Radius 1.85m Natural | RK6477200 | 83 | 4 | Textured | Made To Order | 17 kg CO2 lin m |
| Saxon Kerb 145 x 255 Internal Radius 3.85m Natural | RK6477400 | 83 | 7.7 | Textured | Made To Order | 17 kg CO2 lin m |
| Saxon Kerb 145 x 255 Internal Radius 5.85m Natural | RK6477600 | 83 | 11.5 | Textured | Made To Order | 17 kg CO2 lin m |
| Saxon Kerb 145 x 255 Internal Radius 9.85m Natural | RK6478000 | 83 | 17.5 | Textured | Made To Order | 17 kg CO2 lin m |
| Saxon Kerb 145 x 255 Buff | RK6480000 | 83 | | Textured | Made To Stock | 14 kg CO2 lin m |
| Saxon Kerb 145 x 145 Centre Stone Buff | RK6481000 | 83 | | Textured | Made To Order | 9 kg CO2 lin m |
| Saxon Kerb 145 x 255/145 Drop Kerb LH Buff | RK6482010 | 68 | | Textured | Made To Order | 12 kg CO2 lin m |
| Saxon Kerb 145 x 255/145 Drop Kerb RH Buff | RK6482020 | 68 | | Textured | Made To Order | 12 kg CO2 lin m |
| Saxon Kerb 145 x 255 External Radius 2m Buff | RK6485200 | 83 | 4 | Textured | Made To Order | 17 kg CO2 lin m |
| Saxon Kerb 145 x 255 External Radius 4m Buff | RK6485400 | 83 | 8 | Textured | Made To Order | 17 kg CO2 lin m |
| Saxon Kerb 145 x 255 External Radius 6m Buff | RK6485600 | 83 | 12 | Textured | Made To Order | 17 kg CO2 lin m |
| Saxon Kerb 145 x 255 External Radius 10m Buff | RK6486000 | 83 | 20 | Textured | Made To Order | 17 kg CO2 lin m |
| Saxon Kerb 145 x 255 Internal Radius 5.85m Buff | RK6487600 | 83 | 12 | Textured | Made To Order | 17 kg CO2 lin m |