St George Paving
A durable and long lasting solution first developed for installation on the London Underground, St George Paving makes use of a distinctive mix of aggregates to create a hard-wearing yet smooth surface ground finish.


Precision engineered to offer tighter tolerances for ease of installation, no secondary processing is required on site, offering improved site health and safety. St George Paving is suitable for both internal and external use, making it for the perfect option for railway stations and retail complexes where its smooth finish provides ease of cleaning.

The product is UK sourced and manufactured and available in a range of plan sizes and three colour options of Oyster Beige, Pebble Grey and Onyx Grey. Each is a neutral shade that blends well and complements a variety of environments.

Precision-engineered to allow for ease of installation
Suitable for internal and external use
Available in 3 colour options
Easy to clean and maintain
Manufactured in the UK
Maximum Loading Classification
Category 1 - Pedestrian and domestic driveways
Carbon Footprint
From 24 kg CO2 per m²
Certification Logos and Accreditations
| Product Name | ID | Plan Size (mm) | Length (mm) | Width (mm) | Depth (mm) | Approx. Unit Weight (kg) | Approx. Pack Weight (kg) | Pack Size (m²) | Finish | Made to Stock / Made to Order | Carbon Footprint |
| --- | --- | --- | --- | --- | --- | --- | --- | --- | --- | --- | --- |
| St George 400 x 400 x 50 Oyster Beige | FL9223100 | 400 x 400 | 400 | 400 | 50 | 19 | 755 | 6.4 | Smooth Ground | Made To Order | 24 kg CO2 m² |
| St George 400 x 400 x 50 Pebble Grey | FL9223200 | 400 x 400 | 400 | 400 | 50 | 19 | 755 | 6.4 | Smooth Ground | Made To Order | 24 kg CO2 m² |
| St George 400 x 400 x 50 Onyx Grey | FL9223300 | 400 x 400 | 400 | 400 | 50 | 19 | 755 | 6.4 | Smooth Ground | Made To Order | 24 kg CO2 m² |
| St George 600 x 300 x 50 Oyster Beige | FL9225100 | 600 x 300 | 600 | 300 | 50 | 21 | 425 | 3.6 | Smooth Ground | Made To Order | 24 kg CO2 m² |
| St George 600 x 300 x 50 Pebble Grey | FL9225200 | 600 x 300 | 600 | 300 | 50 | 21 | 425 | 3.6 | Smooth Ground | Made To Order | 24 kg CO2 m² |
| St George 600 x 300 x 50 Onyx Grey | FL9225300 | 600 x 300 | 600 | 300 | 50 | 21 | 425 | 3.6 | Smooth Ground | Made To Order | 24 kg CO2 m² |
st george paving - oyster beige onyx grey
st george smooth ground concrete paving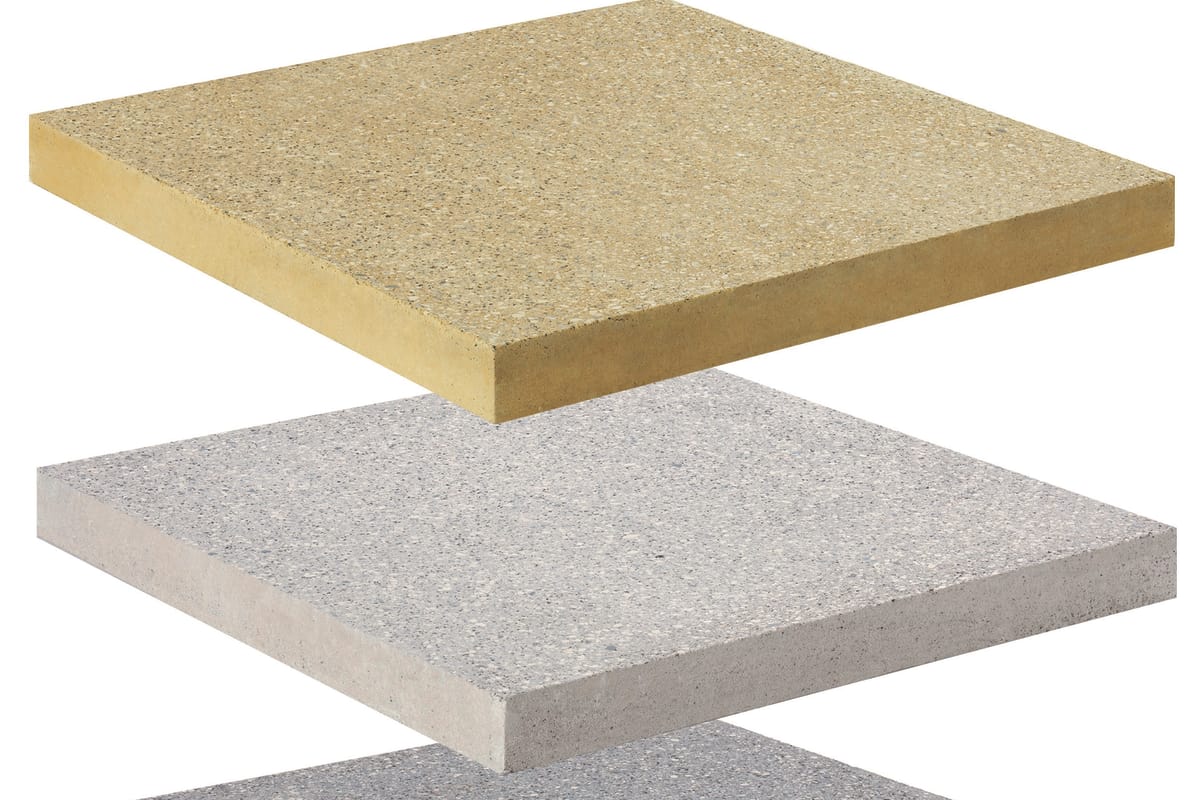 st george paving - pebble grey onyx grey