 Willard Paving & Landscaping Ltd
Wintop House 2 Church Lane Burgh, Norwich NR11 6TR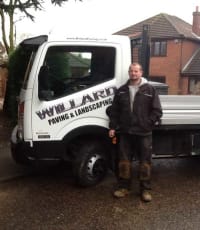 Specialisms
Marshalls assesses certain skills and capabilities that members have demonstrated in specialist areas of landscaping which are reviewed periodically by Marshalls assessors to ensure that the skills are current.
Design
Awarded where a Marshalls Registered Member has demonstrated that they have the ability to offer design services to their clients.
Awards
Marshalls hold an annual competition where Registered Members are invited to submit examples of their work in a number of categories which are then judged for regional and national awards. Members are also able to list winning projects from other recognised competitions.
Qualifications
Awarded where a Marshalls Registered Member has gained a recognised qualification in landscaping skills, these are verified periodically to ensure the individuals that hold the qualification are still employed and the qualification is current.
Customer Service
Awarded to a Marshalls Registered Member through the submission of customer feedback questionnaires which are reviewed and evaluated.
Mr Willard is a charming contractor, very friendly person and you feel you can talk to him about the job. We would recommend him to anyone.
Mr & Mrs N - North Walsham
Having had our drive and front area of our bungalow done with Drivesett Savanna we are highly delighted with the results. We are extremely pleased with the advice & work carried out and would recommend Richard to anyone who is thinking of having work done
Mr C - Norwich
Willard Paving&Landscaping recently installed a large block paved drive at our property,using a variety of Marshall's materials.I cannot praise their work ethic,professionalism and demeanour highly enough.They were always ready to advise on design aspects and nothing was too much trouble.I would recommend Rick Willard and his team to anyone!
Mr W - Dereham