The recent floods in Venice are further evidence of the devastating effect rising sea levels across the planet can have on waterside or coastal areas – the damage caused by the November floods has been estimated so far at around €1bn. With Venice's Mose project – a $6.5 billion sea wall designed to protect the historic city – remaining unfinished, flooding is a serious issue that looks set to continue to rear its head.
But it is not just the city famous for its canals and gondolas that is susceptible to such a phenomenon. Here at Marshalls, we've studied five famous tourist spots around the world, looking at the impact that flooding could have and which preventative measures planners have installed.
Osaka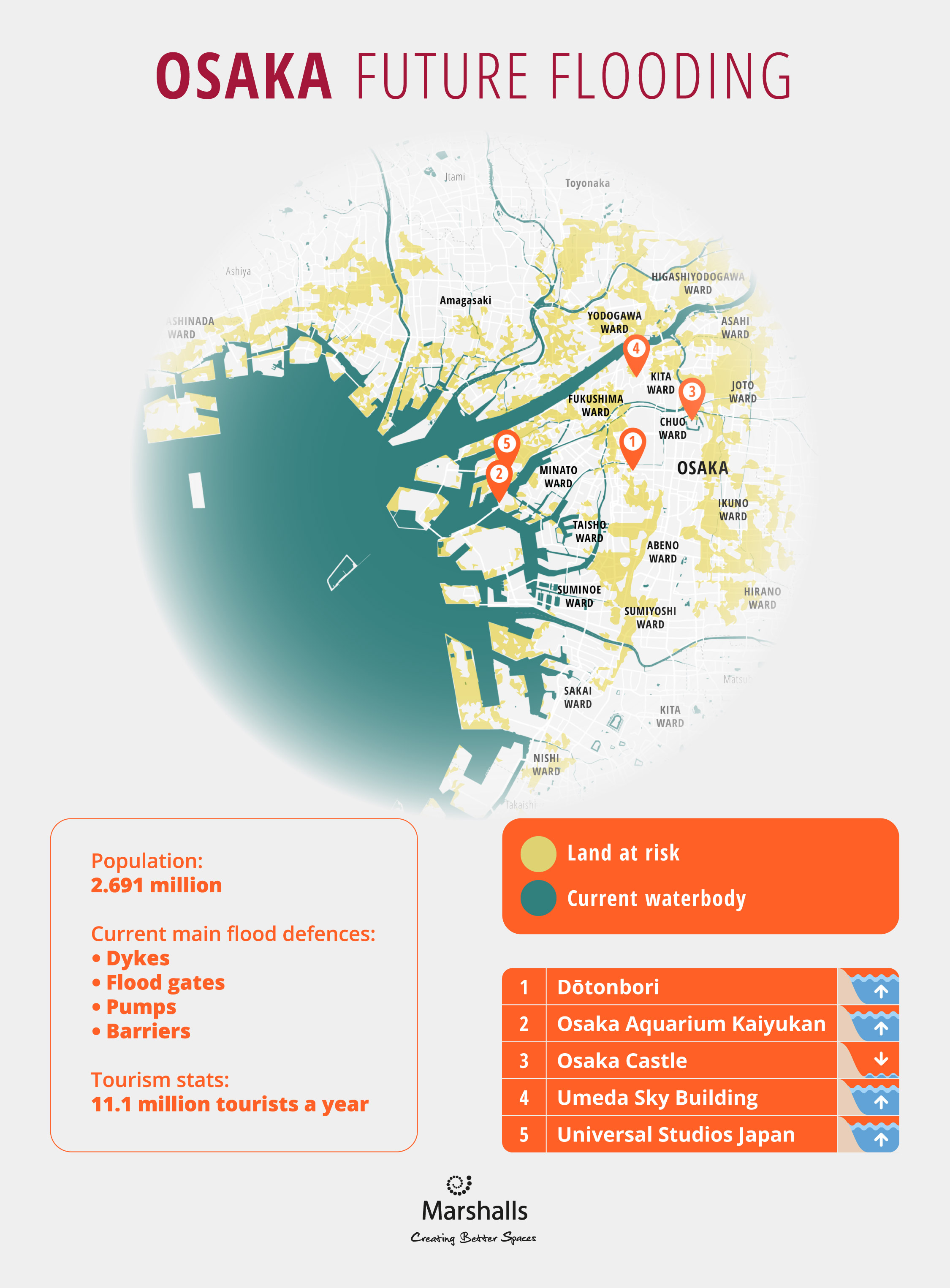 As part of a country prone to being hit by typhoons, Osaka has implemented several flood prevention methods, including dykes, gates, pumps and barriers, which help to divert water away from the subway and any areas of paving at ground level. The city receives 11.1 million tourists per year, with attractions such as Universal Studios Japan, Kuchu Teien Observatory and the Dōtonbori district all susceptible to floods.
And Professor Yoshiaki Kawata from Kansai University, who has been reviewing the risks to Osaka using computer simulations, believes modifications need to be made in order to counter the rise in sea levels. "In Osaka Bay, the design height of the flood defenses is based on the water level at low tide, plus 2.2 metres to allow for spring high tide and 3 metres for a storm surge," he said. "Due to global warming, we have to change the storm surge model." He added: "Traditionally, the Japanese government proposed to reduce flood risk across a total area, not at particular points. This situation is now impossible."
Alexandria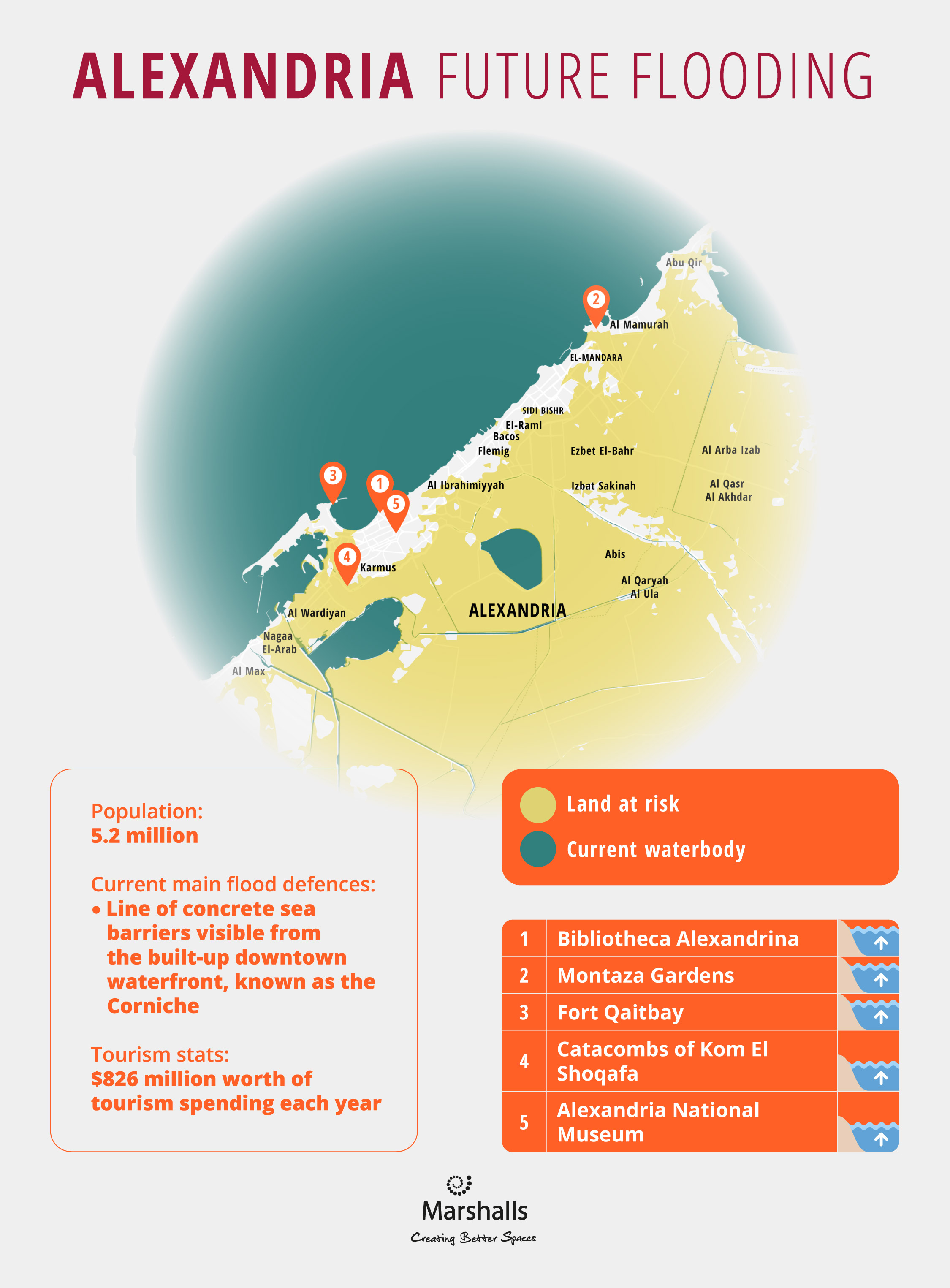 On the northern coast of Egypt, Alexandria has a population of 5.2 million and its tourism industry brings in more than $800 million worth of revenue every year. The city is situated on the Nile Delta, which itself is sinking due to erosion, providing planners with a major headache when it comes to successfully defending against widespread floods.
Historic sites such as Montaza Palace, the National Museum and the Catacombs of Kom El Shoqafa are all vulnerable to flooding, and damage to any of these attractions could have a significant impact on Alexandria's tourism industry. As a first line of defence, the city constructed a series of concrete sea barriers along the waterfront, which protect the Corniche and other shore-side buildings. Without these barricades, damages could mount up to a cost of almost $25bn, says Ashour Abdel-Karim, head of the Egyptian General Authority for Shores Protection.
Shanghai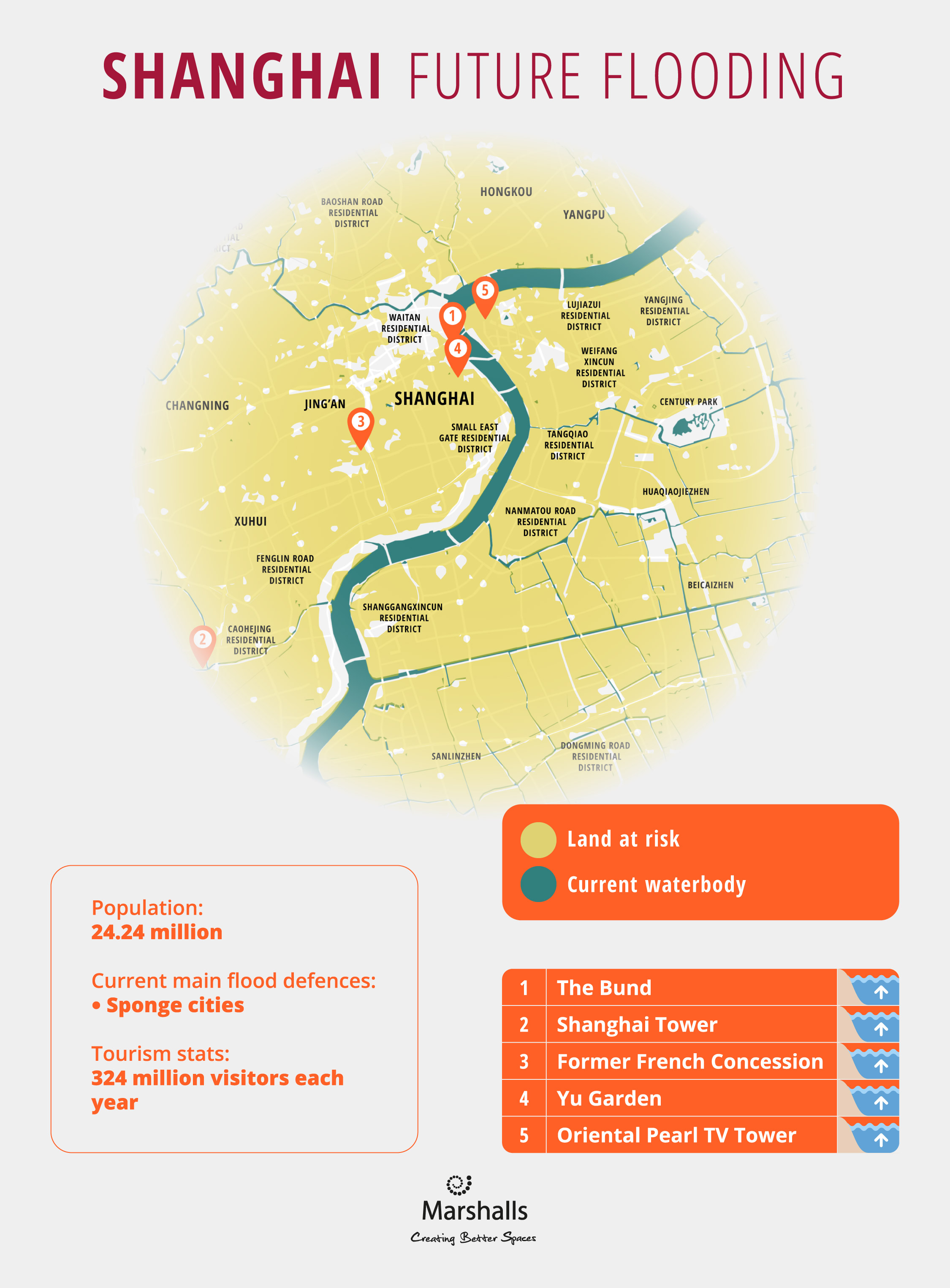 With more than 24 million people residing in this city on the east coast of China, Shanghai has come up with perhaps the most innovative and eco-friendly flood management system. In the likes of the Nanhui (formerly Lingang) district, large areas are covered with grass, trees and flower beds, allowing any surface water to be absorbed back into the earth and drain away naturally.
Furthermore, the use of permeable paving means even in paved areas, water can drain from the surface at an improved rate and therefore reduce the risk of widespread flooding that could endanger lives and disrupt activity around the city's major tourist spots, such as The Bund and Yu Garden.
Miami
Few cities are more vulnerable to rising sea levels than Miami, located at the very south-eastern tip of the United States. With more than 15 million visitors per year, it's a popular destination for holidaymakers from both the US and further afield and with flooding becoming increasingly prevalent, the city is taking steps to mitigate against its damages.
Pump stations are being installed across Miami Beach, which send floodwaters to a treatment centre before being pushed back into the sea, while the restoration of wetland areas such as the Everglades help to enhance the barrier between the city and storm surges. Some roads are being raised, while the $1bn Brickell City Centre complex boasts an elevated sea wall, green roofs and flood gates that can seal off the underground car park – all measures designed to prevent major flood damage.
London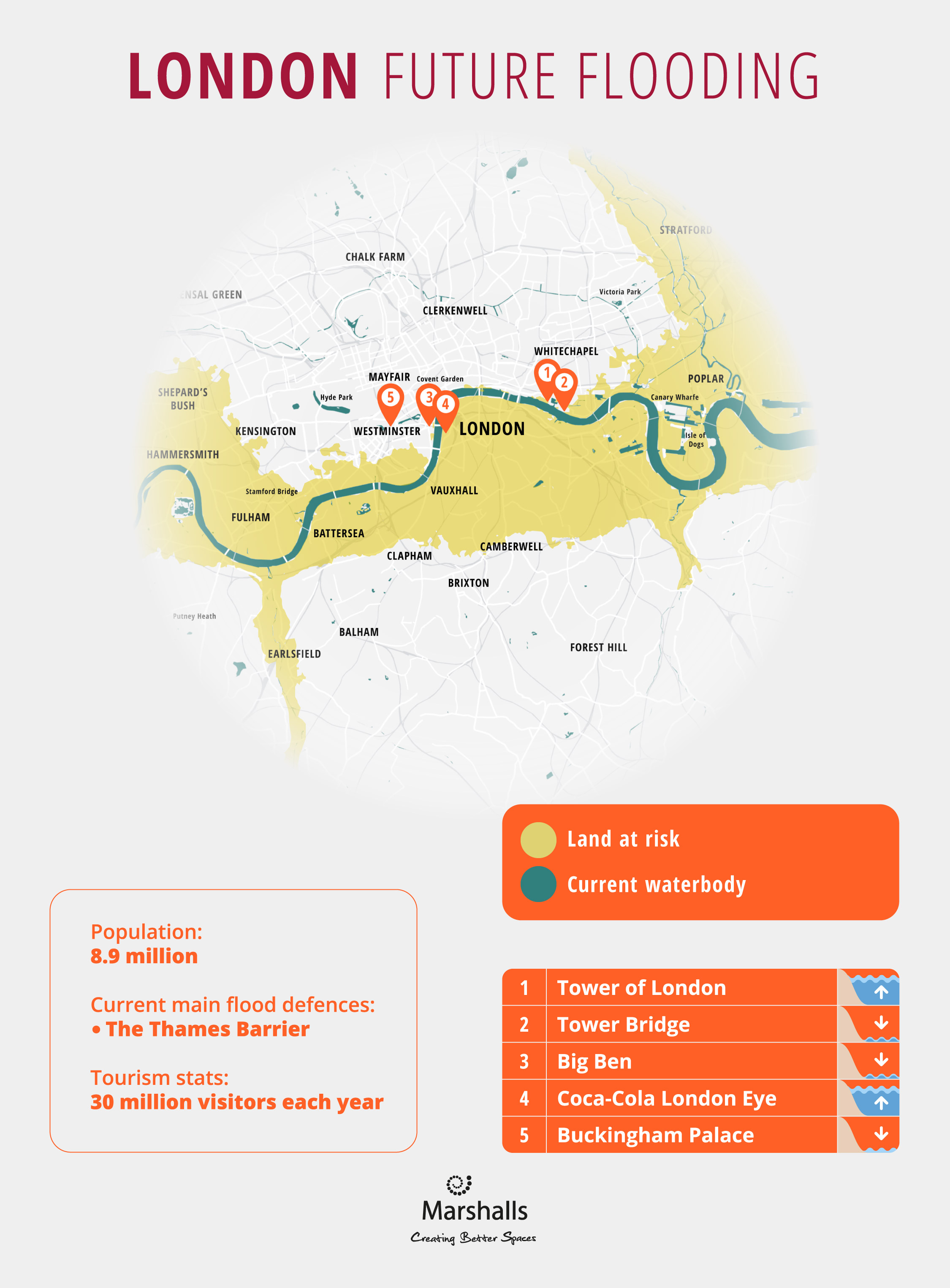 One of the busiest cities in the world, with around 30 million tourists paying a visit each year, London has to protect itself from high tides and storm surges making their way up the River Thames from the North Sea. The Thames Barrier helps to prevent any damage and is closed whenever flooding is a risk, before being reopened to allow water to flow back towards the ocean.
With busy tourist attractions such as the London Eye, Big Ben and the Tower of London all situated close to the banks of the Thames, serious flooding could pose a major risk to lives. It was recently announced that £270 million would be freed up to improve flood defenses and protect thousands of homes close to the river.
The above are just a few examples of the challenges facing modern planners in areas located on the coast or close to water. As we can see from the likes of the permeable paving in Shanghai and the pumps and barriers implemented in Miami and Osaka, having access to the right materials is crucial when it comes to preparing your project for any potential risk of future flooding.
Should you be interested in similar sustainability topics, feel free to bookmark our blog and read more about the ever-evolving challenges of managing developments and the importance of making sure you have the right resources to do so.