Adjusting Units / Seating Rings
To offer maximum customer choice, Marshalls Civils & Drainage offer precast concrete adjusting units or seating rings in either a one piece or two piece manhole riser.
One Piece Units
Cover frame adjusting units are reinforced 65mm deep units which can be used in place of engineering bricks to adjust the ductile or cast iron covers and frames to the required level and are kitemarked to BS EN1917:2002/BS5911-3:2010
Adjusting units are available for the following access sizes (mm): 600 x 600, 675 x 675, 750 x 600
600 x 600 Eccentric/Corbel units have an eccentric opening which is used in conjunction with a 750 x 600 cover slab opening.
The advantages of adjusting units are:
They can be quickly and easily installed by semi-skilled labour

There are fewer joints which reduce the likelihood of infiltration

All concrete manhole units can be ordered from one source

There is a reduced risk of on site damage and pilferage
Two piece adjusting units are now available with a 600 x 600 or a 675 x 675 opening.
Two piece adjusting units offer the following advantages:
Each section weighs less than 25kg enabling one man to handle the units and comply with manual handling regulations.

No requirement for bricklayers due to ease of installation.

Quicker to install than brickwork.
Scottish Water seating slab (Lothian Slab)
Special seating slabs 1125 x 1125 x 150mm thick, to comply with Scottish Water Services Specification are available with access sizes 600 x 600, 675 x 675, 750 x 600 and 750 x 750.
It is the customers responsibility to check that the proposed cover and frame flange is fully supported by the chosen adjusting system as flange sizes vary between manufacturing.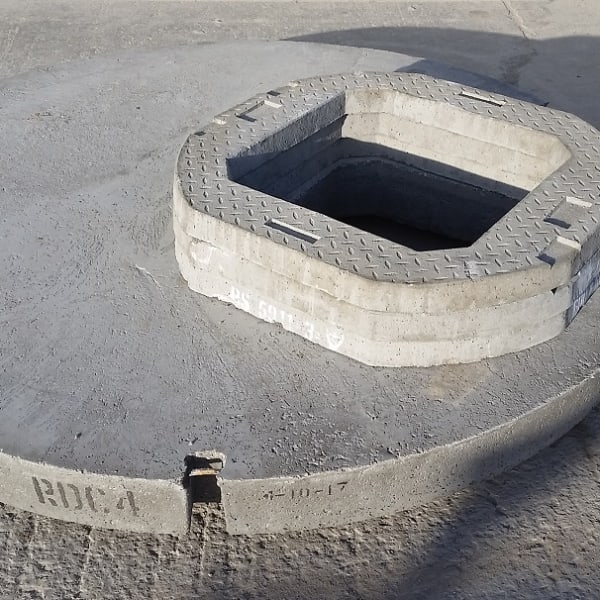 adjusting units
Certifications, Accreditations & Credentials
UKCA Declarations of Performance