Box Culverts
Box culverts are available in square or rectangular units and can be used as single or multi-unit runs, giving an excellent mechanical and hydraulic performance.

Culvert types include applications for schemes such as Highways, Storm and Foul Sewers, Sea Outfalls, Tunnels and Subways, Underpasses, Stream Crossings, Vertical Chambers, Open Channels, Shafts, Attenuation, and Storage Tanks.

Made in Britain, Precast concrete box culverts are designed and manufactured in accordance with EN 14844.


The culvert is available with end walls, access points, vent holes, inlets, outlets, double rungs, splayed ends, starter bars and threaded sockets, a range of different inverts, dry weather flow and dished inverts.

The concrete culvert can be supplied as standard units or vertical chambers; if being used as a channel, cover slabs can be supplied separately.


Benefits of Box Culverts include:


Minimum maintenance - box culverts do not need any additional treatments to prolong life and they do not rust.
Long-life performance – 120-year design life.
Quick and easy installation as delivered to site ready to install.
Get optimum flow rates with the culverts smooth finish offering.
Excellent mechanical and hydraulic performance as the smooth finish allows water to flow through.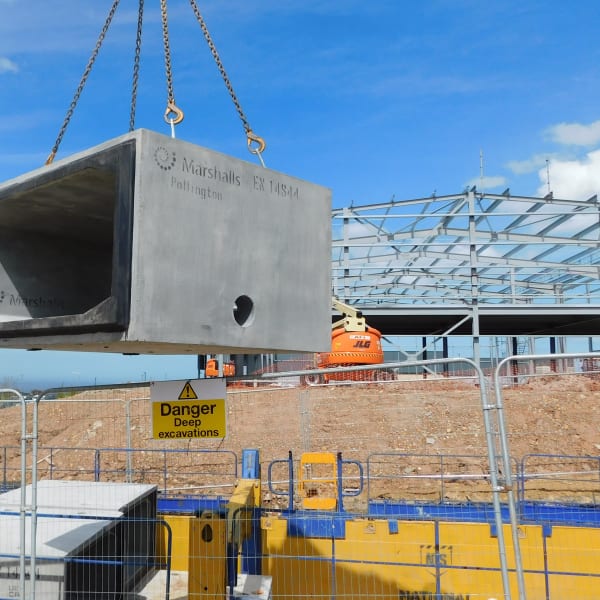 box culverts
Certifications, Accreditations & Credentials
| Product Name | Effective Area (m2) | Internal Dimensions Width (m) | Internal Dimensions Height (m) | Length (m) | External Dimensions Width (m) | External Dimensions Height (m) | Wall Thickness (mm) | Slab Thickness (mm) | Weight (tonne) |
| --- | --- | --- | --- | --- | --- | --- | --- | --- | --- |
| MC 10.05 | 0.485 | 1 | 0.5 | 2 | 1.3 | 0.8 | 150 | 150 | 2.78 |
| MC 12.07 | 0.904 | 1.25 | 0.75 | 2 | 1.55 | 1.05 | 150 | 150 | 3.71 |
| MC 15.10 | 1.44 | 1.5 | 1 | 2 | 1.85 | 1.35 | 175 | 175 | 5.3 |
| MC 17.07 | 1.252 | 1.75 | 0.75 | 2 | 2.1 | 1.1 | 175 | 175 | 5.3 |
| MC 20.10 | 1.94 | 2 | 1 | 2 | 2.35 | 1.35 | 175 | 175 | 6.35 |
| MC 25.15 | 3.69 | 2.5 | 1.5 | 1.5 | 2.9 | 1.95 | 200 | 225 | 7.56 |
| MC 27.18 A | 4.8 | 2.7 | 1.8 | 1.5 | 3.15 | 2.30 | 225 | 250 | 9.41 |
| MC 30.10 A | 2.94 | 3 | 1 | 1.5 | 3.45 | 1.5 | 225 | 250 | 8.54 |
| MC 15.15 | 2.19 | 1.5 | 1.5 | 2 | 1.85 | 1.85 | 175 | 175 | 6.47 |
| MC 20.20 | 3.94 | 2 | 2 | 2 | 2.40 | 2.40 | 200 | 200 | 9.44 |
All weights are approximate