Caissons
Marshalls Civils & Drainage offer a range of reinforced precast concrete manhole chambers specially designed for sinking by the caisson method from 2000mm diameter to 4000mm internal diameter in varying depths see product details.
The caisson chamber shaft sinking system was originally designed for use in microtunnelling, but is now more widely used for construction of pumping stations, wet wells and manholes, particularly in difficult ground conditions, adopted when adopted when the depth of water is high and the foundations are to be laid under water.
The caisson method is achieved by using a shaft sinking plate system and is manufactured in accordance to BS EN 1917:2002 and kite marked where relevant to BS 5911-3:2010.
To suit these chambers, cover slabs are also available.
Advantages of the caisson solution include:
Suited to weak soils, high-plasticility clays, silts, sands and gravel.
Minimal site labour costs as delivered ready to install.
Immediate permanent shafts as the caissons are constructed off-site enabling quick and easy installation.
Suitable for jacking pits where a hole is dug in preparation for the installation of a tunnel or casing for the machinery to fit into.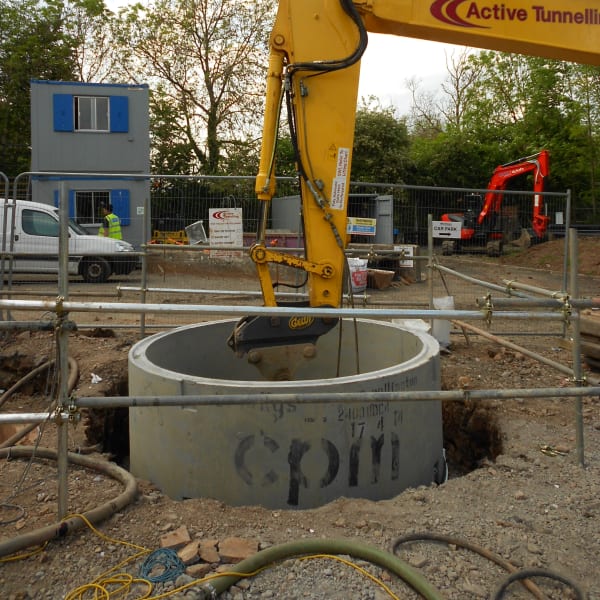 caissons
Certification Logos and Accreditations
UKCA Declarations of Performance
| Product Name | Wall Thickness (mm) | Overall Diameter (mm) | Effective Depth (mm) | Overall Depth (mm) | Weight (kg) |
| --- | --- | --- | --- | --- | --- |
| DN2000 Caisson Chamber Section x 500mm | 130 | 2260 | 500 | 500 | 1065 |
| DN2000 Caisson Chamber Section x 750mm | 130 | 2260 | 750 | 750 | 1598 |
| DN2000 Caisson Chamber Section x 1000mm | 130 | 2260 | 1000 | 1000 | 2130 |
| DN2400 Caisson Chamber Section x 500mm | 140 | 2680 | 500 | 522 | 1370 |
| DN2400 Caisson Chamber Section x 750mm | 140 | 2680 | 750 | 772 | 2055 |
| DN2400 Caisson Chamber Section x 1000mm | 140 | 2680 | 1000 | 1022 | 2740 |
| DN2740 Caisson Chamber Section x 500mm | 160 | 3060 | 500 | 500 | 1790 |
| DN2740 Caisson Chamber Section x 750mm | 160 | 3060 | 750 | 750 | 2685 |
| DN2740 Caisson Chamber Section x 1000mm | 160 | 3060 | 1000 | 1000 | 3580 |
| DN3000 Caisson Chamber Section x 500mm | 175 | 3350 | 500 | 500 | 2135 |
| DN3000 Caisson Chamber Section x 750mm | 175 | 3350 | 750 | 750 | 3203 |
| DN3000 Caisson Chamber Section x 1000mm | 175 | 3350 | 1000 | 1000 | 4270 |
| DN3660 Caisson Chamber Section x 750mm | 185 | 4030 | 750 | 769 | 3980 |
| DN3660 Caisson Chamber Section x 1000mm | 185 | 4030 | 1000 | 1019 | 5300 |
| DN4000 Caisson Chamber Section x 750mm | 200 | 4400 | 750 | 769 | 4770 |
| DN4000 Caisson Chamber Section x 1000mm | 200 | 4400 | 1000 | 1019 | 6360 |