Catchpits
Marshalls Civils & Drainage has developed a range of Offsite Solutions catchpit and silt trap manholes so why spend days constructing an in-situ a catchpit or silt trap manhole on site when one-piece chambers are available and can be installed within hours, not days!
The reinforced watertight one-piece chamber structures offer greater design flexibility with a range of cored or pre-formed holes/cut-outs for inlet/outlet holes which come complete with seals.
Marshalls Civils & Drainage modular catchpits and silt traps for drainage save money and time as they are built under factory conditions to your specification ensuring dimensional correctness as well as a high quality finish.
Design options include:
1050mm to 3000mm standard tongue and groove complete with a cast-in base.
1200mm, 1500mm and 1800mm sealed manhole joint complete with cast-in base.
Pipe inlet/outlet diameters covered by system 100mm to 1800mm.
Benefits of precast concrete catchpits and silt traps:
Reduced costs in construction time and on-site personnel.
Sump depths to suit design requirements.
Accommodates uPVC, twinwall, clay, ductile iron and concrete.
Increased Health and Safety benefits as it reduces on-site construction.
Reduces wet trades for manhole construction.
Product is made and tested under factory conditions.
Eliminates extra transport and material wastage used with on-site construction methods.
Chamber bases are kitemarked.
1050mm unit weighs less than one tonne.
Bespoke design to suit customer requirements.
Standard tongue and groove joints.
Greatly reduced installation time on site.
None or minimal on-site fabrication required.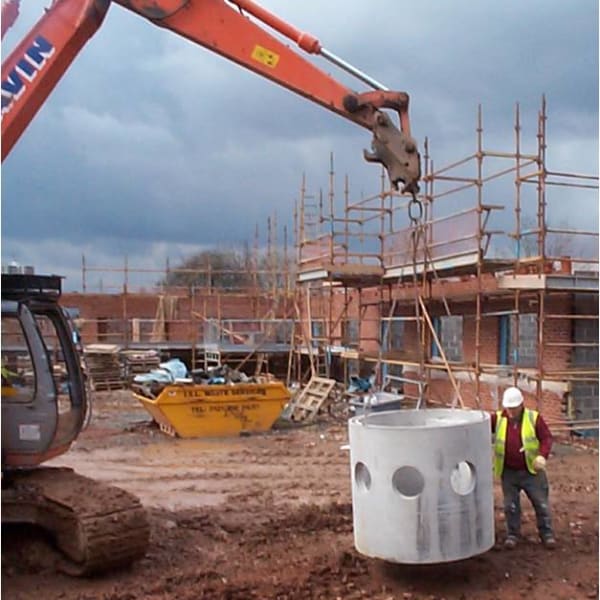 Catchpits
Certification Logos and Accreditations
UKCA Declarations of Performance
| Product Name | Wall Thickness (mm) | Outisde Diameter (mm) | Base Slab Thickness (mm) | Internal Depth (mm) | Overall Depth (mm) | Weight (tonne) |
| --- | --- | --- | --- | --- | --- | --- |
| Catchpit 0900mm | 70 | 1040 | 150 | 360 | 510 | 0.50 |
| Catchpit 0900mm | 70 | 1040 | 150 | 610 | 760 | 0.635 |
| Catchpit 0900mm | 70 | 1040 | 150 | 860 | 1010 | 0.765 |
| Catchpit 1050mm | 80 | 1210 | 150 | 363 | 513 | 0.675 |
| Catchpit 1050mm | 80 | 1210 | 150 | 613 | 763 | 0.855 |
| Catchpit 1050mm | 80 | 1210 | 150 | 863 | 1013 | 1.030 |
| Catchpit 1200mm | 90 | 1380 | 150 | 363 | 513 | 0.875 |
| Catchpit 1200mm | 90 | 1380 | 150 | 613 | 763 | 1.100 |
| Catchpit 1200mm | 90 | 1380 | 150 | 863 | 1013 | 1.330 |
| Catchpit 1350mm | 95 | 1540 | 150 | 366 | 516 | 1.070 |
| Catchpit 1350mm | 95 | 1540 | 150 | 616 | 766 | 1.340 |
| Catchpit 1350mm | 95 | 1540 | 150 | 866 | 1016 | 1.610 |
| Catchpit 1500mm | 105 | 1710 | 150 | 366 | 516 | 1.320 |
| Catchpit 1500mm | 105 | 1710 | 150 | 616 | 766 | 1.650 |
| Catchpit 1500mm | 105 | 1710 | 150 | 866 | 1016 | 1.985 |
| Catchpit 1800mm | 115 | 2030 | 175 | 344 | 519 | 1.970 |
| Catchpit 1800mm | 115 | 2030 | 175 | 594 | 769 | 2.405 |
| Catchpit 1800mm | 115 | 2030 | 175 | 844 | 1019 | 2.845 |