redi rock freestanding wall
Redi-Rock™ Freestanding Walls
Redi-Rock™ freestanding walls are ideal to stand alone or integrate with a Redi-Rock™ retaining wall, as well as looking great, freestanding walls can serve as guardrails or barrier walls to protect areas from errant traffic or other threats, and can be modified with cables or rods for additional force protection as well as with a waterproof membrane for emergency or long term flood protection.
The Redi-Rock™ massive freestanding concrete blocks have textured faces on both sides of the block and are dry-laid and interlock with giant Lego™ blocks. Quicker to install than conventional systems, they can also be coloured to match the local environment and if your project plans alter, just dismantle to use again.
Marshalls Civils and Drainage has the resources to make designing your freestanding wall easy and offers a full design service and installation, or they can supervise/advise when you need us to answer questions on your project.
See our helpful video to see how they are installed.
Benefits of Redi-Rock™ massive freestanding walls include:
Fast and easy to install.
The interlocking blocks need no cement, so can be laid in any weather.
Aesthetically pleasing, with the look of natural stone.
Can be coloured at source or on-site to match different local environments.
Minimal maintenance required.
Engineered strength, allowing walls of up to 2m high without design.
Can be used seamlessly with Redi-Rock retaining walls.
Full design and installation support offered including BIM.
If plans alter, just pick up and build in a new location.
Delivered ready to install.

If you would like a CPD style presentation of our Redi-Rock wall solution please call our marketing team on 01902 356220 or send an email to lch@marshalls.co.uk
Certifications, Accreditations & Credentials
UKCA Declarations of Performance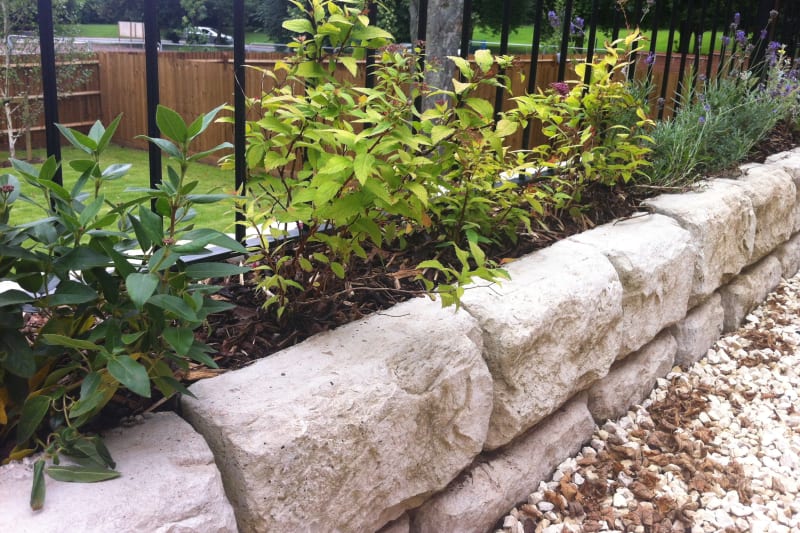 Redi-Rock™ Freestanding Walls BIM Model
At Marshalls we work alongside appropriate guidelines in which we are able to provide high quality 3D objects of our products that contain rich data to satisfy that information required by our clients.
We strive to improve the relationship with stakeholders and the BIM process enables us to share the relevant information.
Our BIM models are available to download directly from our BIM library.
We have a range of models available in AutoDesk Revit format including CoBie, IFC and NBS data.
View BIM Library