House Inspection Chamber
The Marshalls Civils and Drainage precast concrete household inspection chambers are available in a variety of depths, with tongue and groove joints to BS EN 1917:2002/BS 5911-4:2002.

The concrete inspection chambers are economic and versatile and meet the demands of domestic drainage installation. They are easily handled and excavation below ground level is reduced to a minimum.




Metal cover slabs
Top sections for 750mm x 600mm and larger chambers act as reducing slabs, enabling standard 600mm x 450mm covers to be fitted irrespective of the size of chambers involved.

To provide concrete top section for 1000mm x 675mm requires a top section for metal household inspection cover and frame 1000mm x 675mm i.e. reducer or a top section for concrete cover 600mm x 450mm and concrete cover slab. Please see the metal cover specification table for details.




Concrete cover slabs
House Inspection concrete cover slabs are supplied to suit the top sections, and are 695mm x 540mm overall, 60mm thick and weigh 55kgs.

Marshalls Civils and Drainage house inspection chambers (HICs) can be jointed quickly and easily with bituminous or butyl compounds providing a watertight seal without the use of a concrete surround. For depths in excess of 1.5m the use of a concrete surround is recommended. Please see the concrete cover specification table for further details.


Made to BS EN 1917:2002/BS 5911-4:2002.
Meet the requirements of domestic drainage installation.
Can be supplied banded.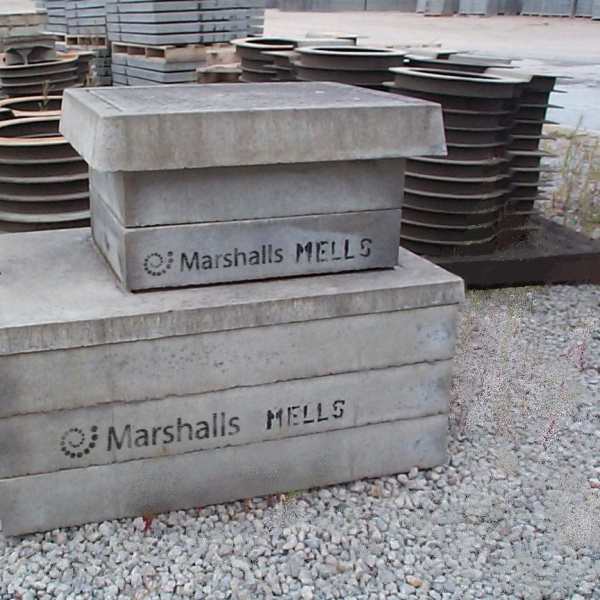 house inspection chambers
Certification Logos and Accreditations
| Product Name | Overall Depth (mm) | Weight (kg) | Wall Thickness (mm) | No Per Pallet | Weight Per Pallet (kg) |
| --- | --- | --- | --- | --- | --- |
| HIC Chamber Sections for 600mm x 450mm | 150 | 44 | 50 | 32 | 1410 |
| HIC Chamber Sections for 600mm x 450mm | 225 | 58 | 50 | 20 | 1160 |
| HIC Chamber Sections for 600mm x 450mm | 300 | 86 | 50 | 16 | 1380 |
| HIC Chamber Sections for 750mm x 600mm | 150 | 67 | 60 | 16 | 1070 |
| HIC Chamber Sections for 750mm x 600mm | 225 | 100 | 60 | 10 | 1000 |
| HIC Chamber Sections for 750mm x 600mm | 300 | 134 | 60 | 8 | 1070 |
| HIC Chamber Sections for 1000mm x 675mm | 150 | 83 | 65 | 16 | 1330 |
| HIC Chamber Sections for 1000mm x 675mm | 225 | 130 | 65 | 10 | 1300 |
| Product Name | Overall Dimensions (mm) | Effective Depth (mm) | Overall Depth (mm) | Weight (kg) | No Per Pallet | Weight Per Pallet (kg) |
| --- | --- | --- | --- | --- | --- | --- |
| Top Section Concrete Cover for HIC 600mm x 450mm | 845 x 680 | 110 | 120 | 46 | 10 | 1010 |
| Top Section Concrete Cover for HIC 750mm x 600mm | 865 x 715 | 110 | 120 | 67 | 10 | 1220 |
| Product Name | Overall Dimensions (mm) | Effective Depth (mm) | Overall Depth (mm) | Weight (kg) | No Per Pallet | Weight Per Pallet (kg) |
| --- | --- | --- | --- | --- | --- | --- |
| Top Section Metal Cover for HIC 600mm x 450mm | 825 x 675 | 60 | 85 | 42 | 10 | 420 |
| Top Section Metal Cover for HIC 750mm x 600mm | 870 X 720 | 50 | 60 | 44 | 10 | 440 |
| Top Section Metal Cover for HIC 1000mm x 675mm | 1150 x 825 | 50 | 60 | 89 | 10 | 890 |
| Product Name | Sealant Length (per joint) | Sealant Size | Primer |
| --- | --- | --- | --- |
| Sealant for 600mm x 450mm | 2.5m | 6mm x 50mm | 5 litres per 100m |
| Sealant for 750mm x 600mm | 3.0m | 6mm x 50mm | 5 litres per 100m |
| Sealant for 1000mm x 675mm | 3.5m | 12mm x 60mm | 5 litres per 75m |
house inspection chambers