mini beany - standard grey
Mini Beany
Evolved from the successful Beany range, Marshalls Civils & Drainage Mini Beany Combined Kerb and Drainage System is a medium capacity water management solution.

Excellent flow rates alongside a robust concrete construction make Mini Beany the ideal choice for low to medium capacity road drainage requirements and areas with heavy or abnormally heavy wheel loads.

The two-piece design of the Mini beany - made up of the Mini Beany top unit and a base channel - reduces the risk of damage during the installation process. It also allows for a choice of top finishes to complement a wide range of aesthetics, from urban to rural. Choose from 2 colour options - Standard Grey and Conservation Silver Grey.
Robust concrete construction
Innovative two-piece design
Suitable for areas with low to medium road drainage requirements
Available in 2 colour options
Maximum Loading Classification

i

✕

This is the maximum loading for the product.

However this is subject to using the appropriate installation method, bond pattern and the sub-base design.

For tailored support with a pavement design, please contact us:

grouptechnicalservices@marshalls.co.uk
A15|B125|C250|D400|E600
Drainage Capacity
Low to Medium
Division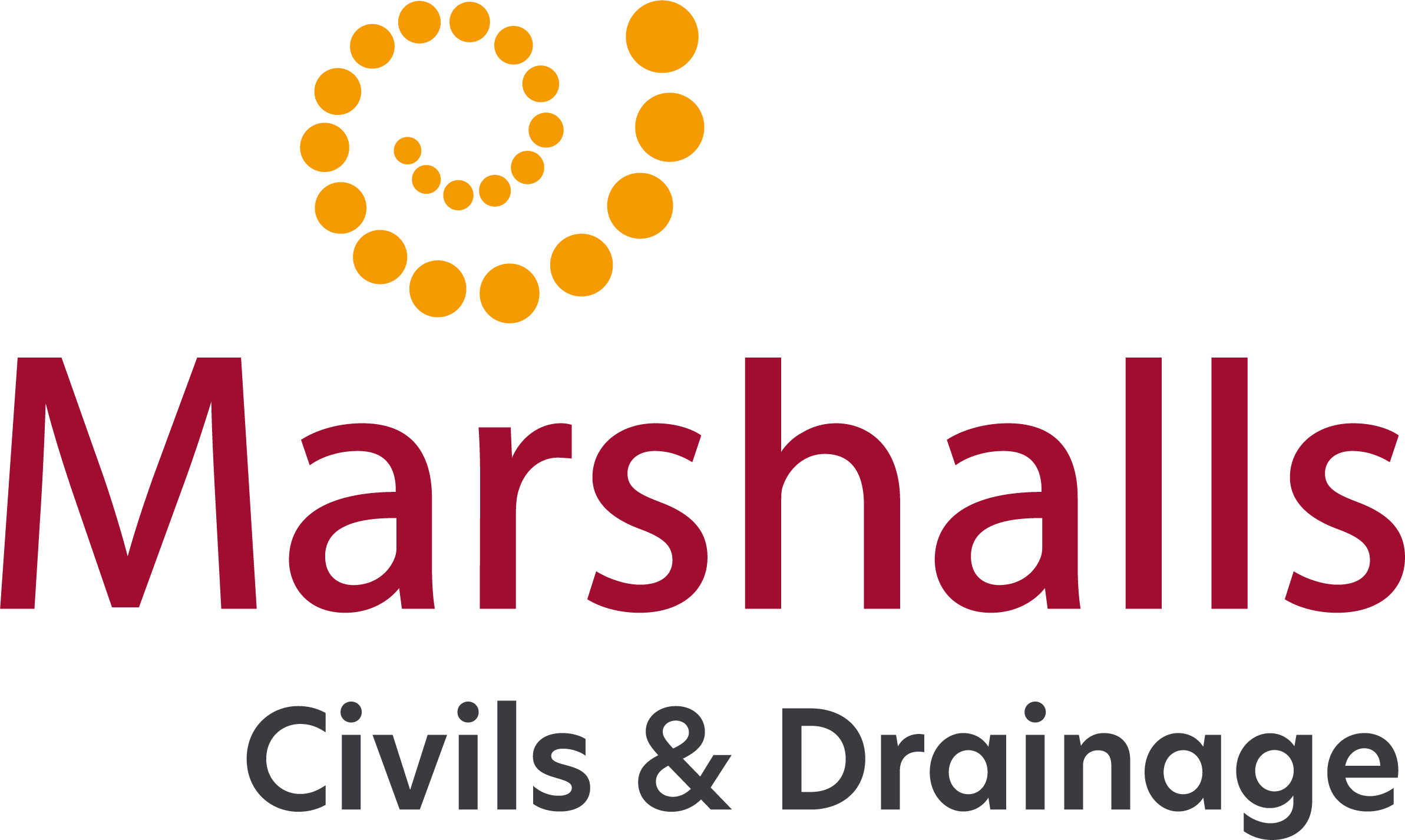 Certification Logos and Accreditations
| Product Name | id | Commercial Units per Pack | Approx Pack Weight (kg) | Made to Stock / Made to Order |
| --- | --- | --- | --- | --- |
| Beany Bus Stop Top Block 180 Upstand | DR7910100 | All units are loose stacked suitable for crane off-load or are available on timber pallets | 1.7 | Made To Order |
| Product Name | id | Length (mm) | Width (mm) | Depth (mm) | Commercial Units per Pack | Approx Pack Weight (kg) | Made to Stock / Made to Order |
| --- | --- | --- | --- | --- | --- | --- | --- |
| Mini Beany 210 Pressed Channel 1000 | DR6960100 | 1000 | 280 | 210 | All units are loose stacked suitable for crane off-load or are available on timber pallets | 1.7 | Made To Stock |
| Mini Beany 210 Pressed Channel 500 | DR6960200 | 500 | 280 | 210 | All units are loose stacked suitable for crane off-load or are available on timber pallets | 1.7 | Made To Stock |
| Mini Beany 260 Pressed Channel 1000 | DR6970100 | 1000 | 280 | 260 | All units are loose stacked suitable for crane off-load or are available on timber pallets | 1.7 | Made To Stock |
| Mini Beany 260 Pressed Channel 500 | DR6970200 | 500 | 280 | 260 | All units are loose stacked suitable for crane off-load or are available on timber pallets | 1.7 | Made To Stock |
| Mini Beany 310 Pressed Channel 1000 | DR6980100 | 1000 | 280 | 310 | All units are loose stacked suitable for crane off-load or are available on timber pallets | 1.7 | Made To Stock |
| Mini Beany 310 Pressed Channel 500 | DR6980200 | 500 | 280 | 310 | All units are loose stacked suitable for crane off-load or are available on timber pallets | 1.7 | Made To Order |
| Mini Beany 360 Pressed Channel 1000 | DR6990100 | 1000 | 280 | 360 | All units are loose stacked suitable for crane off-load or are available on timber pallets | 1.7 | Made To Stock |
| Mini Beany 360 Pressed Channel 500 | DR6990200 | 500 | 280 | 360 | All units are loose stacked suitable for crane off-load or are available on timber pallets | 1.7 | Made To Order |
| Product Name | id | Length (mm) | Commercial Units per Pack | Approx Pack Weight (kg) | Made to Stock / Made to Order | Height (mm) |
| --- | --- | --- | --- | --- | --- | --- |
| Half Battered Cable Duct Top | DR6899000 | 100 | Pallet packed for individual contracts | 1.7 | Made To Order | 240 |
| 45 Degree Splay Cable Duct Top | DR6899050 | 100 | Pallet packed for individual contracts | 1.7 | Made To Order | 240 |
| Product Name | id | Length (mm) | Depth (mm) | Commercial Units per Pack | Approx Pack Weight (kg) | Made to Stock / Made to Order | Height (mm) |
| --- | --- | --- | --- | --- | --- | --- | --- |
| Left Hand Dropper | DR6899200 | 1000 | 250 | Pallet packed for individual contracts | 1.7 | Made To Stock | 240 |
| Right Hand Dropper | DR6899300 | 1000 | 250 | Pallet packed for individual contracts | 1.7 | Made To Stock | 240 |
| Centre Stone | DR6899400 | 1000 | 250 | Pallet packed for individual contracts | 1.7 | Made To Stock | 135 |
| Conservation HB Dropper LH | DR9314000 | 1000 | 250 | Pallet packed for individual contracts | 1.7 | Made To Order | 240 |
| Conservation HB Dropper RH | DR9314010 | 1000 | 250 | Pallet packed for individual contracts | 1.7 | Made To Order | 240 |
| Conservation Centre Stone | DR9314500 | 1000 | 250 | Pallet packed for individual contracts | 1.7 | Made To Order | 135 |
| Product Name | id | Commercial Units per Pack | Approx Pack Weight (kg) | Made to Stock / Made to Order |
| --- | --- | --- | --- | --- |
| 360 Channel End Cap | DR6993100 | Pallet packed for individual contracts | 1.7 | Made To Stock |
| 210 Channel End Cap | DR6963100 | All units are loose stacked suitable for crane off-load or are available on timber pallets | 1.7 | Made To Stock |
| 210 Channel Cap Outlet | DR6963200 | All units are loose stacked suitable for crane off-load or are available on timber pallets | 1.7 | Made To Order |
| 260 Channel End Cap | DR6973100 | All units are loose stacked suitable for crane off-load or are available on timber pallets | 1.7 | Made To Stock |
| 260 Channel Cap Outlet | DR6973200 | All units are loose stacked suitable for crane off-load or are available on timber pallets | 1.7 | Made To Order |
| 310 Channel End Cap | DR6983100 | All units are loose stacked suitable for crane off-load or are available on timber pallets | 1.7 | Made To Stock |
| 310 Channel Cap Outlet | DR6983200 | All units are loose stacked suitable for crane off-load or are available on timber pallets | 1.7 | Made To Order |
| Product Name | id | Length (mm) | Commercial Units per Pack | Approx Pack Weight (kg) | Made to Stock / Made to Order | Height (mm) |
| --- | --- | --- | --- | --- | --- | --- |
| Side Outfall | DR6890000 | 500 | Pallet packed for individual contracts | 1.7 | Made To Stock | |
| End Outfall | DR6890100 | 500 | Pallet packed for individual contracts | 1.7 | Made To Order | |
| Beany Mini Inline O/F Top End | DR6891100 | | All units are loose stacked suitable for crane off-load or are available on timber pallets | 1.7 | Made To Order | |
| Universal Silt Box | DR6899100 | 500 | Pallet packed for individual contracts | 1.7 | Made To Stock | |
| Half Battered Universal Access Cover | DR6910220 | 500 | Pallet packed for individual contracts | 1.7 | Made To Stock | 240 |
| 45 Degree Splay Off Side Access Cover | DR6910250 | 500 | Pallet packed for individual contracts | 1.7 | Made To Stock | 240 |
| 45 Degree Splay Universal Access Cover | DR6910260 | 500 | Pallet packed for individual contracts | 1.7 | Made To Stock | 240 |
| Bullnose Universal Access Cover | DR6910270 | 500 | Pallet packed for individual contracts | 1.7 | Made To Order | 240 |
| Standard Cover Plate 500 | DR6910300 | 500 | Pallet packed for individual contracts | 1.7 | Made To Order | 6 |
| Standard Cover Plate 1000 | DR6910400 | 1000 | Pallet packed for individual contracts | 1.7 | Made To Stock | 6 |
| Radius Cover Plate 30/10 | DR6910500 | 500 | Pallet packed for individual contracts | 1.7 | Made To Order | 6 |
| Radius Cover Plate 9/10 | DR6910600 | 500 | Pallet packed for individual contracts | 1.7 | Made To Order | 6 |
| Product Name | id | Commercial Units per Pack | Approx Pack Weight (kg) | Made to Stock / Made to Order |
| --- | --- | --- | --- | --- |
| Mini Beany 210 Pressed Channel 30/10 | DR6961100 | All units are loose stacked suitable for crane off-load or are available on timber pallets | 1.7 | Made To Stock |
| Mini Beany 210 Pressed Channel 9/6 | DR6961200 | All units are loose stacked suitable for crane off-load or are available on timber pallets | 1.7 | Made To Order |
| Mini Beany 260 Pressed Channel 30/10 | DR6971100 | All units are loose stacked suitable for crane off-load or are available on timber pallets | 1.7 | Made To Stock |
| Mini Beany 260 Pressed Channel 9/6 | DR6971200 | All units are loose stacked suitable for crane off-load or are available on timber pallets | 1.7 | Made To Order |
| Mini Beany 310 Pressed Channel 30/10 | DR6981100 | All units are loose stacked suitable for crane off-load or are available on timber pallets | 1.7 | Made To Order |
| Mini Beany 310 Pressed Channel 9/6 | DR6981200 | All units are loose stacked suitable for crane off-load or are available on timber pallets | 1.7 | Made To Order |
| Mini Beany 360 Pressed Channel 30/10 | DR6991100 | All units are loose stacked suitable for crane off-load or are available on timber pallets | 1.7 | Made To Order |
| Mini Beany 360 Pressed Channel 9/6 | DR6991200 | All units are loose stacked suitable for crane off-load or are available on timber pallets | 1.7 | Made To Order |
| Product Name | id | Length (mm) | Depth (mm) | Commercial Units per Pack | Approx Pack Weight (kg) | Made to Stock / Made to Order | Height (mm) |
| --- | --- | --- | --- | --- | --- | --- | --- |
| 45 Degree 30/10 External Radius Top | DR6721100 | 500 | 250 | Pallet packed for individual contracts | 1.7 | Made To Order | 240 |
| 45 Degree 30/10 Interl Radius Top | DR6721110 | 500 | 250 | Pallet packed for individual contracts | 1.7 | Made To Order | 240 |
| 45 Degree Splay 9/6 Exterl Radius Top | DR6721200 | 500 | 250 | Pallet packed for individual contracts | 1.7 | Made To Order | 240 |
| 45 Degree Splay 90 Degree Corner External Radius Top | DR6923500 | 500 | 250 | Pallet packed for individual contracts | 1.7 | Made To Order | 240 |
| 45 Degree Splay 90 Degree Corner Internal Radius Top | DR6923510 | 500 | 250 | Pallet packed for individual contracts | 1.7 | Made To Order | 240 |
| NEW Mini Beany BN 30/10 External Conservation Textured | DR9312150 | | | All units are loose stacked suitable for crane off-load or are available on timber pallets | 1.7 | Made To Order | |
| NEW Beany Mini HB 30/10 Ext Rad | DR6723100 | | | All units are loose stacked suitable for crane off-load or are available on timber pallets | 1.7 | Made To Stock | |
| NEW Beany Mini HB Cut 30/10 Int Rad | DR6723110 | | | All units are loose stacked suitable for crane off-load or are available on timber pallets | 1.7 | Made To Order | |
| NEW Beany Mini HB Cut 9/6 Ext Rad | DR6723200 | | | All units are loose stacked suitable for crane off-load or are available on timber pallets | 1.7 | Made To Order | |
| NEW Beany Mini HB Cut 9/6 Int Rad | DR6723210 | | | All units are loose stacked suitable for crane off-load or are available on timber pallets | 1.7 | Made To Order | |
| Product Name | id | Length (mm) | Depth (mm) | Commercial Units per Pack | Approx Pack Weight (kg) | Made to Stock / Made to Order | Height (mm) |
| --- | --- | --- | --- | --- | --- | --- | --- |
| Half Battered 1000 Top | DR6720100 | 1000 | 250 | Pallet packed for individual contracts | 1.7 | Made To Stock | 240 |
| Half Battered 500 Top | DR6720200 | 500 | 250 | Pallet packed for individual contracts | 1.7 | Made To Stock | 240 |
| 45 Degree Splay 1000 Top | DR6720400 | 1000 | 250 | Pallet packed for individual contracts | 1.7 | Made To Stock | 240 |
| 45 Degree Splay 500 Top | DR6720500 | 500 | 250 | Pallet packed for individual contracts | 1.7 | Made To Order | 240 |
| NEW Beany BN Mini 1000 Conservation Textured | DR9312100 | | | All units are loose stacked suitable for crane off-load or are available on timber pallets | 1.7 | Made To Stock | |
| NEW Beany BN Mini 500 Conservation Textured | DR9312110 | | | All units are loose stacked suitable for crane off-load or are available on timber pallets | 1.7 | Made To Order | |
| Mini Beany HB Mini Top 500 Conservation Textured | DR9315100 | | | All units are loose stacked suitable for crane off-load or are available on timber pallets | 1.7 | Made To Order | |
| Mini Beany HB Top 1000 Conservation Textured | DR9315150 | | | All units are loose stacked suitable for crane off-load or are available on timber pallets | 1.7 | Made To Order | |
| Product Name | id | Length (mm) | Width (mm) | Commercial Units per Pack | Approx Pack Weight (kg) | Made to Stock / Made to Order | Height (mm) |
| --- | --- | --- | --- | --- | --- | --- | --- |
| 210 - 260 Transition Channel | DR6963300 | 500 | 280 | Pallet packed for individual contracts | 1.7 | Made To Order | 210 |
| 260 - 310 Transition Channel | DR6973300 | 500 | 280 | Pallet packed for individual contracts | 1.7 | Made To Order | 260 |
| 310 - 360 Transition Channel | DR6983300 | 500 | 280 | Pallet packed for individual contracts | 1.7 | Made To Order | 310 |