Ovoid Pipes
With higher velocity at low flows, reducing the risk of siltation and sewer blockages, Ovoid pipes are 'egg-shaped' and can offer lower operating costs, as sewers may be laid without the need for pumping.
Ovoid pipe solutions can be commonly found in Victoria brick-built sewer systems and in some circumstances, concrete ovoid drainage pipes are used to replace parts of an existing sewer network.
Marshalls Civils & Drainage Ovoid concrete pipes are produced and tested in accordance with the relevant provisions of BS EN1916:2002/BS5911-1:2002 Class 150 including dimensional tolerances, crushing, hydrostatic, water absorption and joint tests.
Avaliable are various lifting options depending on size. The 600mm × 900mm and 800mm × 1200mm pipes are supplied with two lift anchors cast in the top for use with 'Flexilift' lifting/jointing system, whereas the 'C' hook is available for lifting/jointing 400mm × 600mm ovoid's. All Ovoid pipes have lifting jointing equipment available on request.
Benefits of Ovoid Pipes:
Lower operating costs, where some sewers may be laid without the need for pumping.
Better self cleansing and therefore less risk of siltation and blockage.
Sustainable, strong and durable sewerage solution with a 120-year design life.
Reduced costs of trench excavation resulting from shallower gradients.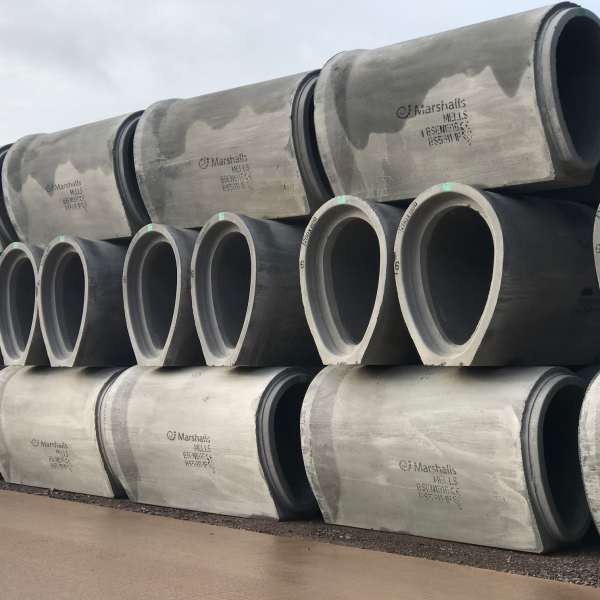 ovoid pipes
Certification Logos and Accreditations
UKCA Declarations of Performance
| Product Name | Socket O/D Width (mm) | Socket O/D Height (mm) | Barrel O/D Width (mm) | Barrel O/D Height (mm) | Overall Length (mm) | Effective Length (mm) | Width Of Base (mm) | Weight per Pipe (tonne) | Metres per Tonne |
| --- | --- | --- | --- | --- | --- | --- | --- | --- | --- |
| Ovoid Pipe 400mm Wide x 600mm Height | 840 | 840 | 772 | 772 | 1350 | 1250 | N/A | 910 | 1370 |
| Ovoid Pipe 600mm Wide x 900mm Height | 900 | 1210 | 800 | 1185 | 2610 | 2500 | 375 | 2170 | 1150 |
| Ovoid Pipe 800mm Wide x 1200mm Height | 1100 | 1545 | 1040 | 1510 | 2620 | 2500 | 490 | 3300 | 760 |