Preformed Manholes
Marshalls Civils & Drainage has developed an offsite large modular performed manhole system that is designed to speed up the installation of the manhole whilst providing a safe working environment for personnel working within the manhole.
Performed manhole sections are available in 2100mm, 2400mm, 2700mm, 3000mm, 3660mm and 4000mm diameters in 500mm, 750mm and 1000mm depths, manufactured to the requirements of BS5911-3. The 2100mm, 2400mm, 2700 and 3000mm chambers are kitemarked.
The manhole base chamber is manufactured with a 200mm deep; grade C40, reinforced concrete base doweled into the chamber unit. Concrete has a minimum cover to reinforcement of 30mm. The preformed system can be bolted together using a minimum 4No T16 Grade 8.8 continuous threaded rods if required.
The inlets and outlets are either pre-scored, pre-formed or cored holes (depending on size) to suit the customer's bespoke requirements. Cover slabs to suit the performed system are manufactured to the requirements of BS EN 1917:2002 and BS 5911-3:2010 and can be manufactured with a standard opening or bespoke access.
Benefits of the system include:
An established and proven product range that is Quality Assured.
The chamber is supplied with a reinforced cast-in base.
The chamber system provides performed inlet and outlet holes to suit pipe requirements.
The chambers are manufactured in fixed steel moulds that give a superior dimensional accuracy.
Wide wall chambers have an inherent structural concrete strength with a 120 year design life.
Chamber units are supplied with cast-in brackets for a lifting loop system.
AutoCAD drawings can be provided.
Kitemarked product range.
If you would like a CPD style presentation of our water management solution please call our marketing team on 01902 356220 or send an email to lch@marshalls.co.uk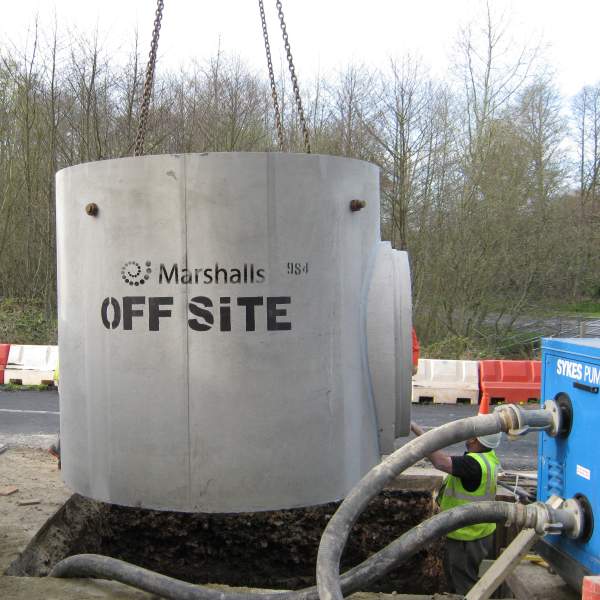 preformed manholes
Certification Logos and Accreditations
UKCA Declarations of Performance