Sealant
Marshalls Civils & Drainage joint sealing strip is used to provide a permanent flexible watertight seal with a primer when installing traditional manholes and comes recommended by concrete precast concrete manufacturers with having a worldwide proven track record for over 50 years.
This manhole sealant can be used when installing precast concrete box culverts, manholes, inspection chambers, shafts, tunnels and some pipe sections.
The concrete joint sealing strip is resistant to chemical and biological attack and when used with manhole primer it meets BS EN 1917:2002 requirements for manholes meaning no requirement for concrete surrounds.
Offers a permanent flexible watertight seal, when used in conjunction with primer.
Can be used on box culverts, manholes and house inspection chambers - one product suits all.
Resistent to chemical and biological attached.
Used successfully for over 50 years.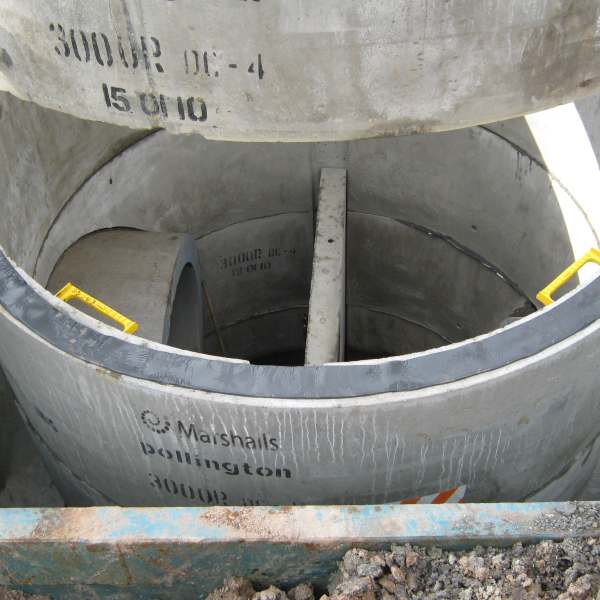 sealant chamber ring
Certification Logos and Accreditations
| Product Name | Sealant Length (per joint) | Sealant Size | Primer |
| --- | --- | --- | --- |
| Chamber Size 0900 | 1050 | 3.5m | 4.0m | 12mm x 60mm | 5 Litres / 100m |
| Chamber Size 1200 | 1350 | 1500 | 1800 | 4.5m | 5.0m | 5.5m | 6.5m | 12mm x 80mm | 5 Litres / 75m |
| Chamber Size 2100 | 2400 | 2700 | 3000 | 7.5m | 8.5m | 9.5m | 10.5m | 12mm x 120mm | 5 Litres / 50m |
| Chamber Size 3660 | 4000 | 13.5m | 16.5m | 12mm x 75mm | None required |
| Chamber Size 3660 | 4000 | 2.5m | 12mm x 25mm | None required |
sealant chamber ring