T-T Ready Sump
Marshalls Civils & Drainage, in conjunction with T-T Pumps have introduced the Ready Sump® which offers a unique design that incorporates the key features required for sewage, drainage and effluent stations and that meets the adoptable standards demanded by the water companies.
These engineered sumps are produced to high standards with a quality controlled process using precision tools. They have been specifically designed and built with efficiency and cost saving in mind.
As a standard product the Ready Sump® is a stock item and available for delivery to your site on short lead times and to suit your requirements. Sealed concrete rings, traditional non sealed concrete rings, access covers and inlet chambers are available options.
Benefits of the system include:
Smooth and clean design.
Rapid, economic and safe installation.
Reduces health and safety risks on site.
Suitable for adoptive land and private pumping stations.
Superior hydraulic performance.
Reduces construction time and costs.
Readily available.
Applications:
When there is no requirement for the pumping station to be adopted by the local water company the Ready Sump® still provides an economic base for your pumping station. The pumping station has the virtues of good hydraulic design and associated performance.
The basic Rump Sump® can be incorporated into a standard 1800mm concrete chamber ring or into a larger design where greater drainage volumes are required.
The demands of the latest Sewers for Adoption (SFA) Guide requires sump chambers to incorporate a number of key features including benching inclines and positioning of the submersible pumps, all of which the Ready Sump® can accommodate. With the engineered design and smooth finish the Ready Sump® provides the efficient and clean centre of the pumping station.
For more information on T-T Pumps please visit here.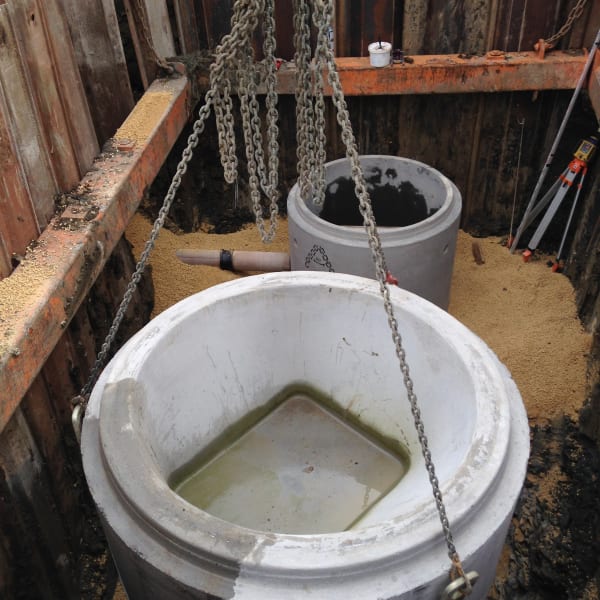 t-t ready sump
Certification Logos and Accreditations