marshalls traffic drain
Traffic Drain
Marshalls Civils & Drainage Traffic Drain provides a comprehensive solution to your project's drainage needs, offering unique design elements, ease of installation and low maintenance costs.

Designed to complement the Mini Beany range, the Traffic Drain connects the flow between kerb and slot units and is fully compatible with Mini Beany junctions, outfalls and other ancillary units.

Providing medium-capacity drainage, Traffic Drain combines a robust concrete channel with high-strength cast iron grates, which allow it to take loading's up to F900. Its ability to withstand fast-moving vehicles and bear heavy loads makes it ideal for high volume highway applications.

Manufactured as a simple two-piece design, Traffic Drain is strong enough to withstand any damage during transit and installation.
Robust precast concrete
Requires little maintenance
Suitable for loadings up to F900
Compatible with the Mini Beany range
Maximum Loading Classification

i

✕

This is the maximum loading for the product.

However this is subject to using the appropriate installation method, bond pattern and the sub-base design.

For tailored support with a pavement design, please contact us:

grouptechnicalservices@marshalls.co.uk
A15|B125|C250|D400|E600|F900
Division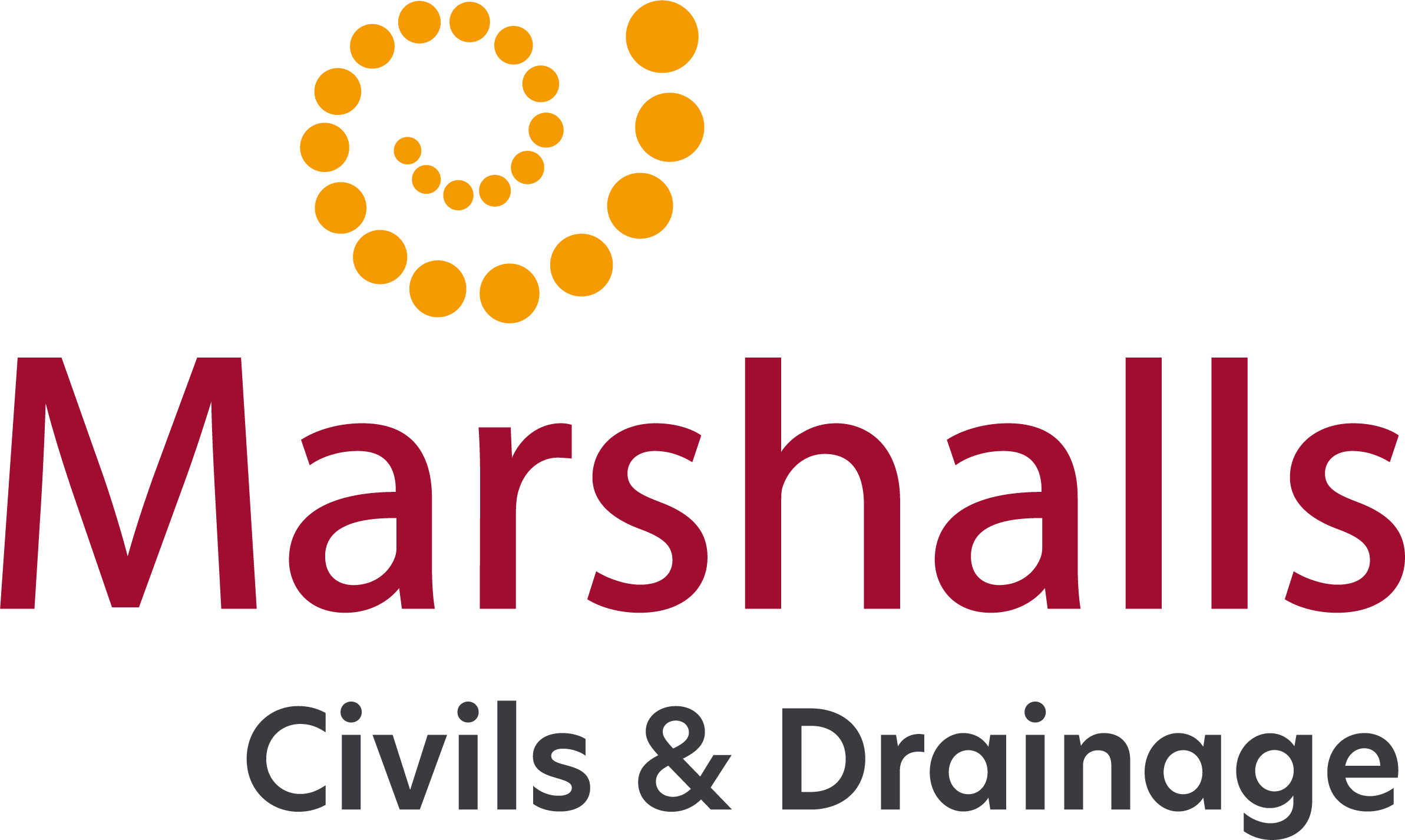 Certification Logos and Accreditations
| Product Name | id | Length (mm) | Width (mm) | Depth (mm) | Commercial Units per Pack | Approx Pack Weight (kg) | Made to Stock / Made to Order |
| --- | --- | --- | --- | --- | --- | --- | --- |
| Mini Beany 210 Pressed Channel 1000 | DR6960100 | 1000 | 280 | 210 | All units are loose stacked suitable for crane off-load or are available on timber pallets | 1.7 | Made To Stock |
| Mini Beany 210 Pressed Channel 500 | DR6960200 | 500 | 280 | 210 | All units are loose stacked suitable for crane off-load or are available on timber pallets | 1.7 | Made To Stock |
| Mini Beany 260 Pressed Channel 1000 | DR6970100 | 1000 | 280 | 260 | All units are loose stacked suitable for crane off-load or are available on timber pallets | 1.7 | Made To Stock |
| Mini Beany 260 Pressed Channel 500 | DR6970200 | 500 | 280 | 260 | All units are loose stacked suitable for crane off-load or are available on timber pallets | 1.7 | Made To Stock |
| Mini Beany 310 Pressed Channel 1000 | DR6980100 | 1000 | 280 | 310 | All units are loose stacked suitable for crane off-load or are available on timber pallets | 1.7 | Made To Stock |
| Mini Beany 310 Pressed Channel 500 | DR6980200 | 500 | 280 | 310 | All units are loose stacked suitable for crane off-load or are available on timber pallets | 1.7 | Made To Order |
| Mini Beany 360 Pressed Channel 1000 | DR6990100 | 1000 | 280 | 360 | All units are loose stacked suitable for crane off-load or are available on timber pallets | 1.7 | Made To Stock |
| Mini Beany 360 Pressed Channel 500 | DR6990200 | 500 | 280 | 360 | All units are loose stacked suitable for crane off-load or are available on timber pallets | 1.7 | Made To Order |
| Product Name | id | Commercial Units per Pack | Approx Pack Weight (kg) | Made to Stock / Made to Order |
| --- | --- | --- | --- | --- |
| 210 Channel End Cap | DR6963100 | All units are loose stacked suitable for crane off-load or are available on timber pallets | 1.7 | Made To Stock |
| 210 Channel Cap Outlet | DR6963200 | All units are loose stacked suitable for crane off-load or are available on timber pallets | 1.7 | Made To Order |
| 260 Channel End Cap | DR6973100 | All units are loose stacked suitable for crane off-load or are available on timber pallets | 1.7 | Made To Stock |
| 260 Channel Cap Outlet | DR6973200 | All units are loose stacked suitable for crane off-load or are available on timber pallets | 1.7 | Made To Order |
| 310 Channel End Cap | DR6983100 | All units are loose stacked suitable for crane off-load or are available on timber pallets | 1.7 | Made To Stock |
| 310 Channel Cap Outlet | DR6983200 | All units are loose stacked suitable for crane off-load or are available on timber pallets | 1.7 | Made To Order |
| Product Name | id | Length (mm) | Commercial Units per Pack | Approx Pack Weight (kg) | Made to Stock / Made to Order | Height (mm) |
| --- | --- | --- | --- | --- | --- | --- |
| Side Outfall | DR6890000 | 500 | Pallet packed for individual contracts | 1.7 | Made To Stock | |
| End Outfall | DR6890100 | 500 | Pallet packed for individual contracts | 1.7 | Made To Order | |
| Universal Silt Box | DR6899100 | 500 | Pallet packed for individual contracts | 1.7 | Made To Stock | |
| Standard Cover Plate 500 | DR6910300 | 500 | Pallet packed for individual contracts | 1.7 | Made To Order | 6 |
| Standard Cover Plate 1000 | DR6910400 | 1000 | Pallet packed for individual contracts | 1.7 | Made To Stock | 6 |
| Radius Cover Plate 30/10 | DR6910500 | 500 | Pallet packed for individual contracts | 1.7 | Made To Order | 6 |
| Radius Cover Plate 9/10 | DR6910600 | 500 | Pallet packed for individual contracts | 1.7 | Made To Order | 6 |
| Product Name | id | Length (mm) | Width (mm) | Commercial Units per Pack | Approx Pack Weight (kg) | Made to Stock / Made to Order | Height (mm) |
| --- | --- | --- | --- | --- | --- | --- | --- |
| 210 - 260 Transition Channel | DR6963300 | 500 | 280 | Pallet packed for individual contracts | 1.7 | Made To Order | 210 |
| 260 - 310 Transition Channel | DR6973300 | 500 | 280 | Pallet packed for individual contracts | 1.7 | Made To Order | 260 |
| 310 - 360 Transition Channel | DR6983300 | 500 | 280 | Pallet packed for individual contracts | 1.7 | Made To Order | 310 |
| Product Name | id | Commercial Units per Pack | Approx Pack Weight (kg) | Made to Stock / Made to Order |
| --- | --- | --- | --- | --- |
| Traffic Drain CI Access C & F | DR6950100 | Pallet packed for individual contracts | 1.7 | Made To Stock |
| Product Name | id | Commercial Units per Pack | Approx Pack Weight (kg) | Made to Stock / Made to Order |
| --- | --- | --- | --- | --- |
| Traffic Drain CI Top Unit | DR6950200 | All units are loose stacked suitable for crane off-load or are available on timber pallets | 1.7 | Made To Stock |