As wintry weather brings challenges for UK highways and gritting teams, the aftermath creates yet more potholes on our roads. But is it an inevitable fact of life or could a simple change of materials reduce the number of potholes and pothole repairs?
As the UK's leading supplier of paving, we specialise in delivering versatile surfacing solutions for a broad spectrum of commercial projects. Regularly working alongside city councils, we're confident in providing a variety of hard landscaping products to meet the needs of landscape changes. But are these products a better solution than tarmac for access roads in terms of maintenance in durability? In this article, we'll take a look into the advantages of block paving and see if it's right for your next project.
Durability and maintenance
It's estimated that local authorities repair 1.5 million potholes across England and Wales annually, that's the equivalent of one every 21 seconds. Tarmac is the cheaper alternative and a quick solution, however it isn't necessarily a long-term fix and roads can be left vulnerable to more holes and yet more maintenance expense and time.
Due to its versatility, block paving provides a long-lasting surface that never results in potholes. If an area needs to be repaired, you can simply uplift the blocks, repair the sub-base and then replace the original units (or new versions of the same blocks), making the repair invisible. Conversely, if a pothole repair was covered using another material, there will always be a visible reminder of the maintenance issue – usually a scarred, bumpy surface. No specialist machinery is required when it comes to replacing block paving as opposed to other surfaces, which decreases the overall cost and time.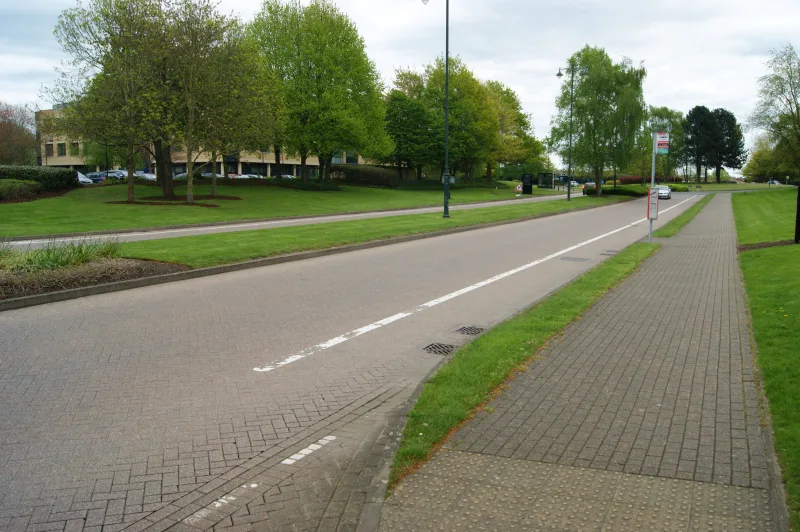 This image shows a block paved road at housing and Kings Hill development in West Malling, Kent.
The first phase of the development was maintained by the management company, but now these main roads and footpaths have been handed to Kent County Council Highways department to maintain. Kings Hill is a high traffic route, including buses and deliveries, and has worn well over the years, with no instances of potholes throughout the area.
Versatility
Block paving offers a variety of styles and colours, to improve the aesthetics of commercial and residential streetscapes. This provides you with multiple options for your own specification and a number of ways to complement the landscape.
Other than the striking aesthetics, block paving is extremely versatile in terms of maintenance. As we've previously mentioned, if individual blocks become damaged for any reason, you can simply replace that block, ensuring an easy and quick process without any long-term disturbances to traffic.
Is block paving a more sustainable solution?
Compared to other materials, block paving can potentially be a more environmentally friendly solution because of its ability to absorb surface water runoff.
Sustainable drainage solutions (SuDS) help to mitigate the risk of any potential flooding by holding back rainwater and slowing the rate at which it flows into receiving watercourses. Our Priora permeable block paving allows rainwater to soak into the ground rather than pooling on the surface. This not only helps keep the roads moving during heavy rainfall, but also results in less maintenance issues – and can provide a controlled flow of clean water to hydrate the lush areas of soft landscaping that are increasingly being designed into developments for the multiple benefits they provide (such as better air quality, better mental health, and improved biodiversity opportunities).
Concrete paving can also offer a lower lifetime carbon footprint compared to alternative road surfaces. As 100% of our commercial products are manufactured in mainland Britain, we continue to lower our carbon footprint and are proud of being sustainable in everything we do.
By offering a diverse and comprehensive range of commercial paving blocks, we offer products and processes that both helps to protect the environment and speed up installation times. Click here to explore our range of block paving for both commercial, housing and retail projects.