As the world becomes more urbanised, with cities getting larger and towns growing at an exponential rate, nature is being pushed to its limits. With this in mind, as we look to shape the further development of the UK's buildings and environments, how much emphasis should be put on incorporating ideas of biophilic design to adopt more urban greenery?
From smaller features such as shaping new projects with features such as sustainable materials, water conservation, solar panels and roof gardens, up to larger considerations such as vertical forests, biomimicry design and forest cities, there are a multitude of options available to ensure our future cities and living spaces are as environmentally sustainable as possible.
In fact, many of the UK's cities and towns have already pledged to improve their natural environment by implementing a more urban forest atmosphere. Mayor of London, Sadiq Khan has already committed £12m to a 'Green City Fund' to cover the cost of tree planting, green space grants, and the growth and management of the city trees in London. His ultimate end game is to ensure that more than half of London will be green by 2050; a challenge indeed.
Yet, whilst the UK's capital is leading the way towards a more sustainable future, how much interest is there within the market for these eco-friendly innovations?
At Marshalls, we conducted research about how much emphasis UK residents place on these features, as well as envisioning how our future cities could look if they adapt to this new age of nature and implement it into the very fabric of how they are built.
How big is the market for eco-friendly buildings?
To find out how much importance is placed on environmental feature in the current market, we asked 2,000 British residents for their opinion.
The majority of respondents (56%) claimed they would always consider the environmental impact of a property when looking for a new home, whilst a further 12% revealed they would not even consider a property that didn't have some level of environmentally friendly features.
Whilst planning in additional eco-friendly features, such as utilising sustainable materials, water conservation and solar panels, into a build project has the potential to increase costs, paying extra for a property with these features doesn't seem to be an issue for the majority of the country. Over half of respondents (56%) stated they would be happy to pay additional costs to ensure their home upheld a high level of sustainability.
In terms of the value of this overspend, on average, those willing to pay more would spend an extra 10% for a property to make sure that it wasn't detrimental to the environment, compared with a property that did not contain sustainability features.
British people also believe that business owners and homeowners should foot the bill to ensure our city centres are as environmentally friendly as possible through features such as vertical forests, biomimicry and roof gardens.
Whilst many UK cities and towns have already pledged to improve their natural environment by implementing a more urban forest atmosphere, the research shows 62% of people believe any further developments in this field should be funded from private building owners, rather than councils or governments.
It is clear from the research that the British public are willing to embrace a greener future and are open to this being reflected in the architecture of their towns and cities, so what would some of the UKs biggest and most vibrant cities look like if they implemented the ideas of biophilic design and urban greenery?
How did we begin to imagine how this future could look?
Over recent years architects and designers have begun embracing the "outside-in" trend; adopting more natural and plant-filled interiors which are said to help improve people's moods, quality of life and also satisfy their deep psychological craving for a connection to nature.
Health professionals are increasingly aware of the impact on mental, emotional and physical wellbeing for city-dwellers. In comparison to country-dwellers who have unlimited access to nature. But, the new biophilic design isn't solely applicable to interiors – many are looking for ways to cover building walls and rooftops with greenery to help encourage these health, wellness and environmental benefits. The big shift we have seen is towards the use of natural materials and organic-landscaping to recreate, rather than mimic, the shapes and beauty of nature in outdoor spaces. This urban greenery is a great way of naturalising the built environment that towns and cities boast.
London
The nation's capital is jam-packed with residents, commuters and tourists, as well as some of the most impressive architectural structures. With approximately 8.8 million dwellers, as well as numerous high rises and monumental corporate buildings, bringing some greenery into the fold could really transform the city.
Imagine trees and shrubs growing on the facades of buildings helping to capture the carbon dioxide as well as producing oxygen. Not only would this bring colour and vibrance to its many main shopping areas and quirky side streets, it would also help to counteract the gasses emitted from the many cars, buses and motorcycles that grace London's streets daily.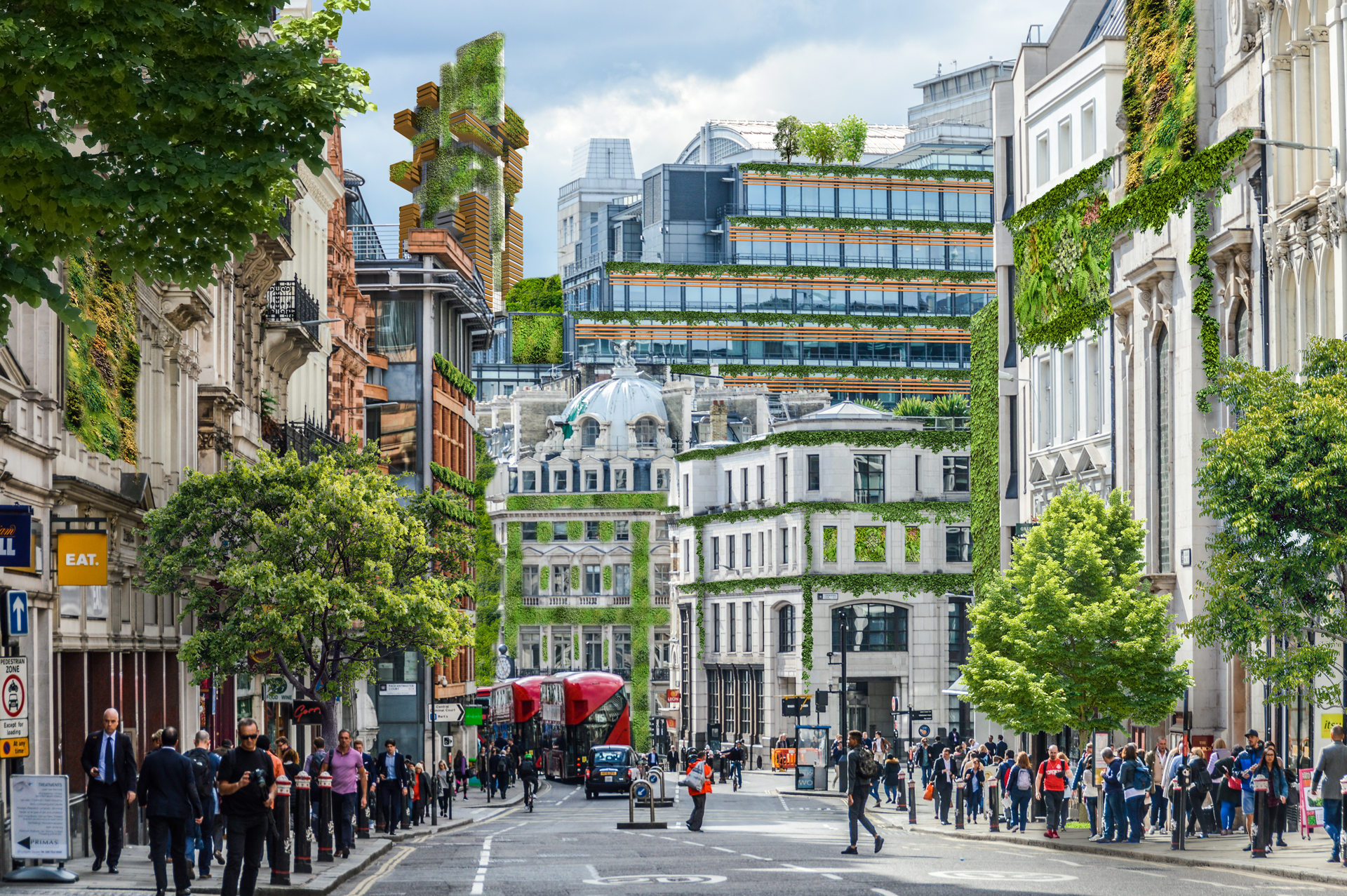 Glasgow
With the potential to be known as a "forest city", the improvement to Glasgow's overall look would be striking. With an array of walkways, bridges and paths filled with trees and shrubbery, Glaswegians could expect to feel immersed in nature from the moment they leave home, to the moment they return from work.

Birmingham
The new "capital of vertical forests"; thanks to the cities that tower over residential blocks and distinct lack of land availability, we can expect to see innovative ways of bringing more greenery to this multicultural city. Imagine tower blocks covered in vibrant green shrubbery and roof tops of buildings transformed into miniature parks and gardens; the possibilities for Birmingham are endless.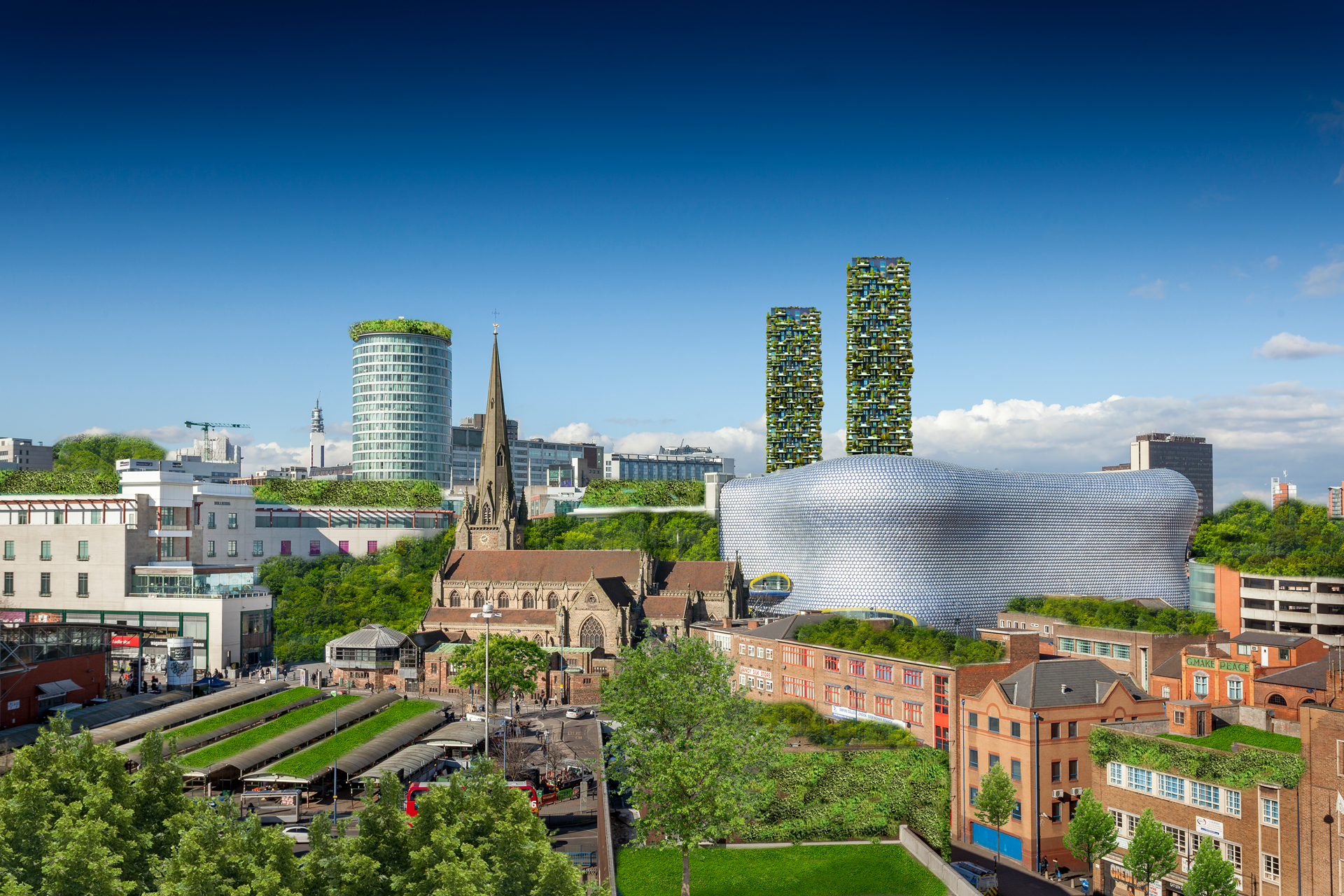 Leeds
Thanks to the city's impressive and forward thinking architecture, some of Leeds's spiralled buildings, designed to mimic the flow and natural forms of nature, will be adorned with plants and trees to truly emulate the power and fluidity of all things natural. Known as biomimicry, where architecture mimic natural forms, these impressive structures would be set to capture the carbon dioxide and work to produce oxygen. Not only could they counteract pollution, but they could improve the overall well-being and health of residents and visitors, too.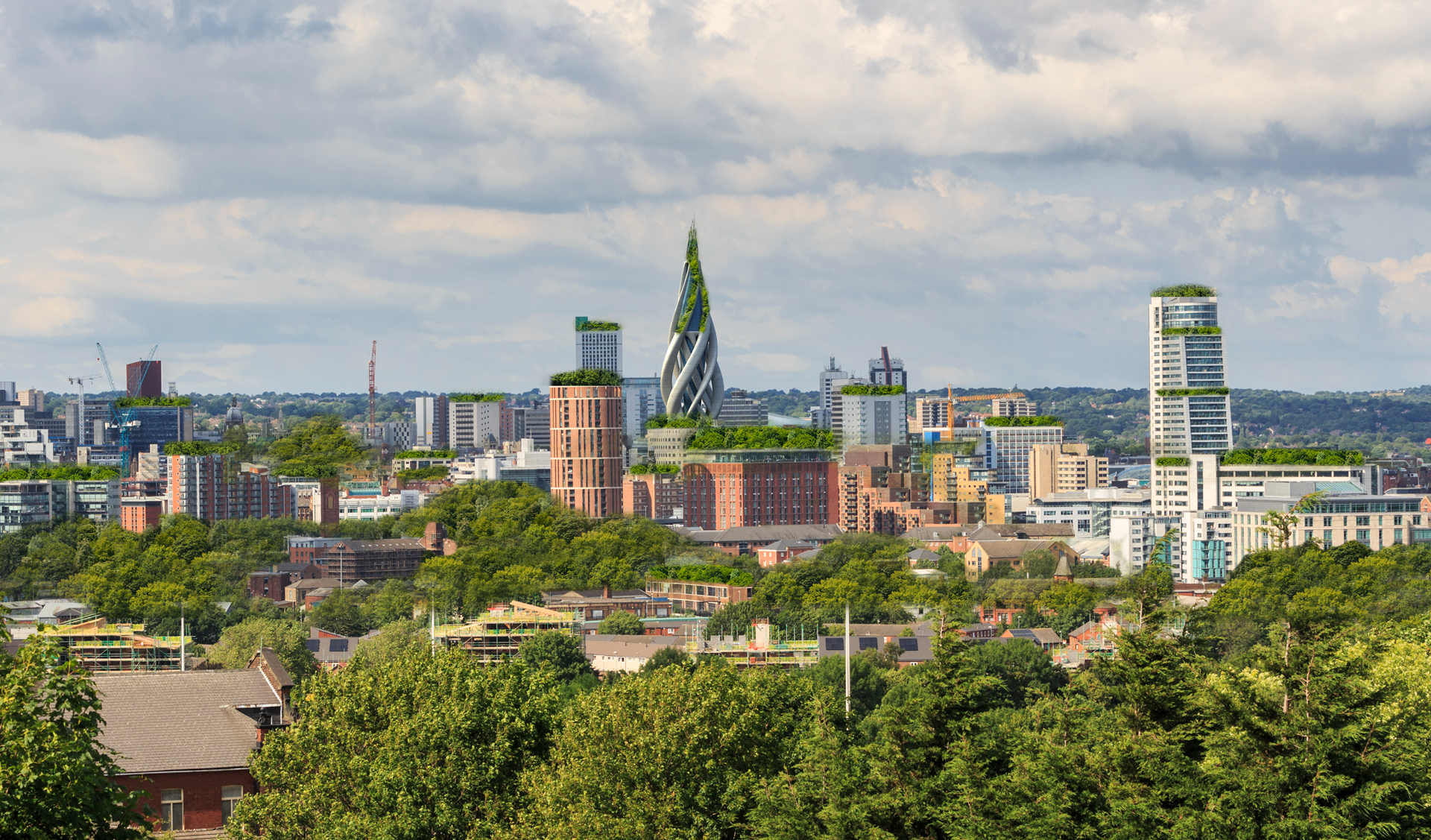 If you're interested in similar commercial planning topics, please feel free to bookmark our blog.