Strong, durable and beautiful – natural stone is a popular choice for landscaping both commercial and domestic areas.
The main types of natural stone used in paving are sandstone, granite, slate and limestone and we're often asked by our customers about how it is quarried and transformed from blocks into paving. Keep reading to find out how we transform a 14 ton block into beautiful natural stone paving, which you'll find at Trafalgar Square, Somerset House and at National Memorial Arboretum.
Sourcing natural stone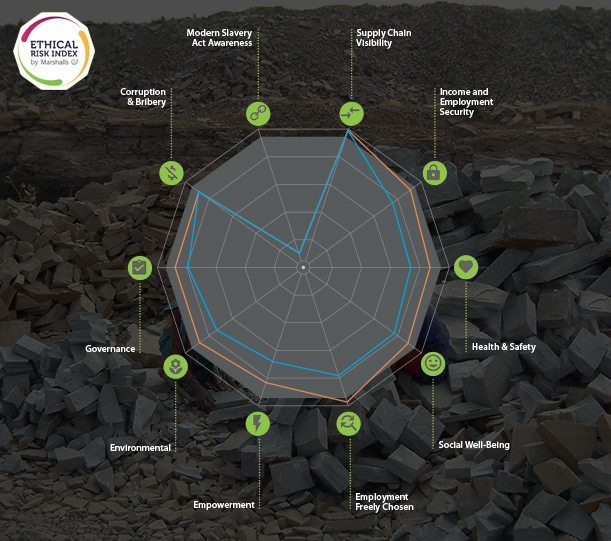 Marshalls Ethical Risk Index
The starting point for sourcing natural stone in the UK is to use the British Geological Survey to identify locations where it can be sourced. After locating material deposits, it is important to establish whether the material will be fit for purpose, this is often done by performing core drilling to obtain samples for inspection by onsite geologists.
Whilst the majority of Marshalls natural stone comes from the 19 quarries we own or operate across the UK, we also source natural stone from 15 other countries. Like any business sourcing from overseas, it's very important to work with the right suppliers and ensure that the product can be sourced ethically. For businesses working in the natural stone sector, the Ethical Risk Index is a valuable tool; it provides a clear rating system across areas such as environmental impact, health and safety and compliance with the Modern Slavery Act. The Index provides an overall ERI score so customers can understand the relative level of ethical risk associated with buying natural stone and make more informed purchasing decisions.
Just like sourcing from within the UK, internationally sourced natural stone is also sent for microscopic analysis to determine factors such as density, water absorption or abrasion resistance.
Extracting natural stone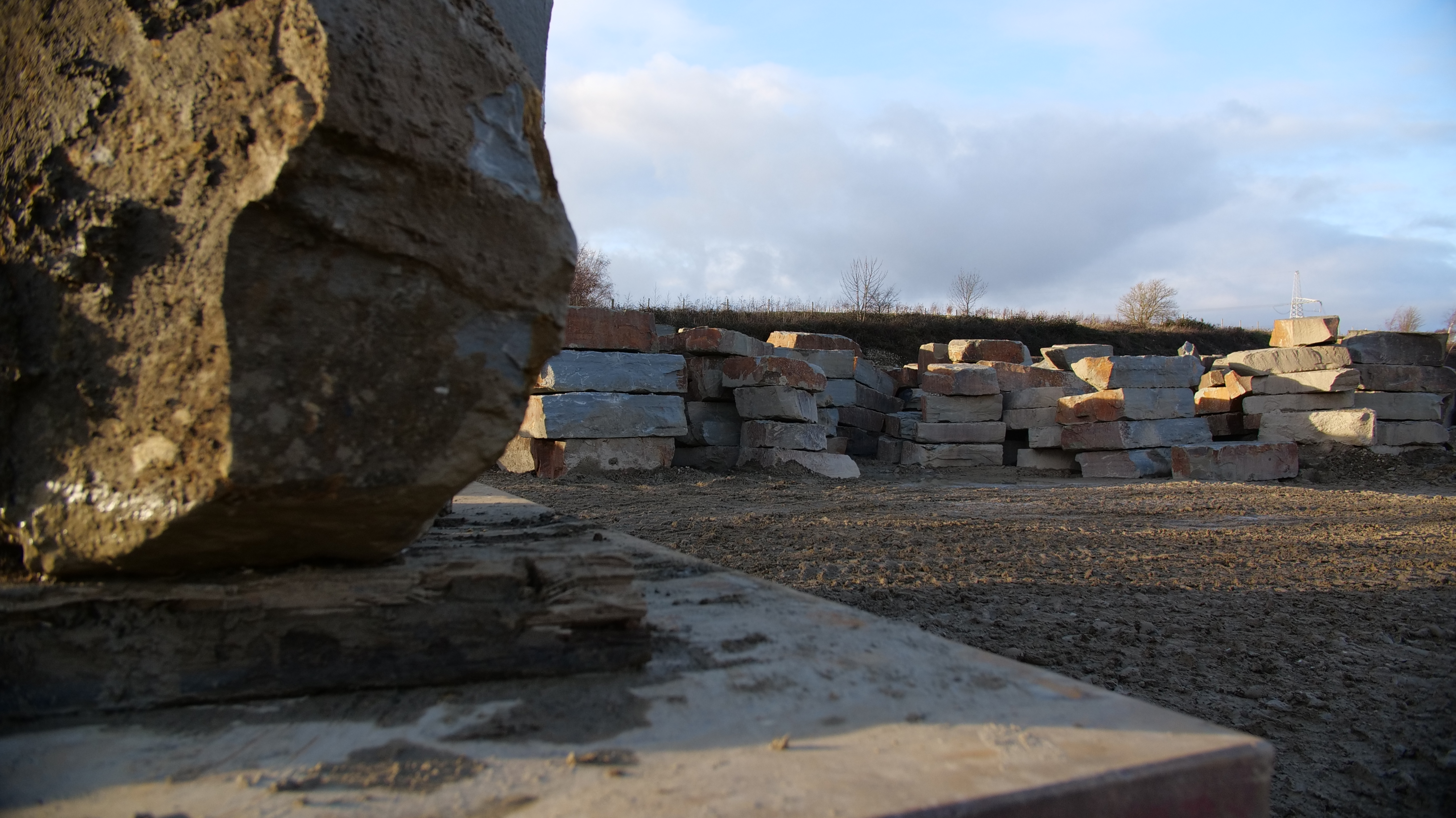 There are a number of different ways to extract natural stone, methods vary based on exactly which type of stone it is. Sandstone, for example, has naturally occurring joints and faults which means that blocks can be extracted using a large hydraulic excavator equipped with a breaker or pecker. In the case of granite or marble, which have more uniform deposits with little or no natural cracks, one extraction method is to use a quarry wire saw or stitch drilling technique to put in lines of weakness before striking them apart.
Efficiency is key when extracting natural stone, blocks are extracted at the optimum size to minimise waste, and stand edges are added to give a flat base and make processing easier.
Processing natural stone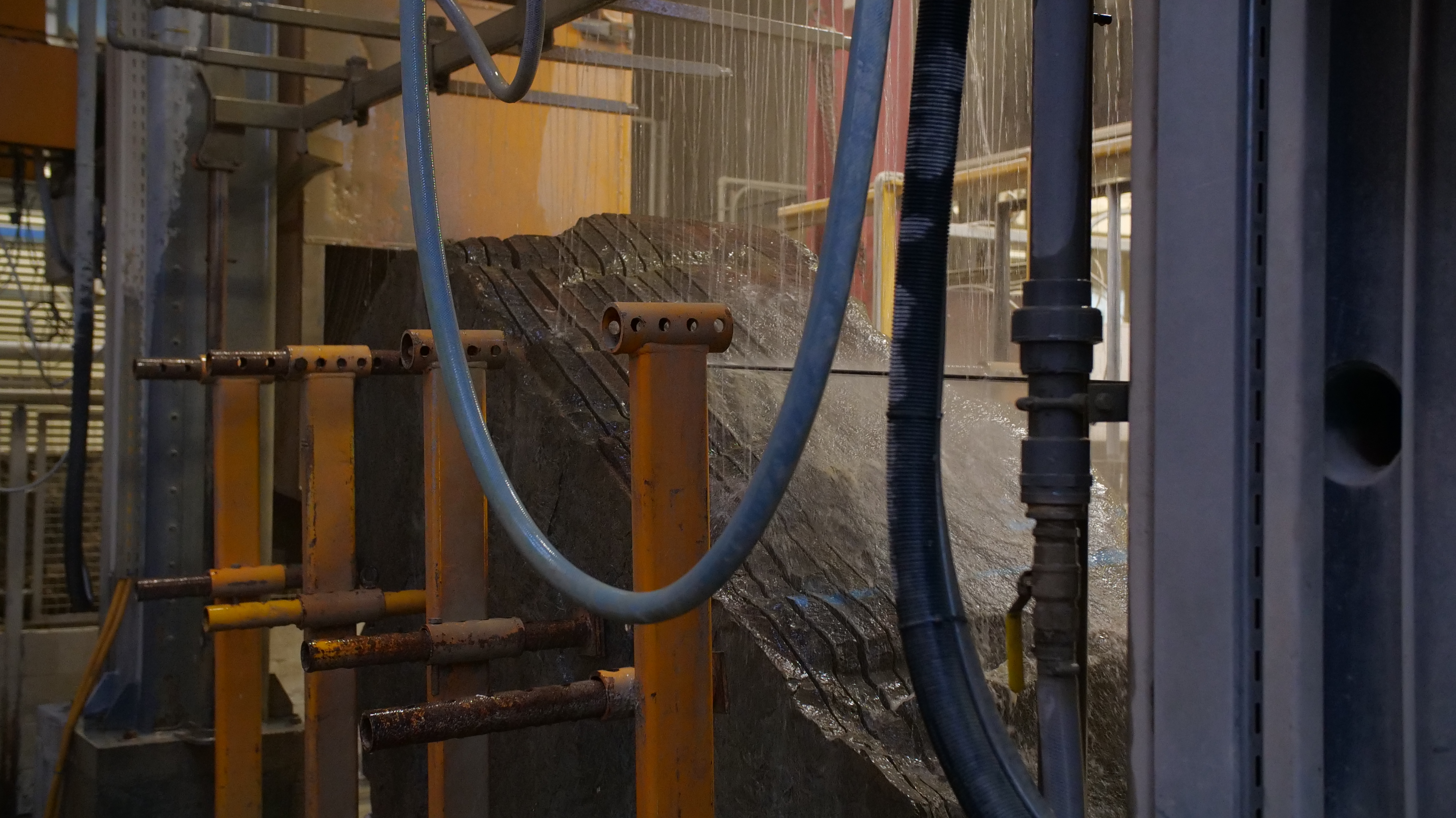 Once natural stone has been extracted from the ground, it is sent to a processing facility and cut into slabs using saws fitted with industrial strength diamonds. Stone can be cut using circular saws, but the most advanced, productive and efficient technique is to use steel wire saws with diamond collars, like those found at Marshalls cutting-edge production facility in Yorkshire. It is here that Scoutmoor, the UKs strongest Yorkstone, is processed, alongside other popular natural stone products.
At this facility, slabs go to a secondary saw which takes an image of the stone. A computer then calculates the available surface areas and cuts the maximum possible yield. At Marshalls we're very proud of this industry leading approach, it's not found anywhere else in the UK; minimises wastage and can increase yields by up to 25%.
Safety is incredibly important when it comes to processing natural stone, as the blocks are often irregularly shaped and can weigh up to 14 tonnes. The stand edges we mentioned earlier in this article are vital here; they make sure that blocks don't move during cutting, which helps prevent accidents and keeps our operators safe. Another health and safety factor is that much of the stone used in paving is rich in silica, so every care must be taken to ensure operators do not inhale the silica dust produced by the process. Cutting should occur behind an enclosed screen and operators should wear full face respirators. A best practice approach is to control the silica dust at source to provide operators with an added level of protection. This is what we do at Marshalls.
Water is also really important in the processing of natural stone – it has three main purposes. As well as acting as a lubricant to help the diamonds cut through the stone, it's used to remove the displacement generated by the abrasion between blade and material and to control the hazardous dust produced.
Finally, when it comes to wastage, in the case of Marshalls, we make sure even our waste isn't wasted. Any material that cannot be used in paving is recycled and used in our concrete manufacturing.
Getting creative with bespoke natural stone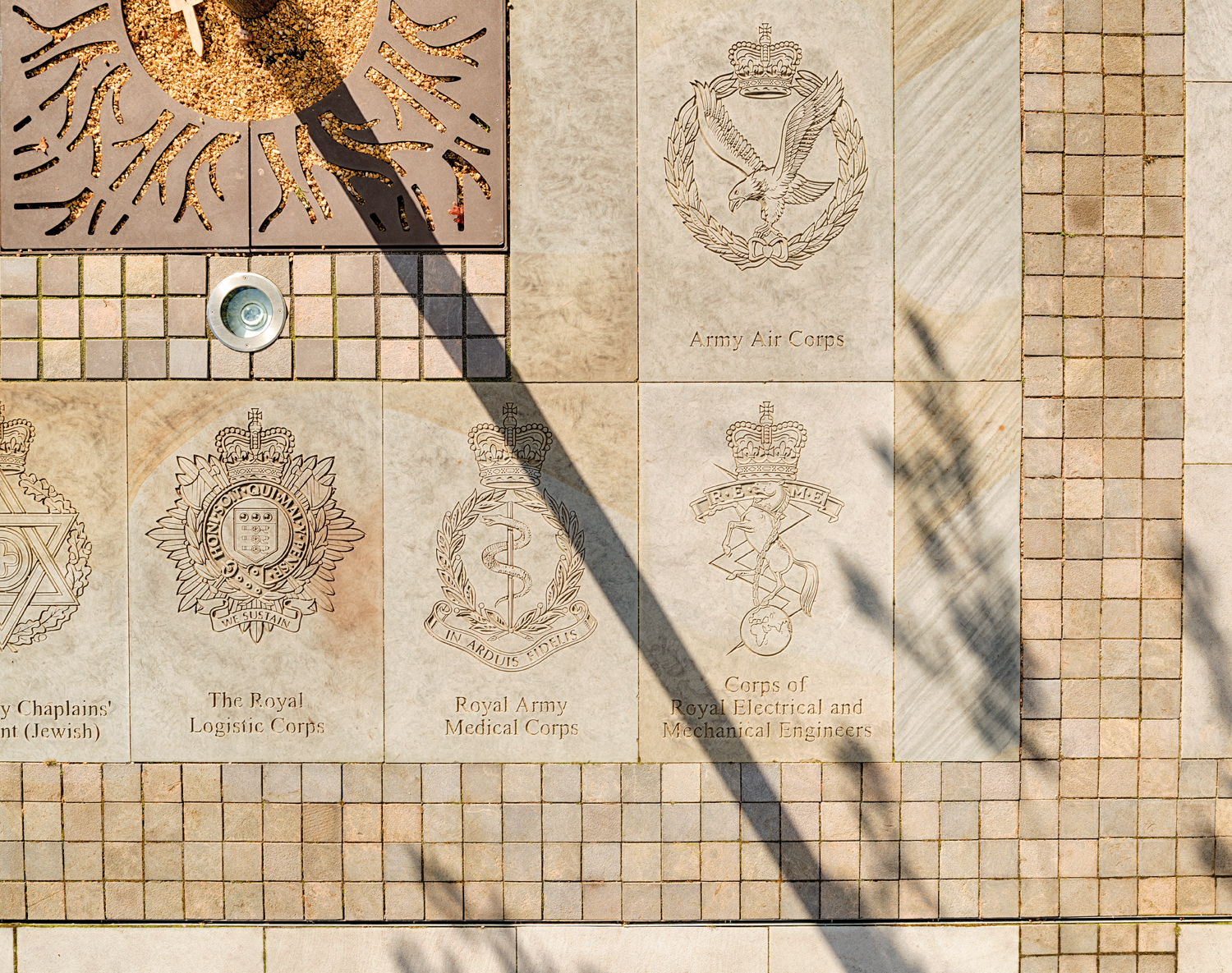 A growing trend in hard landscaping is the focus on using bespoke designs on natural stone, bringing individuality and character to a space. Crests, logos, lettering, patterns and designs can all be beautifully replicated on natural stone.
Building on the traditional methods, digital practices such as laser etching and resin infills now allow architects and designers more freedom of choice and a finer detail in the end result.
Transporting natural stone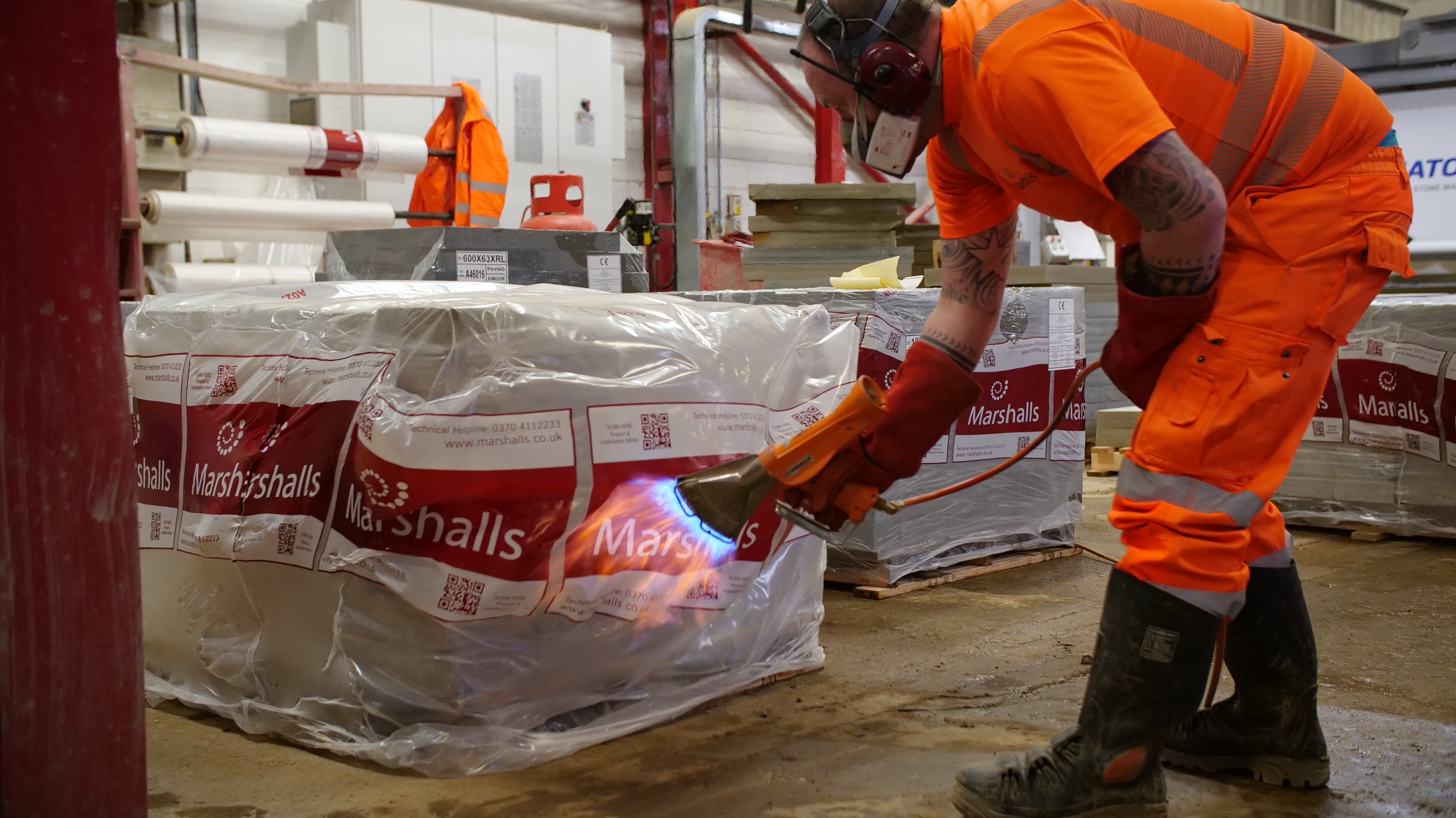 When it comes to transporting natural stone, different businesses manage logistics in different ways. At Marshalls, all our material from UK factories is placed on pallets and bound in a heat shrink hood to ensure it remains secure during transit.
For stone sourced outside of the UK, processed material is placed inside a crate, carefully enveloped in protective packaging before being loaded into heavy duty containers to preserve it during transit. Using the most direct shipping routes available reduces the chances of the stone getting lost or damaged in transit, protects lead times, minimises the carbon footprint and helps customers meet their project deadlines.
When it comes to international partners, importers of natural stone should seek to only work with carefully chose businesses, who are thoroughly audited and understand the high standards that their customers demand. At Marshalls, our overseas partners systematically check the material at source, scrutinising it to a level of detail unrivalled in the industry. When it comes to Asia, Marshalls own team inspects orders and creates quality inspection reports.
About Marshalls natural stone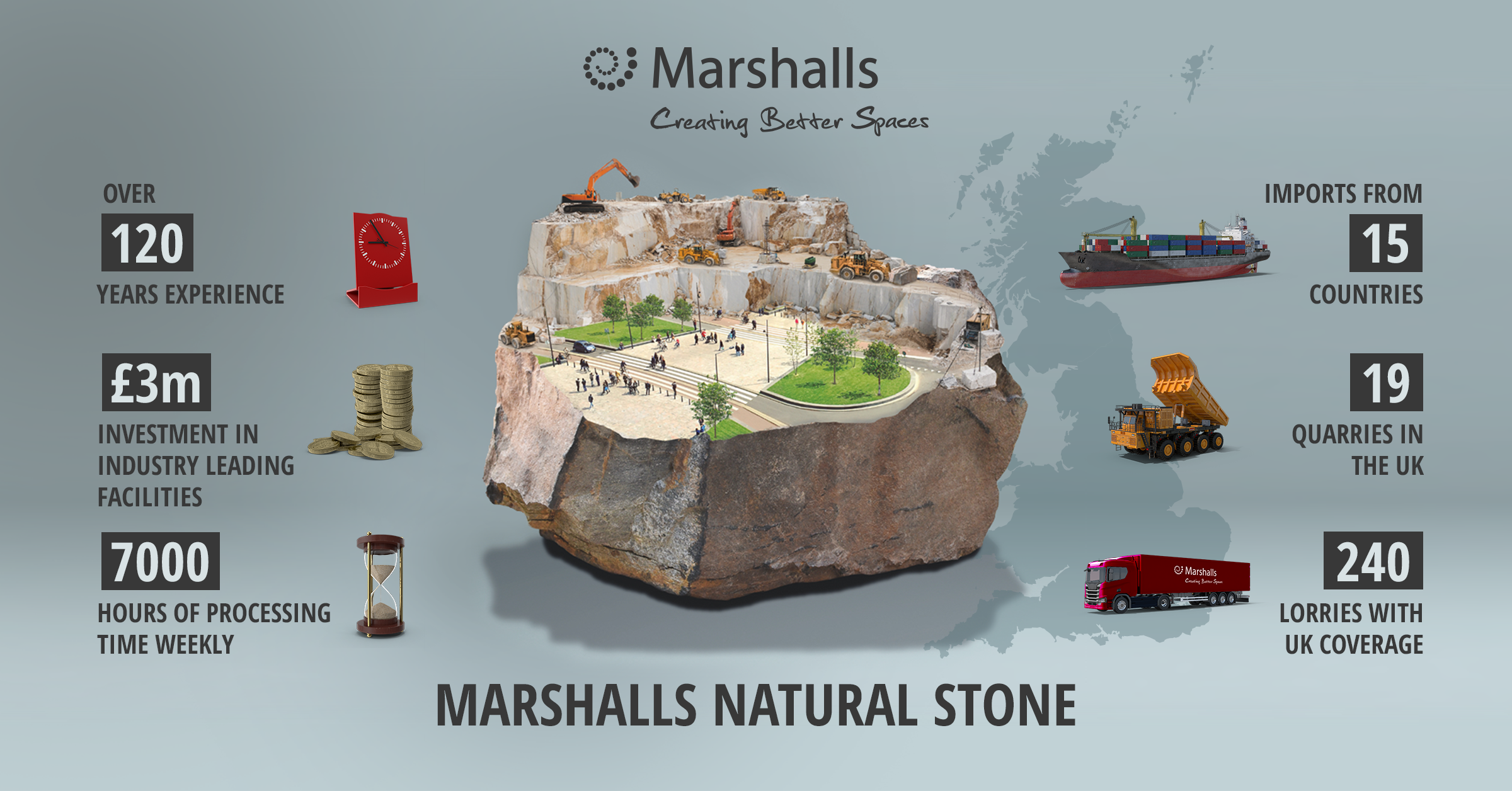 Marshalls is the leading supplier of natural stone products for the landscaping industry, with more than 120 years of experience. We have an impressive range of stone types and our service extends beyond stone selection, through general and detailed stone design, to specification advice and Bills of Quantities guidance.
Find out more about our natural stone products and services.
Want to see our cutting-edge natural stone production facility in action? Watch this video: