Location
Allhallows, Bedford, MK40 1LN


Slimline paving design trims down project costs for Bedford Council
A design collaboration between Bedford County Council and Marshalls has realised project
savings of more than £120,000
during recent improvements to the town's high street.
The partnership also resulted in a
33% carbon reduction
from the construction.
All Hallows
is home to an array of thriving businesses, homes and public realm space in the heart of Bedford town centre. Running from St Loyes through to Silver Street, this central hub is around a quarter of a kilometre long.
A £3m project to breathe new life into the space included improvements to all streetscape elements such as pavements, pathways, roads, protective bollards and street furniture.
While the client, Bedford County Council, were satisfied with prospective designs for this crucial re-development, planners were eager to engage Marshalls as an expert advisor - to review outline paving proposals and give guidance on potential improvements.
Our expert paving engineer, Tom Emerton, worked in partnership with the Council to assess compliance to British Standards, as well as exploring potential cost reductions.
After evaluating plans for the All Hallows projects, a new design was proposed by Marshalls to save material and installation costs, as well as reducing the embodied carbon of the scheme.
Tom Emerton comments, '
While the existing designs offered a robust solution, we saw opportunities to value engineer the proposals to save our client both cost and carbon, helping to deliver a paving build-up that not only used less material but was suitable for the demands of project'
.
'Still in-keeping with the client brief, the alternative, more sustainable solution allows for a reduction in the granite slab and sett paving, as well as a reduction in the various sub base layers. The proposed new designs were warranted by Marshalls, and no structural compromises were made.'
Allan Burls, Principal Project Engineer with Bedford Borough Council, adds
'The Marshalls design team really added value to these projects. Tom supported us throughout both the design and construction phases, reviewing proposals, evaluating risks, and ultimately realising a significant project cost savings, while helping us to deliver two public realms that meets all loading requirements for both trafficking and pedestrian access.'
Featuring Marshalls Elara granite slabs and setts paving, the final works were delivered on time and to budget, providing a new public realm space to be enjoyed by residents and visitors alike.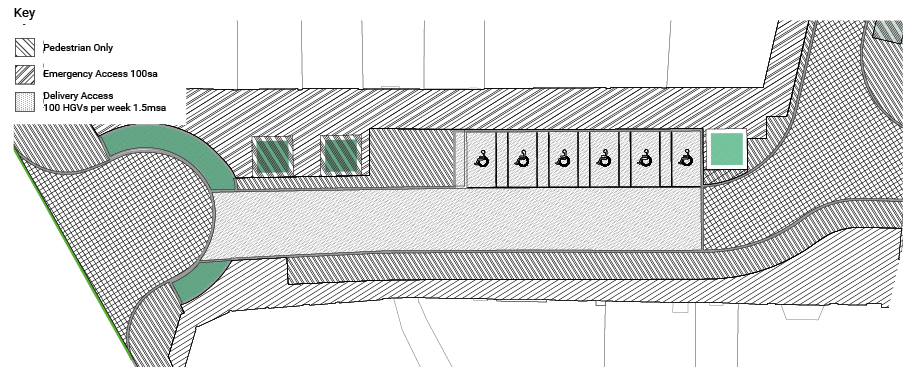 All Hallows paving plan, with pedestrian only, vehicular access and disability parking access areas. Both 80 mm pavers and setts were used to meet trafficking needs.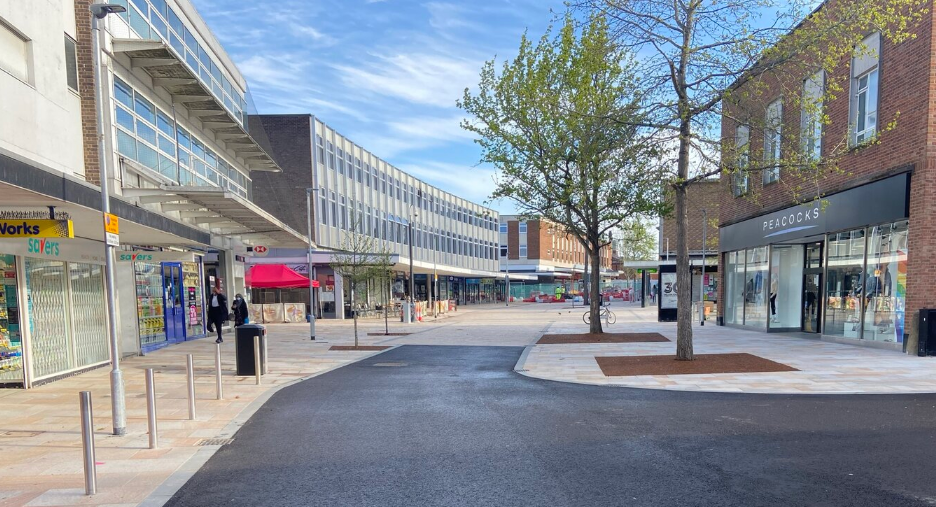 A combination of finite element analysis and value engineering drove significant savings for this redevelopment at Allhallows, Bedford.
Project highlights
Working with Marshalls allowed Bedford County Council to deliver a highly prestigious scheme on time and to budget. By engaging with our Design and Engineering team the client was able to:
Reduce the embodied carbon in the construction by up to 51% and 27% in the Granite thickness
Reduce the cost of the project by an estimated £120,000
Reduce the programme time by around 33% due to construction material choices. Have confidence and support in a supplier throughout various stages of the project.
Design Details
During the rationalisation, we reduced the sett and paver depth by 20%, which lowered the cost of our Elara granite. We also estimate that over £120,000 was saved from costs of the sub-base material. The large reduction in material removal and disposal also cut time and labour costs, by as much as 50%.
Using Marshalls CAT 7 for the heaviest loads reduced the original planned pavement depth by 70mm, saving approximately £17.50m/².
Pedestrian only access areas (CAT 1) were similarly reduced, 75mm and 70mm on road base and sub-base respectively, saving £36.28/m².
Finally, emergency access area depth, calculated to take one HGV a week (CAT 4), was almost halved, reducing estimated costs from £109.62/m² to £66.71/m².
Carbon reduction is a key strategy for Bedford Borough Council, as it is for all local authorities. We estimate up to 51% of carbon was eliminated from the sub-base construction across the pedestrian areas; as well as 34% and 16% reductions for the two additional, higher trafficked areas.
Resources
Need help on your next scheme? For Marshalls Design Team support contact:
design.team@marshalls.co.uk
or
tom.emerton@marshalls.co.uk
Click here to read more about our design and engineering team services:
Marshalls Design Team | Marshalls
For more information on the new British Standard for paving design, BS 7533, visit:
New British Standard | BS 7533-101 | Marshalls
Click here to access our streetscape design blog post:
Sustainable design: what makes a good streetscape? | Marshalls blog | Marshalls