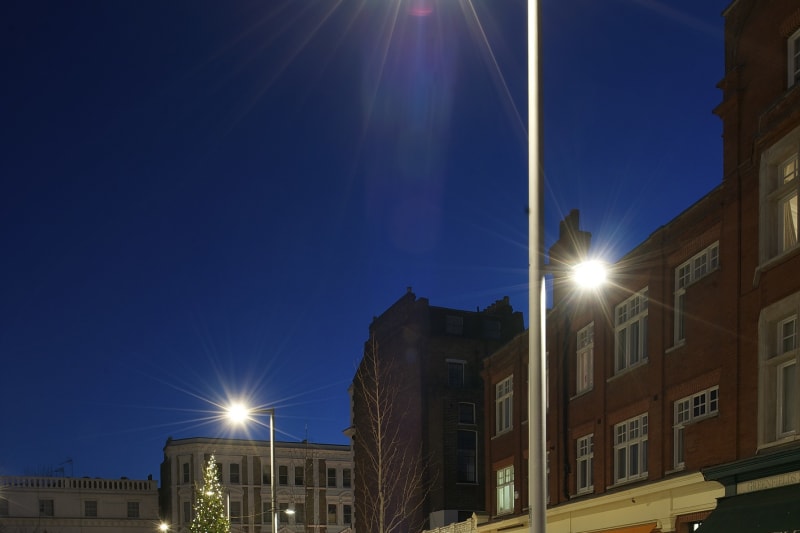 Where can I use Marshalls commercial paving?
The extent of our commercial paving product range means that we can customise a solution to fit almost any client or project. Our product catalogue is one of the most in-depth you'll find on the market – each option exhibiting the quality and focus on sustainability you expect from us.
Residential: For new-builds and renovations, Marshalls can provide bespoke car parking and pedestrian paving solutions to clients working on residential developments, large or small.
Retail: Our products can meet the unique and challenging demands of shopping centres and retail parks – both in terms of the aesthetic appeal and withstanding heavy traffic levels.
Transport: With our design method, our products cater for 11 different loading categories to reflect your requirements – right up to heavy duty pavements for roads, ports and airports.
Commercial: Marshalls has the products and expertise to meet the challenges of any project where commercial premises need large-scale car parking and regular heavy goods vehicle access.
Universities: A university campus can have many paving requirements that we can attend to – from cycle shelters to large-scale pedestrian areas and multi-use landscapes.
Public Realm: Our variety of textures, colours and materials can bring to life the public realm of a town or city centre, complemented by our kerbs and steps for that finishing flourish.
Marshalls are here to help
What commercial paving is right for your project?
As one of the most experienced commercial flag and block paving suppliers, the Marshalls team are here to advise on and supply the most appropriate paving stones to fulfil any project brief. With slabs, stones and blocks available in a range of sizes, materials, colours and finishes, let our diverse product catalogue inspire you:
Block paving
Unlike other commercial block paving suppliers, Marshalls has established an unparalleled track record of delivering multi-purpose surfacing solutions to the public and private sectors.
With our extensive range of paving blocks, we supply products and processes that can speed up installation, protect the environment and meet the evolving needs of urban landscapes.
Explore our commercial block paving range >
Flag paving
Available in a variety of sizes, styles, colours and textures, Marshalls' paving slabs have been supplied to some of the UK's most visited sites. We provide concrete flags that offer outstanding durability in an array of different finishes, from flamed to smooth ground and textured effects.
Our flag paving collection include tactile flags that put cyclist and pedestrian safety first and our permeable concrete flags that are designed to help enhance your water management.
Explore our commercial flag paving range >
Natural stone paving
Beautiful, yet hard-wearing – our commercial natural stone paving is a quintessential option for areas with a high level of pedestrian or vehicular traffic, both undercover or out in the open.
As you'd expect from the UK's leading paving material supplier, we offer natural stone paving in multiple colours and finishes to complement the look and feel of the landscape you're creating.
Why choose Marshalls commercial paving?
Since the 1890s, Marshalls has been the market-leading supplier of natural stone and concrete paving products to the UK construction, civil engineering and landscaping markets. Our team is dedicated to creating innovative and sustainable products that set new industry standards – out-performing and outlasting what other commercial block paving suppliers can offer.
Marshalls create a seamless experience for customers from start to finish. Marshalls 360 support service helps to bring design, technical, engineering and consultancy experience to offer you a support programme like no other. Marshalls 360 service package helps to add certainty to each and every project- all for no additional cost.
Our proven experience and multi-sector expertise can be seen in the products we supply – residential, high footfall retail centres, iconic public realm projects and even commercial airports. Examples of our products can be seen at:
− City of Manchester Stadium, Manchester
− Canary Wharf Crossrail station, London
− Olympic Village, London
− National Memorial Arboretum, Burton-on-Brent
− Icon Outlet at the O2, London
− Newquay Cornwall International Airport, Newquay
− Trafalgar Square, London
For more examples of our work, see our complete list of commercial case studies
Accreditations and standard-setting
At Marshalls, we believe we have the credentials to back up our assertion that we're the UK's leading commercial paving material supplier – and it means you can trust us and our products to deliver. Excellence, innovation and sustainability are integral to the work that we do.
− UN Global Compact: We're members of the international initiative that aims to promote socially responsible and sustainable policies in business
− Made in Britain: We're members of the non-profit organisation that promotes and supports British manufacturers at home and overseas.
− Ethical Trading Initiative: As an ETI member, we're committed to upholding the highest ethical standards and ensure no children are used to make our products.
− ISO Certification: Our certifications include ISO 45001 for Health and Safety, ISO 9001 for Quality Management and ISO 14001 for Environmental Management.
− Sustainability: We're a funding member of the Supply Chain Sustainability School and worked with the Carbon Trust to achieve our ISO 50001 certification.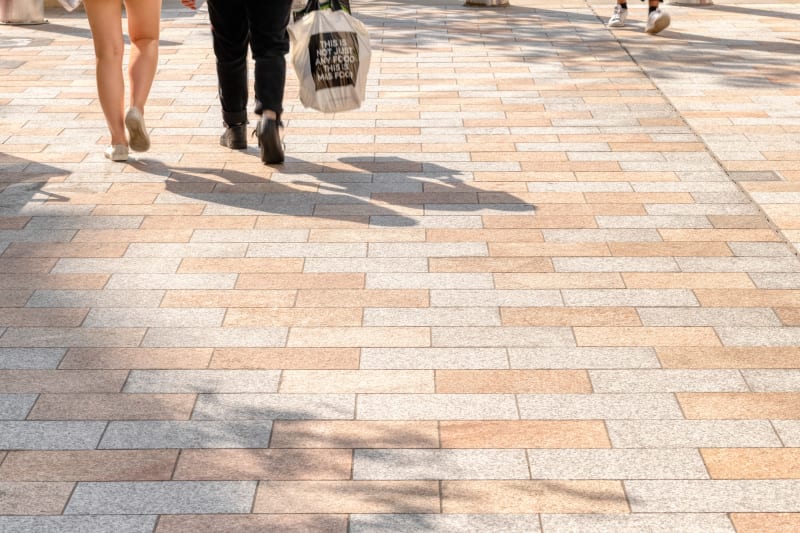 How can Marshalls inspire your project?
To bring your construction or landscaping project to life, our concrete paving product portfolio comprises multiple elements that you might want to consider. If you're looking to transform a less-than-inspiring setting or complement styles being used elsewhere in your project, we can provide you with numerous options that are certain to leave a lasting impression.
Colour: For complete creativity in the design process, inject colour into the landscape with our spectrum ranging from warm, subtle tones to cooler, contemporary hues or even bold, vibrant shades – adding personality, vitality and contrast to a finished project.
Blends: Now more than ever, designers are looking to blend colours in order to create truly unique landscapes. The deliberate mixture of different elements – colours, textures or sizes – creates focal points and stand-out surroundings.
Size: Mix sizes and facets to create patterns and decorations that define a landscape. From smaller slabs that typically suit areas where traffic flows to larger options that are common for pedestrian areas, explore the variety we have to offer.
Pattern: Keep it simple or be ambitious; using patterns in your paving designs can prove an effective wayfinding solution or act to break up larger spaces and enhance the contours and shapes of other built structures.
What services do Marshalls offer?
While the strength of our reputation as a commercial block paving supplier lies in the quality of our products, Marshalls is also proud to offer expert ancillary services to support you with the design, implementation and completion of your hard landscaping project.
Our technical support services cover every stage of the process and include:
− SketchUp Warehouse: Ideal for clients in the early stage of the design process, this model lets you visualise your design concepts easier with 3D capabilities.
− Business Information Modelling (BIM): Get a better understanding of the physical or functional characteristics of a building and make collaborative working easier.
− Paving Design Tool: Enter a few site details with your chosen paving product and our design tool will produce a specific design and product specifications in PDF format.
− Bespoke products: For the flexibility and innovation needed to successfully pair your landscape architecture with surrounding structures, we can provide expert advice.
All of the above form part of Marshalls 360 services, which help to create a seamless journey from start to finish on your project.