Permeable Paving & SuDs

Sustainable Drainage Systems (SuDS) are a collection of simple philosophies and techniques which can help to reduce flooding - and Marshalls has an excellent SuDS solution in Priora permeable paving.
Marshalls Priora was launched in 2001 and fast became the UK's most popular permeable concrete block paving (CBPP) system. In that time Marshalls has become a recognised leader in all aspects of permeable systems.
The documents and videos on this page provide potential customers with a comprehensive suite of information to make the specification, adoption and maintenance of CBPP easy. These assets are a combination of independent academic reports, industry case studies and Marshalls own data.
These are useful when dealing with some of the commonly held misconceptions about permeable paving, such as:
Does permeable paving get clogged up and stop working?
No.
Independent studies
have proven this time and again, and
we've also carried out a field test with full size rainfall simulators
to prove this point.
Is it difficult to maintain a permeable pavement?
No. Under normal conditions, a permeable pavement will work perfectly well with no maintenance whatsoever, but if it does need cleaning, it's a very simple process.
Learn more about maintenance from Marshalls here
or from
here for an independent study
.
Are soft SuDS better at cleansing water runoff than permeable pavements?
No.
A large-scale test with Coventry University
proved that permeable pavements provide excellent water cleansing properties.
If you'd like to talk more about SuDS or permeable paving, please contact your local Marshalls Engineer or call 0870 600 2425.
Permeable Paving Design Guide
This detailed and comprehensive document has been developed using Marshalls' vast experience in researching, promoting and designing the UK's most popular permeable paving system. It covers all aspects of concrete block permeable paving including hydraulic and structural design, installation and maintenance as well as considering CBPP's place within a holistic water management scheme.
Download the guide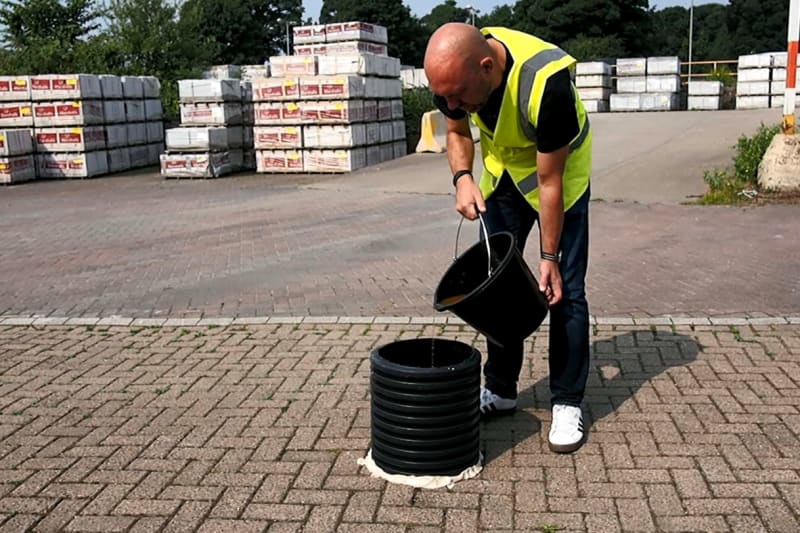 Video: Designing and Maintaining a Priora Permeable Pavement – Case Study
Martlesham Park & Ride car park, which was installed in 2003, is one of our oldest Priora permeable paving installations. We caught up again with the original designer, Simon Curl of Sussex County Council, to find out how his design is standing the test of time. Watch this video to hear Simon's approach to common queries such as incorporating tree roots and services – and also to find out about the maintenance regime they've employed to keep the surface performing.
Watch the Video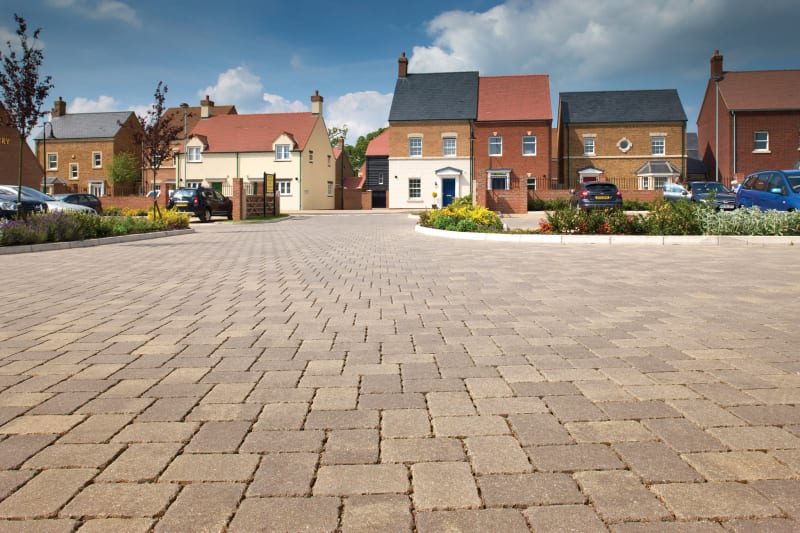 Report: When Does Permeable Paving Stop Working?
In spite of years of evidence to the contrary, people still assume that permeable paving will fail because the joints quickly get clogged up. We've been revisiting some of our older Priora systems and, using the American Standard method ASTMC1781/C1781M, undertaking in-situ permeability tests to see how they're working. This report shares our observations along with the results of the tests.
Download the report
Priora System Cutaway Videos
A series of simple animations showing the differences between Type A (infiltration), Type B (partial infiltration) and Type C (tanked) permeable systems.
Browse a selection of permeable paving case studies.